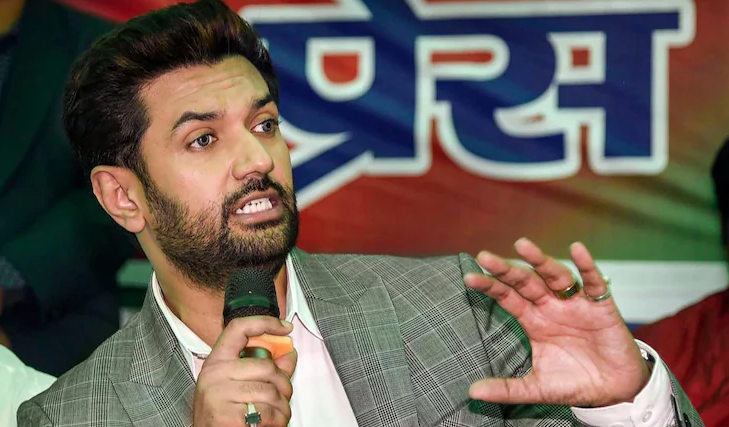 Despite the BJP accusing it of trying to split votes in the Assembly elections, the Lok Janshakti Party (LJP) has given seats to many candidates not given ticket by the saffron party in its second list of 53 candidates that it released on Friday, even as it reiterated that it will work to rid Bihar of the Nitish Kumar-led JD(U).
The LJP had named some big BJP leaders in its first list, including Rajendra Singh, Rameshwar Chourasia and Ravindra Yadav. The new list, however, has leaders who are popular only locally but are known to be very loyal to Narendra Modi. 
Related News: Chirag Paswan: My father "instigated" me to go alone in Bihar polls

Attacking the JD(U), LJP leader Chirag Paswan said, "Giving vote to the JD(U) will push Bihar back. LJP will fight the election and win it and implement its 'Bihar First, Bihari First' vision," he said in a tweet. 
In the list released on Friday, the LJP has named former MP Renu Kumari for the Khagaria seat. Kumari, who was a minister in the Nitish Kumar  cabinet, had joined the BJP from the JD(U), but shifted to the LJP earlier year.  
Baby Kumari, the BJP MLA from the seat, has also been named in the LJP list. She was not given a ticket by the BJP, which allocated the seat NDA partner  Vikassheel Insaan Party (VIP).  
In Teghara, the Chirag Paswan party has named Lallan Kumar, a former MLA of the BJP. He lost out on a BJP ticket this time, as the seat went to the JD(U) as per its seat allocation agreement with the BJP.
Related News: Bihar polls: RJD-led alliance releases polls manifesto, promises to scrap 'anti-farm laws' 
Other BJP leaders who have got LJP tickets include Rajesh Verma, deputy mayor of the Bhagalpur municipal corporation who switched loyalties to the BJP before the Lok Sabha elections; Kameshwar Singh Munna, (Ekma in Saran); and Vinod Tiwari (Ziradei).
Chirag Paswan has named many party leaders also in the second list, giving the seats that will be contested by the JD(U).