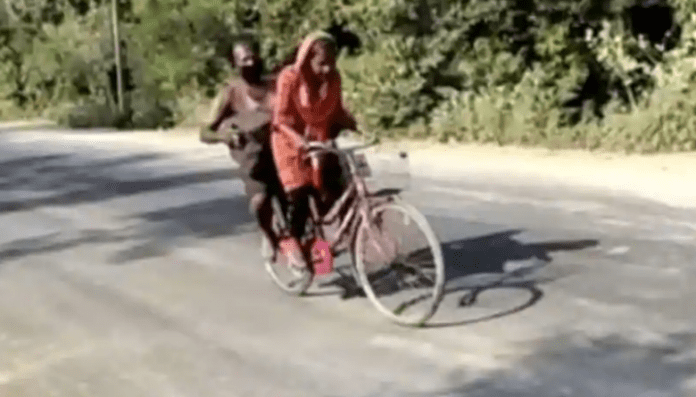 Most often we have come across stories of men shouldering responsibilities of their families and stretching themselves to provide for and look after the brood.
But here's the extraordinary story of 15-year-old Jyoti Kumari, now being hailed as 'Shravan Kumar' by her father who she carried pillion on her cycle for 1200 km for over seven days to reach their home in Bihar from Gurugram.
Impressed by her feat, the cycling federation of India has taken note of the young girl and provided her with a life-changing opportunity by inviting her for a trial next month.
Related news: Bihar using vast labour force to woo investors at this time of COVID-19
Onkar Singh, Chairman, Cycling Federation of India told PTI that if Kumari, a class eight student, passed the trial, she will be selected as a trainee at the state-of-the-art National Cycling Academy at the IGI Stadium complex.
The academy, under the aegis of Sports Authority of India, is one of the most advanced facilities in Asia and has the recognition of UCI, the world body of the sport.
The federation has also agreed to bear all expenses of Kumari and is in talks with their Bihar state unit to facilitate her movement.
"We spoke to the girl this morning and we have told her that she will be called to Delhi next month as soon as the lockdown is lifted," Singh said.
Explaining the rationale behind offering a trial to the youngster, Singh said, "She must have something in her. I think cycling down more than 1200km is not a mean job. She must be having strength and physical endurance. We want to test it."
"We will make her sit on the computerised cycle we have at the academy and see if she satisfies the seven or eight parameters to get selected. After that she can be among the trainees and she will not have to spend anything."
He said the CFI always tries to find out talent for grooming.
"We have nearly 10 cyclists in the age group of 14-15 in the academy. So we want to nurture young talents."
Jyoti's father, Mohan Paswan, an autorickshaw driver in Gurgaon got injured and the lockdown left him without any source of income.
He had to return the autorickshaw to the owner.
Related news: Kambala jockey Srinivas Gowda refuses to undergo SAI trials
After their sources started running thin, Jyoti persisted that they should return to Bihar.
Even though her father tried hard to dissuade her, telling her that the journey was not a matter of 10, 20, or even 100 km and that driving a bicycle with a pillion rider much heavier than herself was no mean feat. But Jyoti did not budge.
That's when the father and daughter duo started their journey from Gurgaon on May 10 after buying a cycle with whatever money they had and reached their village on May 16.
Jyoti's journey has become an extensive talking point even on social media where there have been talks about whether she has it in her to pursue cycling as a career.
Previously, Kambala racer Srinivas Gowda generated a similar sensation after a local race, which prompted comparisons with Usain Bolt in social media and an invitation from sports minister Kiren Rijiju to appear for trials.
Gowda, however, declined the offer, acknowledging the difference between his craft and competitive running at the highest level.