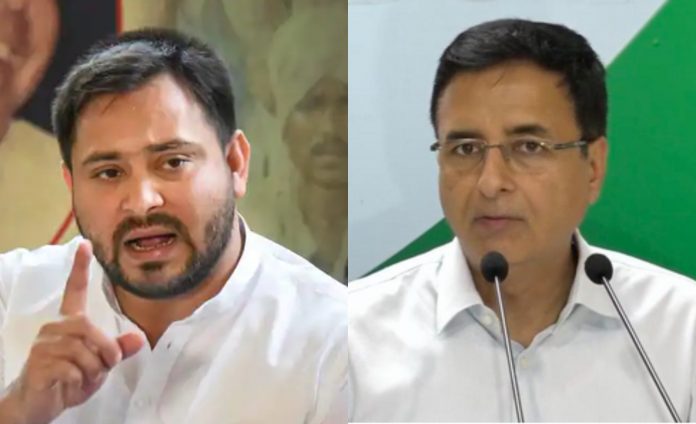 Soon after Prime Minister Narendra Modi, in an indirect jibe at RJD's Tejashwi Yadav and Congress leader Rahul Gandhi, asserted that at a time when two 'crown princes' want to save their thrones, the 'double engine' government of the NDA was focused towards the development of Bihar, Tejashwi and Congress' Randeep Surjewala sought to know on what grounds he was calling the JD(U)-BJP coalition a "double engine" system.
At a campaign rally in Bihar's Chapra, Modi had borrowed the phrase 'double-engine' mostly used by Tejashwi to target the NDA government, to assert the coalition's commitment towards people.
Related news: Bihar's crown princes will meet same fate as UP's: Modi
He said that the 'crown princes' in Bihar (Tejashwi and Rahul) are going to meet the same fate that another 'double yuvraj' (prince) faced in Uttar Pradesh, in a reference to Samajwadi Party's Akhilesh Yadav and Rahul Gandhi made without naming anyone.
Minutes after Modi's dig, Congress spokesperson Randeep Surjewala tweeted, "Respected Modiji, in 2015 election, you said Nitish Kumar had '18th century' mindset. Today, you referred to his government as double engine. The truth is, this is the government of "double deception". One jumlebaz (one who makes false promises) and one who decieves. Bihar voters will give a fair treatment to you both."
Tejashwi asked the prime minister why migration and the crime rate in Bihar were at a staggering high despite the touted 'double-engine' rule.
"Respected PM did not tell us why is the unemployment rate at 46.6 per cent in Bihar despite the double engine government, what's the reason of migration in the state. According to NCRB data, Bihar still leads in crime rate. As per NITI Ayog, the state still lags behind as far as health and education is concerned," he said.
Modi's address at Chapra, a stronghold of RJD chief Lalu Prasad Yadav was first of his four rallies in Bihar on Sunday.
"What happened to double yuvraj (prince) in Uttar Pradesh three to four years ago (to Rahul Gandhi and Akhilesh Yadav) will repeat in Bihar," he had said at the Chapra rally.
Related news: New low in poll rhetoric: Yogi's 'Ram naam satya' to Scindia's 'kutta hoon'
Sharing the dais with Chief Minister Nitish Kumar at these rallies, he said the humungous crowd he was witnessing was proof of the people's support for the NDA government.
The prime minister's statement is being read as an attempt to both neutralise the notion about Tejashwi Yadav's rallies drawing huge spectators and rumours of a rift between BJP and JD(U) because of their separate rallies and sparse mention about each other.