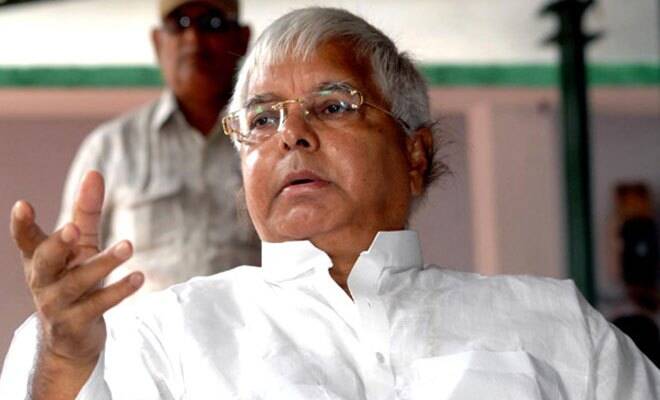 In a season of new alliances and tall promises, the main opposition, the Rashtriya Janata Dal (RJD) headed by jailed politician Lalu Prasad, has promised 10 lakh permanent government jobs to the youth, if elected to power.
Voting for the three-phase elections for the 243-member Bihar Assembly is due on October 28, Nov 3 and Nov 7. The results are expected on November 10.
The RJD in recent days has seen attrition in its 'grand alliance' (Mahagathbandhan) with some of its top leaders, including father-in-law of Lalu's eldest son Tej Pratap joining the JD-U headed by Chief Minister Nitish Kumar.
RJD's prominent ally Hindustani Awam Morcha led by Jitan Ram Manjhi, too, has joined the JD-U. Another RJD ally, the RLSP, has decided to forge its own alliance with the BSP and other marginal parties.
In all, Bihar has five alliances, including the NDA, Mahagathbandhan, Progressive Democratic Alliance (led by Pappu Yadav), Left Front and United Democratic Secular Alliance led by All India Majlis-e-Ittehadul Muslimeen.
Last week, Lalu's son and RJD leader Tejashwi Yadav made the most significant poll promise on jobs. He declared: "Ye vaada nahin, mazboot iraada hai (this is not an empty promise but our firm resolve)." He said if elected to power, his first Cabinet meeting will declare filling 10 lakh vacant government posts for the youth.
The ruling NDA, though enthused by new entrants, has so far highlighted the 15-year rule of the RJD and the Lalu family in poor light. The RJD's job promise has secured a talking point stature in a state where more than 22 lakh unemployed youths have registered with the party's portal.
Related news: Chirag hardens stance on seat-sharing in talks with BJP on Bihar polls
Young voters comprise more than 50 per cent of the total over 7.29 crore voters in the state. According to Election Commission figures, the number of voters in the 18-19-year age group is 7.14 lakh, 1.6 crore in the age-group in the 20-29-year age and around 2 crore voters in the age-group of 30-39 years. The voters in these age-groups comprise well over 3.66 crore, which is more than half of the total voters in Bihar.
Several BJP leaders, including the party's Bihar election in-charge Devendra Fadnavis, its national spokesperson Shahnawaz Hussain and Deputy Chief Minister Sushil Kumar Modi, have hit out at the RJD's job promise, indicating how Lalu's party is slowly occupying the mind space of its adversaries.
"I wonder whom he (Tejashwi Yadav) will give jobs. Maybe, he would order 10-lakh'tamanchas' (country-made pistols) and distribute them among his supporters so that the kidnapping and loot industry is revived. This is the job he is talking about," is how Fadnavis took a dig at RJD's job promise. Hussain alleged that since many people had lost jobs during the previous RJD regime, the latest job promise was meant to "offset" that loss.
Political experts say the "job offer" has the potential to impact the polls since everyone is currently affected by job losses. "The RJD has raised the perfect issue. This will attract young voters and gain their support since growing unemployment is a major issue now, especially after lockdown," said former director of Patna-based AN Sinha Institute of Social Studies, DM Diwakar.
Related news: Both Bihar alliances in troubled waters ahead of October polls
Experts say Chief Minister Nitish Kumar in his 15-year rule in Bihar has focused on many issues, such as building roads, providing electricity and piped water. But the employment is something which remains totally unaddressed. "Now the villagers have smartphones and power at home, but no money to run Facebook or WhatsApp. Most political parties are not talking about providing livelihood. Instead, they are promising to connect all 45,945 villages through the internet. This is ludicrous," said another political commentator Vijay Srivastava.
The NDA has put up several hoardings at key points in Patna with slogans, "Ek aisa parivar jo Bihar par bhar — Sajayafta Qaidi no 3351 (A family which is a burden on Bihar –convicted prisoner No. 3,351, an obliquely referring to Lalu) and "Samajik nyay ke dhongi ne kiya atipichhda ke saath arthik jalsaji (the hypocrite of social justice committed economic fraud with extremely backward people)".
In his party's virtual rally on September 7, Chief Minister Nitish Kumar referred to the 'pati-patni' rule (Lalu and his wife Rabri) to allege that there was no law and order during their tenure of 15 years. He sought to draw a comparison between that period and his 15-year rule, saying this is enough to explain who should be the right choice before the voters.