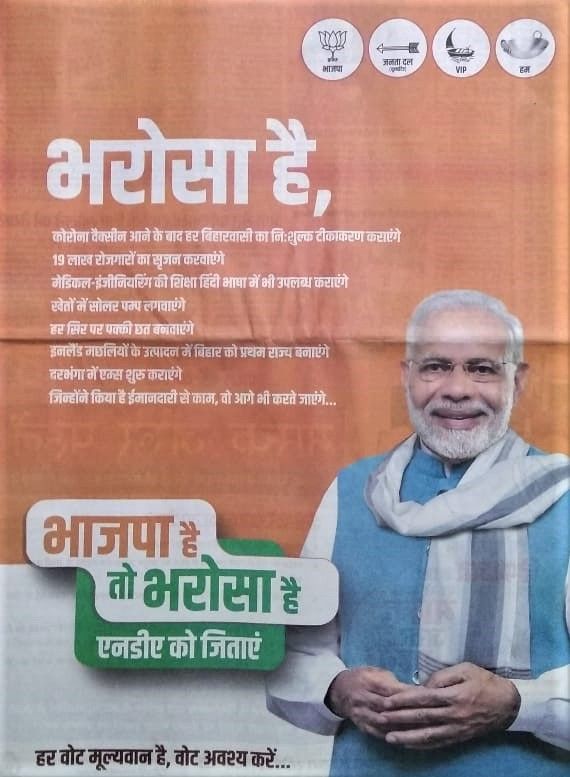 In Bihar assembly elections' campaign, there is a poster war in the state, between the Bharatiya Janata Party (BJP) and Rashtriya Janata Dal (RJD). While the BJP-led NDA is aiming to continue in power for five more years urging voters to keep "faith", the RJD is promising the voters "change" and employment.
Prime Minister Narendra Modi appears in NDA posters while Chief Minister Nitish Kumar is missing. According to reports, BJP hoardings have outnumbered RJD's.
"Bharosa hai, jisne ghar-ghar bijli pahunchayi, wohin rojgaar naye dilayega. Baajpa hai tho bharosa hai. NDA ko jitaye (We have faith that the one who got electricity to every home, only he will ensure new jobs. If there's BJP, there is faith. Vote for NDA)," reads a BJP poster with PM Modi's photo.
"Parivartan ki chavi Tejashwi (The picture of change, Tejashwi)," declares RJD, and in another, it said, "Tej raftaar, Tejashwi sarkar (High speed, Tejashwi government)."
Related News: Modi in Bihar says Opposition focused on corruption, not on connectivity
"Given its financial might, the BJP's hoardings, of course, outnumber those of the RJD's. The saffron party's hoardings are bigger, and are placed at better spots, while Tejashwi's are hung in relatively obscure locations. Across the state, the extremely low number of flex boards portraying Nitish Kumar signal that the Janata Dal (United) hasn't bothered to invest much in the poster game," reported The Wire website, from Bihar.
If NDA hoardings don't have Nitish, RJD have not included former Chief Ministers Lalu Prasad Yadav and his wife Rabri Devi.
The BJP asked Tejashwi if the RJD is promising "new Bihar" then why he is "ashamed" of including his parents' Lalu and Rabri's photos in poll campaigns.
Related News: Sonia Gandhi says time for change in Bihar
"Someone is saying we'll make a new Bihar. But in his poster of 'New Bihar', photo of his parents, who ruled state for 7.5 years each, is missing. Why are you so ashamed of your parents' photo?" asked Union minister Ravi Shankar Prasad.
During his poll campaign, PM Modi described Tejashwi as "Jungle raj ka yuvaraj (Prince of Jungle raj)."
Tejashwi is the chief ministerial face of the opposition. Responding to Modi's remark, the RJD leader said, "He is the country's prime minister, he can say anything, I don't want to react to that. But he came to Bihar, he could have spoken about a special package, unemployment, more important issues."
"It is the world's biggest party (BJP), they are using 30 helicopters…if their PM talks like this, the public knows everything. But he should have spoken on issues like poverty, factories, farmers, unemployment…," he added.
On Wednesday (October 28), polling was held in 71 of the 243 seats in Bihar. The remaining two phases take place on November 3 and 7. The results will be declared on November 10.