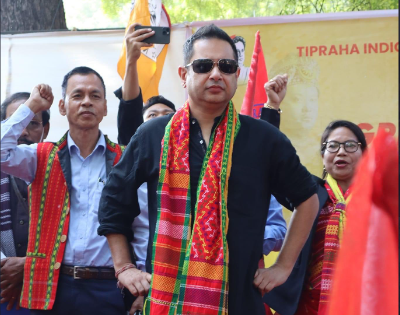 Tipra Motha supremo Pradyot Kishore Manikya Debbarma on Friday asserted that his party will not forge an alliance with any political outfit in the upcoming Tripura assembly elections.
'Will put up one last fight'

The royal scion also said he will fight the February 16 elections to defeat those who are opposing its "Greater Tipraland" demand.
His comment comes amid speculations that the Tipra Motha is going to ally with the ruling BJP in the ensuing polls to the 60-member assembly.
"There were speculations that the Tipra Motha will fight the elections in alliance with a political party. Today, I'm saying that there will be no alliance in this election," he said.
"Until the Government of India gives any written document for a constitutional solution to our demand, we will not go for any coalition….Jitega toh jitega harega toh harega but one last fight to karke rahega! (whether we win or lose, we will put up one last fight)," he said in a video clip uploaded on Facebook.
Makes indirect attack on IPFT

The royal scion also said that many people could not believe that the Tipra Motha would fight the elections without any alliance.
"I don't blame those who don't believe in our stand. Since 1977, every regional Tiprasa party went to Delhi before elections and signed agreements but the people got nothing after polls," Debbarma said in an indirect attack on the Indigenous People's Front of Tripura (IPFT), the ally of the ruling BJP in the northeastern state.
Notably, IPFT leaders – late N C Debbarma and Mevar Kumar Jamatia – had gone to Delhi before the 2018 assembly elections and signed an agreement with the Centre.
Also read: Tripura polls: Triangular contest in the offing with TIPRA Motha sitting pretty
'No written assurance from govt'

Debbarma had on January 25 said the regional party "received intimation" from the Ministry of Home Affairs for a talk on their Greater Tipraland demand. "We attended a meeting and heard them patiently but the Government of India has not given any written assurance for a constitutional solution to our demand," he said.
"No alliance – my heart does not agree and so I have made my decision that I cannot accept New Delhi's offer!…I can't betray our cause and our people," Debbarma said on social media.
Tripura's royal scion urged Tipra Motha workers to prepare for the polls and said he will also fight the elections to "defeat those who are opposing our demand".
Will contest 40-45 seats

Debbarma had recently said his party would field candidates in 40-45 seats in the upcoming polls and give tickets to non-Tiprasa (non-tribal) people.
The ruling BJP and the opposition Congress-CPI (M) alliance have been vying with each other to woo the Tipra Motha into an electoral understanding as the tribal party's votes will be crucial in determining who will rule the northeastern state after the next month's election.
In a direct contest with the ruling BJP-IPFT alliance, the regional party swept the Tripura Tribal Areas Autonomous District Council (TTAADC) elections held in April last year, winning 18 of the 28 seats over the Greater Tipraland demand.
The CPI (M) and Congress, who had vowed to contest the upcoming election jointly to defeat the BJP, have not agreed to the idea of Greater Tipraland.
Analysts said that the statehood demand will affect results in 20 assembly seats, where tribals hold considerable clout electorally.
(With Agency inputs)