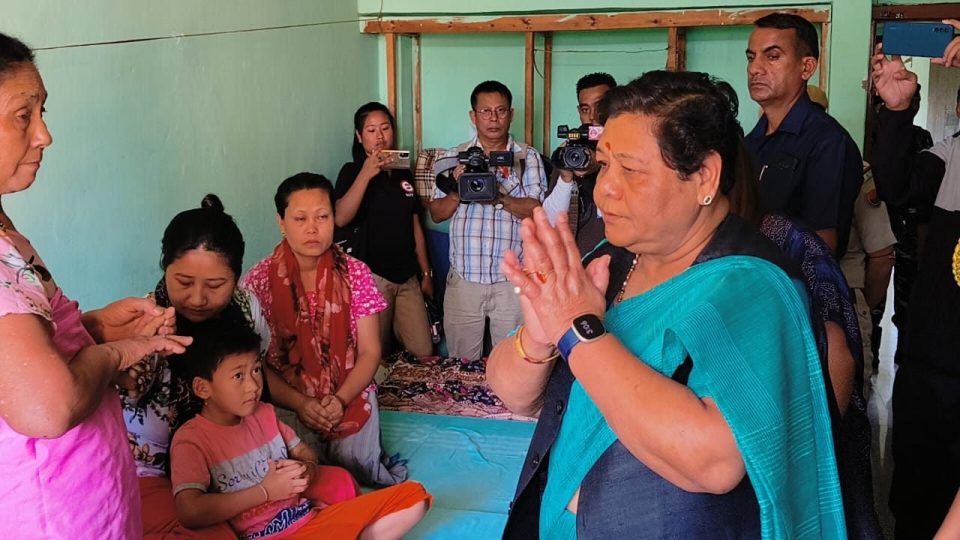 Manipur governor: Working to end hatred, distrust between Meteis, Kukis
Manipur Governor Anusuiya Uikey on Saturday (July 29) said she was working to end the hatred and distrust that have strained the relationship between Metei and Kuki communities.
Speaking to reporters after visiting a relief camp in Churachandpur district, Uikey said she has been meeting organisations representing the two communities and seeking their cooperation to bring back peace and normalcy to the state.
"I have come here for the second time, to share the grief of my brothers and sisters. It is nearly three months that these people are away from their homes. A lot of people lost their homes to arson, and many lost most of their belongings. They don't have anything left. I came here to see that at least these people do not face any problems at the camp," she said.
Also read: Manipur video: Videographer held; Shah hints at 'conspiracy' behind leak on Monsoon Session eve
"I have directed the government that the basic amenities must be ensured – from clothes to mosquito repellents. I also got to know that there is a problem of medicines here. They are not getting a lot of things because trucks are not reaching here. Still, necessary arrangements are being made and help is also being extended by Mizoram," she added.
The governor said that people, especially leaders, must rise above politics to establish peace in the ethnic strife-torn state. "The way hatred and distrust have grown between the two communities – Meteis and Kukis – I am putting in efforts to end that. I have met organisations representing the two communities and representatives of different political parties, and sought their cooperation in establishing peace. We should rise above politics and ensure peace and normalcy in Manipur," Uikey said.
More than 160 people have lost their lives and many people have been injured since ethnic clashes broke out in Manipur on May 3, after a Tribal Solidarity March was organised in the hill districts to protest against the Meitei community's demand for Scheduled Tribe (ST) status. Meiteis account for about 53 per cent of Manipur's population and live mostly in the Imphal Valley. Tribals – Nagas and Kukis – constitute another 40 per cent of the population and reside in the hill districts.
Also read: INDIA MPs in Manipur | Was Centre sleeping till now: Adhir Chowdhury
Also read: Manipur sexual assault: CBI takes over investigation
#WATCH | Manipur Governor Anusuiya Uikey consoles a woman who narrates her story to her at a relief camp in Churachandpur pic.twitter.com/xQrSQz3ahb

— ANI (@ANI) July 29, 2023
(With agency inputs)