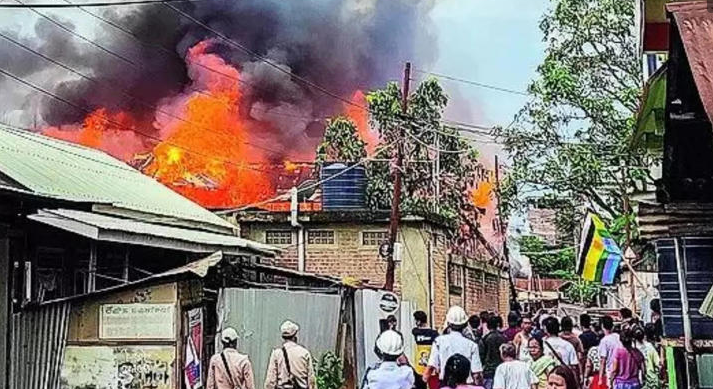 Manipur: Give peace a chance, implement NRC, say demonstrators in Imphal
Seeking a peaceful resolution to the ongoing crisis and implementation of the National Register of Citizens (NRC) in Manipur, people on Saturday (July 1) staged demonstrations at several places in Imphal Valley.
In Imphal East district's Khurai, a large number of women staged a sit-in to denounce any attempt to impose President's Rule in the state and affirmed their support to Chief Minister Biren N Singh.
Also read: Manipur: What led to CM Biren Singh's resignation bid, drama and somersault?
In Jiribam district bordering Assam's Cachar district, women took out a rally urging the chief minister and MLAs not to resign as it would tantamount to surrendering before the militants. These demonstrations come a day after Biren N Singh clarified that he was not resigning from the post.
Before his clarification, thousands of demonstrators had blocked his convoy from proceeding towards Raj Bhavan on Friday (June 30). The CM eventually told women demonstrators that he was not resigning.
"At this crucial juncture I would like to clarify that I will not be resigning from the post of chief minister," Singh said in a tweet.
Unconfirmed reports said Singh had typed out a resignation letter but was persuaded by his supporters to tear it up. Some of the women agitators alleged that they had seen the torn letter which had gone viral on social media.
Also read: It was wrong to stop Rahul Gandhi's convoy in Manipur: AAP
More than 100 people have lost their lives in the ethnic violence between Meitei and Kuki communities in the northeastern state so far.
Meiteis account for about 53 per cent of Manipur's population and live mostly in Imphal Valley. Nagas and Kukis constitute another 40 per cent of the population and reside in the hill districts.
(With agency inputs)