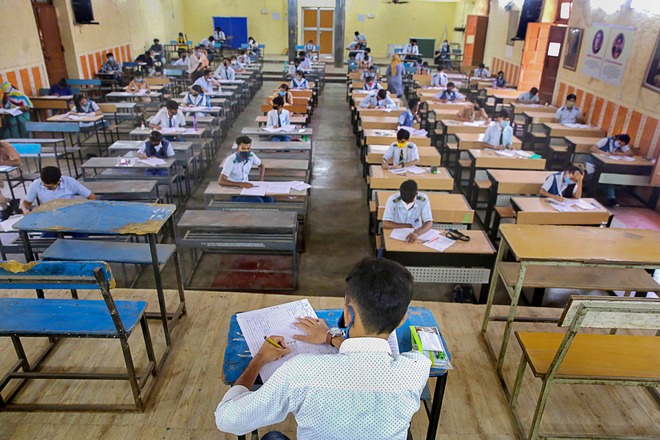 Classes for students between Grade IX and XII will resume on Monday in Assam even as the Covid-19 cases continue to rise across the state.
Schools in Assam have remained closed since March 15 because of the pandemic and students have been attending online classes.
The secondary education department of Assam has issued a standard operating procedure (SOP) for all the schools – private as well as government — to maintain social distancing and take other precautionary measures against the global outbreak.
Classes will be held for students between Grade IX and XII for the next 15 days, and the decision to take it forward will be taken only after a review thereafter.
All government schools will definitely open on Monday, but private schools have been given the freedom to take their own decision.
"Our SOP is meant for all categories of schools. It is for the private school authorities to decide when they want to resume their classes," said Phanindra Jidung, director, secondary education department, Assam.
The secondary education department issued a statement saying students' attendance in schools is not mandatory. Parents and guardians will have to give their consent in writing following which students will be allowed to attend classes.
The SOP is meant for students from Grade IX to XII, which effectively means all other classes would remain suspended. Importantly, the classes for IX and XII will be held only on Mondays, Wednesdays and Fridays, while for Grade X and XI the days are Tuesdays, Thursdays and Saturdays.
As  part of the SOP, the strength of students in each classroom has been fixed at 20. If any class has more than 20 students, they should be divided into two batches. The first batch of students will attend school from 9 am to 12 noon, while students from the second batch will have their classes between 1 pm and 4 pm.
The number of teaching and non-teaching staff should not exceed 50% and students with co-morbid conditions have been exempted from attending their classes. Classrooms are being sanitized.
Related news: Schools, universities reopen in Pakistan after 5-month COVID hiatus
The district authorities will conduct regular monitoring and random testing of teachers and students.
"The government has assured that all necessary precautions, including Covid-19 tests of teachers, have been taken. Our teachers will be resuming classes from Monday," said Syed Anisur Rahman, general secretary, Assam higher secondary teachers and employees' association.
Prior to reopening of schools, government teachers underwent Covid-19 tests across the state.
Assam has recorded 1,50,349 positive cases so far, including 1,21,610 recoveries and 528 deaths.
Schools to reopen in Meghalaya too
Meanwhile, schools in Meghalaya too will partially reopen from Monday for students to meet teachers to clarify their doubts, Education minister Lahkmen Rymbui said on Friday. The schools will be open for students of class 9 to 12 to meet teachers to clear their doubts but there will be no regular classes and no classroom sessions, he said.