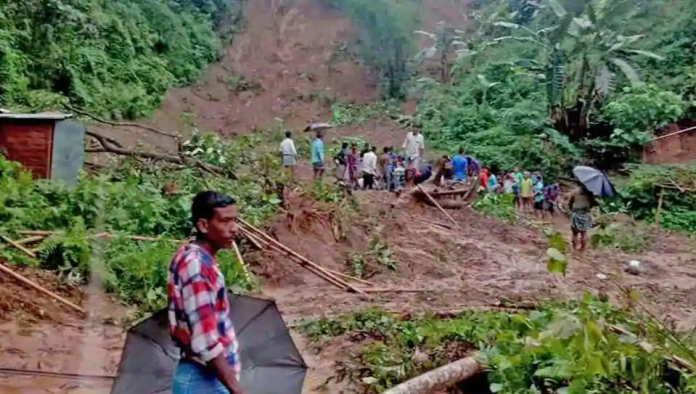 At least 20 people were killed in a series of landslides that occurred in South Assam on Tuesday (June 2) and many others were injured.
According to sources, seven people among the 20 who died are from Hailakandi district, seven from Cachar district, and six from Karimganj district.
A landslide had hit a tin shack in Hailakandi at approximately 6 am, killing seven of its inmates, including two children. The bodies have been sent for post-mortem.
Advertisement
Two others from the district who were injured were rushed to S K Civil Hospital at the district headquarters in Hailakandi.
Related news | Revisiting Amphan's predecessor, the Super Cyclone of 1999
Assam Minister Parimal Suklavaidya, who was in Hailakandi to review the COVID-19 situation, directed the district administration to immediately send its report on the landslide to the government for a payment of ₹4 lakh to the next of kin of each deceased, according to an official.
Rescues teams have been deployed to help with relief work in the three districts of the Barak valley region in southern Assam.
The landslides are said to have taken place as a result of heavy rains in the region over the last couple of days.
Assam Chief Minister Sarbananda Sonowal has issued orders to the district administrations to ramp up relief and rescue operations and provide one-time compensation to the families that lost its members, according to NDTV.
Related news | Jammu-Srinagar national highway closed due to landslides
This comes amid the current crisis following the severe floods which have affected around 3.72 lakh people in Assam.
The Goalpara district is said to have been most affected by the floods, followed by Nagaon and Hojai.
Six people have dies so far due to the floods, and 348 villages have been completely flooded. The Assam State Disaster Management Authority (ASDMA) also said crops cultivated over almost 27,000 hectares have been damaged.