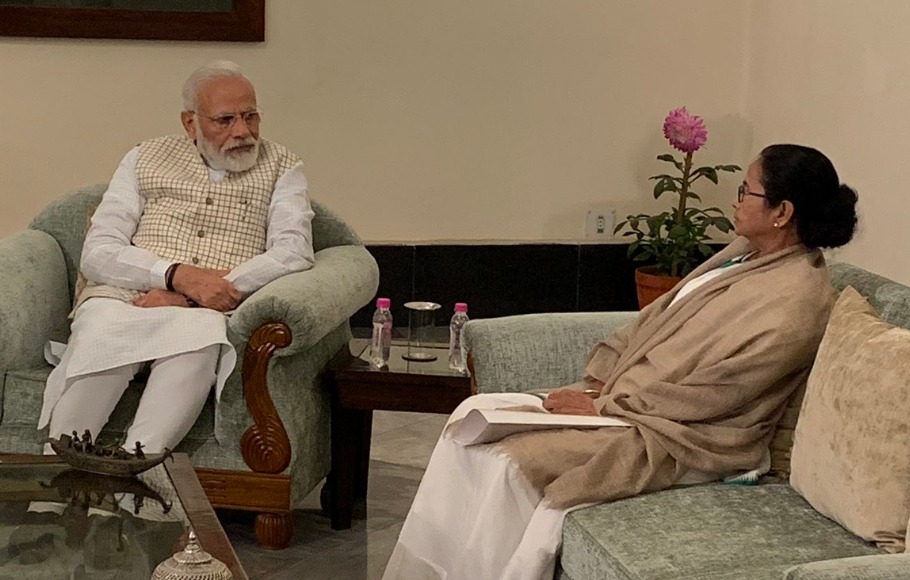 Widespread protests, black flags and 'go back' slogans welcomed Prime Minister Narendra Modi in Kolkata on Saturday (January11). Upon his arrival, he went to the Raj Bhawan, where he met West Bengal Chief Minister Mamata Banerjee.
The prime minister was greeted by Governor Jagdeep Dhankhar, state municipal affairs minister Firhad Hakim, state BJP president Dilip Ghosh and other senior BJP leaders. Modi, who will be in Kolkata on Saturday and Sunday, is scheduled to attend the function marking the 150th anniversary of Kolkata Port Trust on January 12 and other programmes.
#WATCH: PM Narendra Modi meets West Bengal CM Mamata Banerjee in Kolkata. The Prime Minister is in Kolkata to take part in 150th anniversary celebrations of the Kolkata Port Trust. pic.twitter.com/6r6ghcLlSu

— ANI (@ANI) January 11, 2020
After meeting Modi, Banerjee said, "I met the prime minister regarding some financial demands. I also told him to withdraw the Citizenship Amendment Act (CAA), National Population Register (NPR) and National Register of Citizens (NRC)."
Hundreds of protesters staged demonstrations at the crossing outside airport gate number one despite strict security. Demonstrations were also held in various other parts of the state against Modi's visit to the city during the day.
Also read | Students' resistance grows ahead of Modi's two-day visit to Kolkata
Protest gatherings and rallies are organised in several parts of the city, including those near the airport, Nandan, Dharmatala, College Street and Jadavpur. Protesters waved black flags, walked with 'Go Back Modi' placards, and raised 'Azadi' and 'Hum kagaz nahin dikhayenge' slogans during the demonstrations.
(With inputs from agencies)