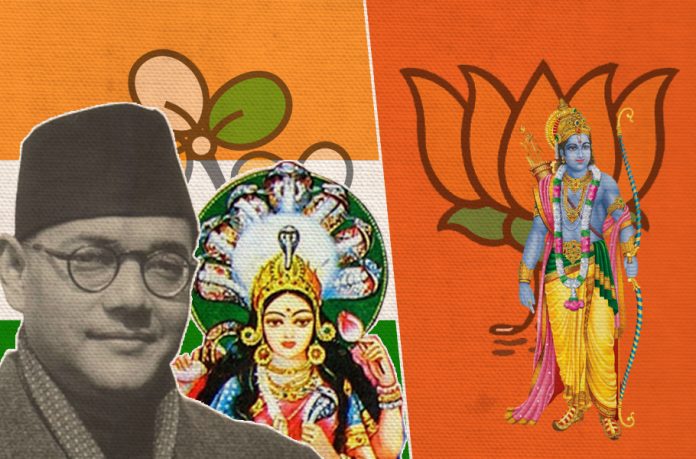 An indigenous non-Brahminic Hindu deity Manasa and secular icon Subhas Chandra Bose are now pitted by the Trinamool Congress against BJP's Rama-centric Hindutva as the battle for Bengal is increasingly becoming a tussle of competitive narratives.
West Bengal Chief Minister Mamata Banerjee in a recent administrative review meeting ordered Chief Secretary Alapan Bandyopadhyay to ensure immediate construction of at least 20 shrines dedicated to Manasa Devi, the goddess of snake.
The political undertone behind the chief minister's Manasa invocation just six months ahead of the 2021 assembly elections is unmistakable. More so when, BJP's political war-cry of 'Jai Shri Ram' is becoming shriller in the state, prompting the TMC and even many intellectuals to accuse the saffron party of importing an alien culture into the state.
In contrast to Rama, Manasa is a subaltern tribal deity incorporated into mainstream Hinduism after her legendary mythological tussle with Chand Saudagar, an ardent devotee of Vedic god Shiva.
Related news: TMC MLAs are miffed with star poll strategist Prashant Kishor
Manasa along with pantheons of indigenous deities of rural Bengal, as depicted in Mangal-Kavya, the Bengali Hindu religious texts composed between 13th and 18th centuries, symbolises the supremacy of the native genre of Hinduism.
To halt the progress of "Ram bhakts", the TMC is now invoking native deities to buttress its narrative that the BJP's Hindutva agenda is alien to Bengal's religion and culture.
Many intellectuals, including Nobel laureate Amartya Sen, too maintained that 'Jai Shri Ram' centric Hindutva is not part of the Bengali culture. The TMC is taking this narrative forward by pitting Manasa against Rama, says a senior journalist and political commentator Ranjan Sengupta.
The goddess of snakes is worshipped mainly in Bengal, Assam and Tripura. She is particularly popular among the so-called lower castes in Bengal. She is also popular among the Rajbanshi community in the northern part of Bengal.
Incidentally, it is among these communities that the BJP has been able to make significant inroads with its Hindutva brand of politics. The TMC is now trying to counter the BJP with its brand of Hinduism.
The TMC is indulging in "competitive Hindusim" with the BJP, alleges state Congress president Adhir Ranjan Chowdhury.
To counter the 'bahiragata' or outsider narrative, the BJP emphasises that one of its biggest political icons is Shyama Prasad Mookerjee, the founder of the party's earlier avatar, the Bharatiya Jana Sangh.
The political rivalry of Mookerjee, the then leader of the Hindu Mahasabha, with Subhas Chandra Bose is well known. Mookerjee himself wrote that Bose had personally threatened him against building Hindu Mahasabha as a political body in Bengal, cautioning that if he tried to do so he would ensure, by force if need be, that it was crushed before it was born.
Bose in his writings always dubbed Mahasabha as a communal party and equated it with the Muslim League. It was on this ground that during his presidency of the Congress, Bose banned the practice of dual membership of Congress and Mahasabha.
The Hindu Mahasabha under Savarkar's leadership organised recruitment camps for the British armed forces in various parts of India to fight Bose's Indian National Army. Savarkar's recruitment drive against INA is well documented in the collected works of right-wing leader titled Samagra Savarkar Wangmaya: Hindu Rashtra Darshan.
The TMC is now planning to retell those vignettes of history through a year-long observation of Netaji's 125th birth anniversary starting January 23, 2021. During the year-long celebration, Bose's secular ideals and his core idea would be spread across the state, the chief minister said on Thursday (November 27) announcing the formation of a committee for the quasquicentennial birth anniversary celebrations.
Related news: What stands between Mamata's dole politics and BJP's Hindutva in Bengal
The committee to be chaired by Banerjee will also include Nobel laureates Amartya Sen and Abhijit Vinayak Banerjee among others.
"There is a growing trend of manipulating history… Those who were part of the country's freedom struggle are being ignored. Priority is being given to people who were against the freedom movement," Banerjee said in a veiled attack on BJP's icons.