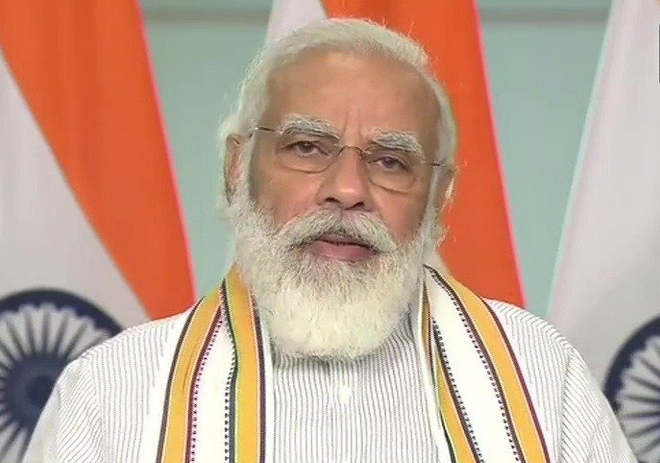 Prime Minister Narendra Modi's virtual address at the Visva-Bharati University in West Bengal on its centenary on Thursday angered Bengal Chief Minister Mamata Banerjee, who repeated her earlier vow to "not allow Bengal turn into Gujarat".`
Modi said in his address that Visva-Bharati University founder Gurudev Rabindranath Tagore had a vision which was the essence of his government's "Aatmanirbhar Bharat" or self-reliant India. He also said the university embodied Indian nationalist sentiment during Independence with the honour of Rabindranath Tagore.
Also read: 7 claims: Derek O'Brien counters Amit Shah's claims against Mamata
"Guided by Gurudev (Rabindranath Tagore) Visva-Bharati presented a strong image of Indian nationalist sentiment during Independence. Gurudev wanted entire humanity to benefit from India's spiritual awakening. Atmanirbhar Bharat vision is also a derivative of this sentiment," Modi said during the virtual address.
The Prime Minister further said, "Be it the Visva-Bharati University, Banaras Hindu University, Aligarh Muslim University, Delhi University, Jamia Millia Islamia University, Andhra University or Anna Malai University, all premier institutions came up around the same time, in the same era, and gave momentum to India's thirst for knowledge. Today, as more and more people are getting a good education, we now have to work to build a strong and wise nation – one that is self-reliant."
Also read: Suvendu, face of Nandigram protest, resigns as TMC MLA, may join BJP
Modi said that Tagore's works inspires all those who have contributed to making India great over the centuries and millennia. "We must also keep in mind the India that our freedom fighters envisioned when they fought of our independence. That is why we are now at the stage to create an Aatmanirbhar Bharat," he added.
The Trinamool Congress accused the Centre of "insulting" Mamata Banerjee by not inviting her to the event. The BJP, however, showed the university letter inviting the Chief Minister and accused her of insulting Tagore's institution by not attending the function.
The Trinamool also contested Prime Minister's attempt to highlight Tagore's connect to his home state Gujarat. Mamata Banerjee had repeatedly said that she will "not allow Bengal to be turned into Gujarat".
"When I speak about Gurudev, I cannot help but indulge in speaking a little about his visits to Gujarat. He used to visit his elder brother who was posted there. He even wrote two of his famous poems whilst in Gujarat. Why I say all this, it is because it shows how India has always been about diverse cultures coming together and living in harmony," said the Prime Minister. He also referred to Tagore's sister-in-law, saying she introduced modern sari-draping to India.
The Trinamool Congress gave a sharp action to Modi's comments. Bengal minister Bratya Bose said, "Tagore's brother who was in Gujarat was not the eldest one. His wife's name was Gyanadanandini, not what the PM said. The story about Gyanadanandini and the sari pallu is a myth, not true," said Bose.
Bose also came down heavily on the Prime Minister for his comments on Visva-Bharati symbolizing nationalism. "The PM spoke of nationalism, Tagore said nationalism was the most divisive thing. Using religion to divide was not what Tagore advocated. His novel 'Gora' was about religion and what it eventually means to man. His novel 'Ghare Baire's' message was that nationalism is an addiction that divides," the senior leader said.