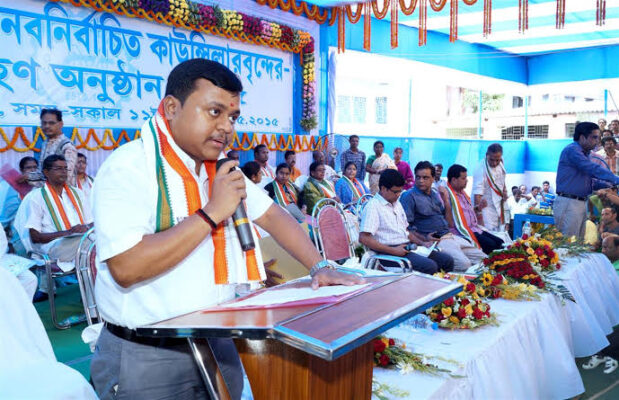 Trinamool Congress leader and brother of former state minister Suvendu Adhikari, Soumendu Adhikari on Friday (January 1) quit the party to join the BJP.
Soumendu, a TMC councillor was recently removed as the chairperson of the Kanthi municipality in East Midnapore district by the Mamata Banerjee government.
He joined the BJP with several TMC councillors at a rally at Kanthi's Domitary Ground in presence of Suvendu.
Suvendu, a former state transport minister, had recently quit the party and joined the BJP, disgruntled over the increasing dominance of the chief minister's nephew Abhishek Banerjee in the party's affairs.
His father Sisir Adhikari and brother Dibyendu, however, continue in the TMC.
Pointing to the same, Abhishek taking a dig at Suvendu had said that someone who can't "make the lotus bloom in his own house" is trying to do it across the state.
Suvendu had replied by saying that he would not only make the lotus bloom in his own house, but "on Kolkata's Harish Mukherjee (home of Abhishek) and Harish Chaterjee streets (home of the chief minister)".
Earlier in the day, Suvendu had announced that Soumendu, will join the BJP along with a few councillors and as many as 5,000 partymen.
"My younger brother Soumendu will join the BJP in Contai today. He will be accompanied by several councillors and 5,000 TMC grassroot workers. The TMC will steadily disintegrate," PTI quoted him as saying.
The development coincides with the 23rd foundation day of the TMC.
Extending her gratitude to 'Maa, Mati, Manush' and the workers of TMC, chief minister Banerjee in a series of tweets said the 23-year-journey of the TMC has been one of "immense struggle" and that workers will continue the resolve of making Bengal "better and stronger each day".
Banerjee, had founded the party on January 1, 1998 after breaking away from the Congress.
"As Trinamool turns 23 today, I look back at the journey we began on January 1st, 1998. Our years have been of immense struggle, but throughout this time we have continued to achieve our objective of being committed to the cause of only the people," she tweeted.
"On #TMCFoundationDay, I extend my sincere gratitude to our Maa-Mati-Manush and all our workers who continue to fight with us in making Bengal better and stronger each day. The Trinamool family will carry on with this resolve for times to come!" she said in another tweet.
The foundation day of the party saw senior leaders hoisting the flag at the party headquarters and workers conducting events across the state.
The TMC which has seen the resignation of prominent leaders including Adhikari, MLA Shilbhadra Dutta and former Asansol Municipal Corporation chairman Jitendra Tiwari will have stiff competition from the Congress-Left alliance and the BJP when the state goes to polls in April-May this year.