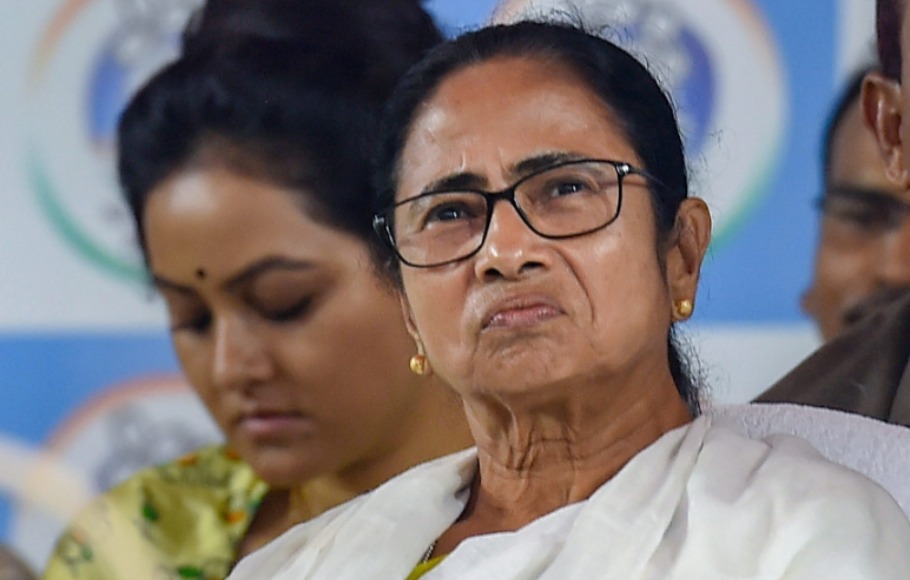 Battlelines have been drawn ahead of the 2021 assembly elections in West Bengal, as chief minister Mamata Banerjee led a scorching and strident attack on the Bharatiya Janata Party (BJP) at a rally in Purulia on Tuesday.
Referring to TMC turncoat and Nandigram MLA Suvendu Adhikari's defection to the BJP, Banerjee said: "Those who want to join the BJP can leave, but we will not bow our heads before the saffron party."
Taking a dig at Adhikari, who she has directly challenged with her announcement to contest elections from his home-turf Nandigram, the chief minister said, "Politics is a solemn ideology, philosophy; one can change clothes daily but not ideologies." The BJP is more dangerous than the Maoists, she contended.
Taunting the BJP leaders, Banerjee said, "The BJP is more visible in the media than on the field. They are using Information Technology to scare and intimidate the Opposition. They have created WhatsApp groups to spread fake news. They came and insulted Birsa Munda, (young freedom fighter and tribal leader)." She went on to deride the BJP for pronouncing 'Bengal' as 'Bangal'.
Also Read:West Bengal will not change labour laws like BJP states: Mamata Banerjee
"They say Bangal but they are kangal for votes," she mocked. Banerjee also targeted the BJP for not declassifying all Netaji files and for daring to file a police complaint against actor Saayoni Ghosh for her twitter post, which allegedly hurt the religious sentiments of Hindus.
The Bengal chief minister also accused the BJP of making false promises before elections and fleeing once the elections are over. "You all voted for the BJP in the Lok Sabha elections, but does your MP visit you? Have they given you anything?" she asked.
Meanwhile, former Trinamool Congress leader Adhikari attacked the CM stating she visits Nandigram only once in five years during elections.
"I want to ask you? What have you done for the people of Nandigram? Those who were suffering, what have you done for them? Class 8 book mentions Singur but the mass killing of Nandigram finds no mention in the books," countered the BJP leader, who has sworn to quit politics if he fails to defeat Banerjee by at least half lakh votes in the assembly elections.
Also Read:West Bengal's glory can be restored if TMC govt is routed: Malviya
The mass killing in Nandigram that Adhikari was referring to allegedly happened in 2007 when 14 villagers died in police firing. They were protesting against the then Left Front government's proposed acquisition of land to set up a chemical hub by Indonesia's Salim group.
Political observers, however, describe Banerjee's calculated move to contest from Nandigram as a "political masterstroke" ahead of the crucial assembly elections. Her announcement has created a storm in West Bengal's politics, as the significance of Nandigram is not lost on anyone.
Nandigram had been one of the two epicentres of TMC's anti land-acquisition movements in West Bengal, with the other being Singur, which helped Banerjee's party win the 2011 assembly elections. The win had ended the 34-year rule of the Left Front government. It was Nandigram that had transformed her into a pro-farmer political figure and had given birth to TMC's Maa, Mati, Manush (Mother, Motherland and People) slogan widely used in her election campaigns.
Also Read:As Bihar goes to polls, BJP shifts its focus to West Bengal
Nandigram also gives her a perfect platform to strongly establish her image as the protector of farmers' rights, and who will do anything to address the ongoing agrarian crisis in the country. In Nandigram, Banerjee aims to take the BJP head-on and diminish the power and influence of Adhikari in his own territory. The BJP, which is optimistic about a good show in the assembly elections after its spectacular performance in the national elections in 2019, will now face the daunting task of defeating Banerjee in Nandigram, as she has not lost an election in Bengal since the 1989 Lok Sabha polls.
Contesting from Nandigram will also reaffirm her image as a fighter. Despite being under heavy pressure from the BJP in Bengal, Banerjee has taken on the might of the saffron party. In the process, she has rejuvenated the party's rank and file, who are hoping to form a government in the state for the third consecutive time.