Popular food website Eater in January came up with a list of the top 10 food destinations in the world. And sitting pretty among the best of the best foodie havens was one city from India — Kolkata.
The website chose Kolkata along with the likes of Tamaki Makaurau or Auckland (New Zealand), Asheville (US), Albuquerque (US), Guatemala City (Guatemala), Cambridge (England), Dakar (Senegal), Halland (Sweden), Sardinia (Italy), and Manila (Philippines).
So, what are the food items that make Kolkata deserve a place on the top 10 food destinations in the world? While choosing only 10 was an incredibly tough choice, these are some of the must-haves in the city if you are a foodie.
1. Kathi rolls
Kolkatans living outside the city often grumble about missing their rolls. Egg rolls, chicken rolls, mutton rolls, liver rolls, paneer rolls, egg-chicken, egg-mutton — they come in an incredible variety at street-corner stalls across the city. And rolls are one of the best street foods to have in Kolkata.
For one thing, they are cooked right in front of you; so, they are safe to eat. They are filling, and one egg-chicken roll can set you on the roll for hours. You can also "customise" you rolls by asking for that extra dash of lemon or cilantro, a sukha paratha instead of the oily version if you are a health freak, or for the tomato sauce to be left out.
If you want an "aristocratic" roll, head straight for Nizam's at Hogg Street near New Market, one of Kolkata's oldest and largest shopping hubs. That is where the kathi roll (literally meaning "stick roll") was born before it went on to capture the city's entire street food market and then become an iconic food representing the city itself across India and beyond.
2. Fish fry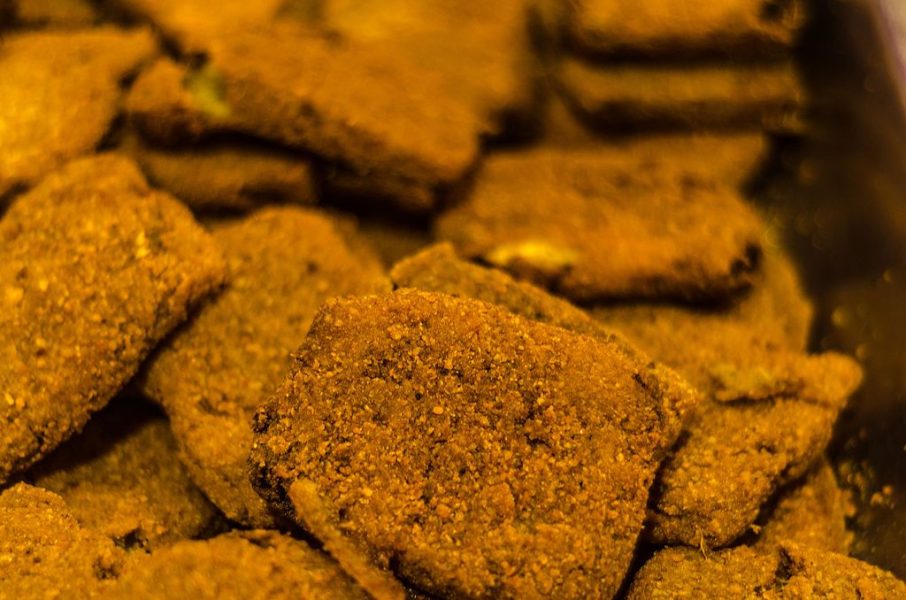 It's no secret that Bengalis love their maachh-bhaat (rice and fish). But while the ubiquitous maachher jhol (fish stew) is most talked about, do not think that is all Bengalis do with their fish. Fish is cooked in a variety of ways, including with mustard paste (maachher jhaal), a rich curry (maachher kalia), boneless fish, mostly bhetki, wrapped in banana leaf (paturi), and several other ways.
When it comes to fried fish items, you get fish kabiraji cutlet, fish chop, fish orly, fish fingers, fish pakora, and a lot more. And occupying pride of place right on top is the Kolkata-style fish fry. Bengali weddings are still incomplete without a huge piece of fish fry taking up the entire space on guests' plate.
It's traditionally made with bhetki fillet, though nowadays many replace it with basa, much to the chagrin of puritans. The fillet is marinated in spices, coated with breadcrumbs, and deep-fried. Some of the best places to have a bite of the Kolkata-style fish fry are Apanjan in south Kolkata, Mitra Café in the north, Chittoda's Suruchee Restaurant in central Kolkata, and Bijoli Grill with outlets across the city. There are many other joints where you can get a taste of this delicious fish item.
3. Luchi with white potato curry or chholar dal
If you want a taste of traditional Bengali breakfast, you must have this. Luchi is unique to Bengal; in other places of India, you will get puris or parathas.
The humble luchi is the smallest of the three and the most delicate too. It's much like a puri, though made with maida (all-purpose flour), while its north Indian cousin is made with atta (whole wheat flour). And luchi is best had with either the sada alur tarkari (white potato curry) or chholar dal (chana dal). You will get luchi with either of these in any small eatery serving in the mornings, all over the city.
In winter, these very eateries serve karaishutir kachuri (peas kachori), which is essentially luchi with a filling of lightly spiced mashed peas. So, if you are in the City of Joy in winter, do not miss the karaishutir kachuri either. There is no greater joy that tearing off a little bit of the delicate white phulko luchi, wrapping a little golden chholar dal in it, and popping it into your mouth. Trust us, it's heaven.
4. Bengali thali
A full-course Bengali meal is the epitome of balanced diet. It usually starts with rice and shukto (a light vegetable stew usually with a bitter element in it) or fried bitter vegetables as an appetiser.
The next item is usually dal with either fried veggies or something called chochchori (fried mixed vegetables). Sometimes, there is a curry called a dalna, which can be made with several vegetables with potato as a staple.
That is followed by a fish curry (jhol, jhaal, or kalia). There can be chicken or chevon (goat), too. For dessert, you get sweet chutney, often followed by mishti doi or a mishti (more on that later).
Across the city, there are hundreds of small eateries where you can get a taste of this Bengali meal (usually lunch). Some of the best places to eat a full-course Bengali meal are what were earlier called the "pice hotels," which served a meal at one paisa. They still serve a meal at dirt-cheap prices.
If you want a taste of delicacies, Kasturi restaurant is a good bet. It has multiple outlets and droolworthy items like Kochu Pata Chingri, which is shrimps cooked with taro leaves. If you want to go more sophisticated than that, head for Oh! Calcutta, 6 Ballygunge Place, or Aaheli. But if you want our suggestion, nothing beats the authenticity of the small eateries.
5. Kasha mangsho
Chevon (what is popularly called mutton across India) is cooked in a variety of ways all over Kolkata but nothing beats the Bengali love for kasha mangsho. While mangsho means meat, the word "kasha" can be roughly translated to sauteed in English or bhuna in Hindi. It essentially means slow-cooking the meat in a spicy gravy over a low flame.
One of the most iconic eateries synonymous with its kasha mangsho is Golbari in north Kolkata's Shyambazar. You will get kasha mangsho or mutton kasha in several other restaurants offering Bengali cuisine.
Another iconic chevon dish in Kolkata is Sabir's rezala. Sabir Hotel in Central Kolkata's Chandni Chowk has been known for decades for this delicious goat curry.
6. Biryani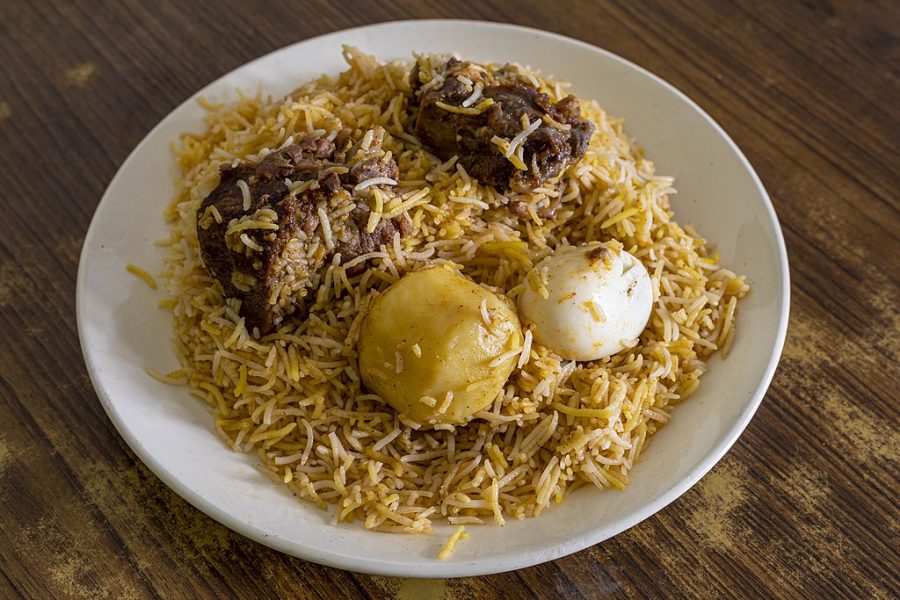 Kolkata's biryani is a unique variety in its own right. That's because no other biryani — whether Lucknowi or Hyderabadi — had chunks or potato or eggs in it.
The Kolkata biryani is an offshoot of the Lucknowi biryani. It came to Kolkata with Wajid Ali Shah, the last nawab of Oudh, who lived his last days in exile in Kolkata's Metiabruz area. It is said that the personal chef of the exiled nawab found it hard to afford meat every day and tried to compensate for it by adding potatoes and eggs. And the result was what is today hailed as the authentic Kolkata biryani.
Some of the best places to have biryani in Kolkata include Royal, Aminia, Arsalan, and Shiraz. There are hundreds of other outlets to enjoy a taste of Kolkata's unique version of biryani.
The Islamic influence in Kolkata's food is not restricted to biryani though. If you happen to come during Ramadan, do look for halim (a meat and dal stew) in the afternoon.
And if you come during winter, head straight for Sufia restaurant on Zakaria Street for an early-morning breakfast of nihari (a lighter meat-and-dal stew) and daalpuri. Nihari is available only during the winter months, and that too, early in the morning (nowadays some serve it in the evenings too). Foodies line up for their nihari as early as 4.30 am. It's a unique experience.
7. Mishti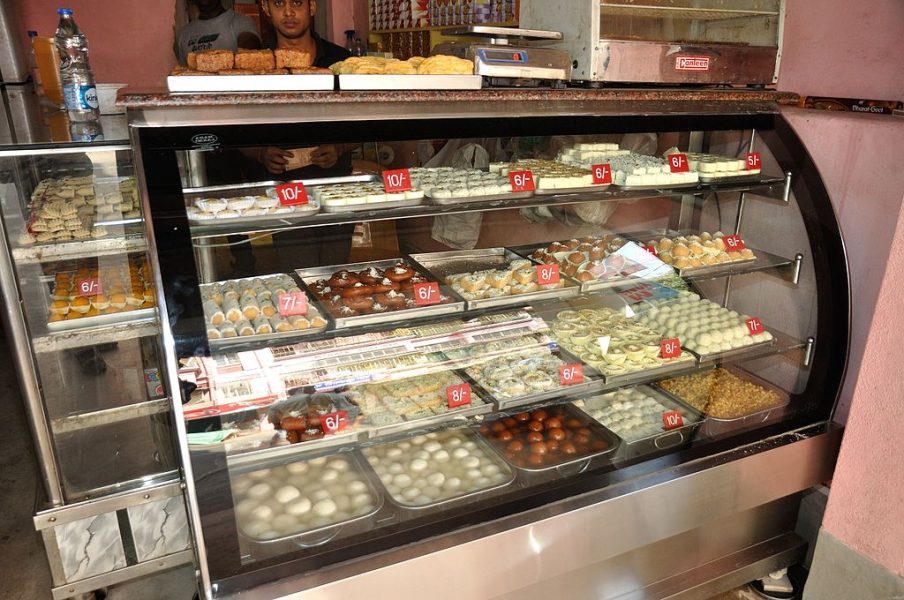 Roshogolla (rasgulla) may be the most widely known mishti (sweetmeat) of Kolkata, but the city's full list of mishtis may be too big for this page. Lyangcha, chomchom, pantua, ledikeni, manohara, chitrakut, chhanar jilipi, kanchagolla, and a mindboggling variety of sandesh — the list can just go on and on.
Every street corner of Kolkata has a mishti shop. All you need to do it stand at one and ask which one is what. They have names of every item on offer. In winter, nalen gur (date jaggery) is a must in roshogollas, sandesh, and a variety of other sweets. Stalls come up selling special sweets made with nalen gur and chunks or the jaggery itself.
And finally, do not leave without having a taste of what is now just as famous as roshogolla — mishti doi. The sweet yogurt is unique to Bengal and if you haven't tasted it yet, you are yet to taste heaven.
8. Baked goodies
Thanks to its colonial history, Kolkata has some iconic bakeries selling a wide variety of mouth-watering cakes and pastries. Especially during Christmas-New Year, you will find long queues outside these iconic stores, the most notable of them being Nahoum and Sons in New Market.
While Nahoum's rich fruit cake is the most sought-after item during that time, it is by no means the only thing to try. Another iconic place is Flurys on Park Street. Besides, there are several bakery chains and high-end stores selling baked goodies too.
9. Phuchka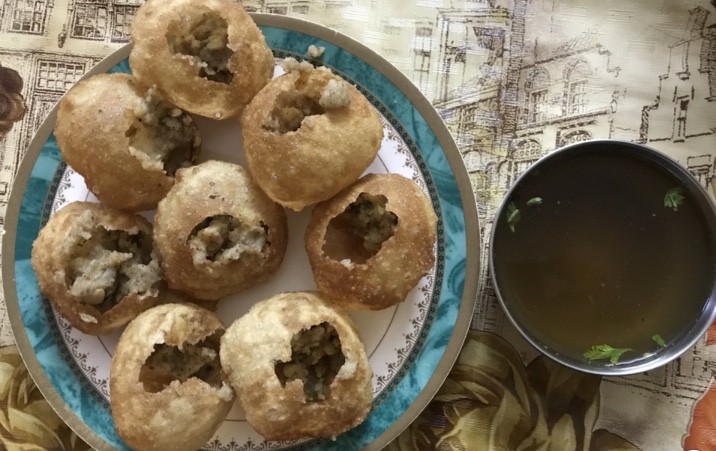 It is known all over India by several names, including golgappa and gupchup, but Kolkata's very own phuchka has a very different taste than its cousins in other cities.
In the authentic Kolkata phuhka, the crisp shell is filled with a potato and chickpea mix and dunked into tamarind water. And unless you ask for extra tamarind water or a sukha phuchka in the end, you are not considered a true phuchka afficionado in Kolkata.
Vivekananda Park is known for its phuchkas and many other items, including dahivada and chaat, but many roadside phuchka sellers are just as good with their fare. Just don't look for hygiene please!
10. Telebhaja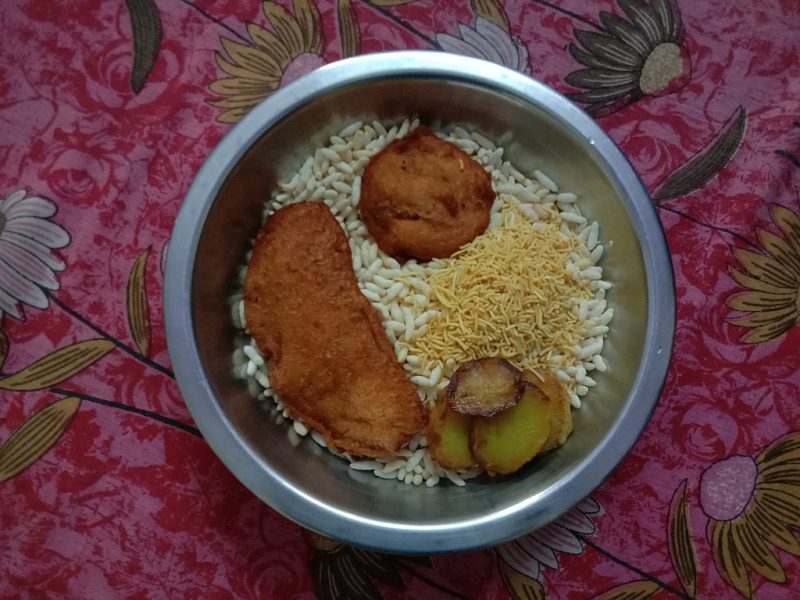 Alur chop, beguni, peyaji — these three are the royal trio of what is called telebhaja (translating to "fried in oil") in Kolkata. The humble alur chop is essentially a ball of lightly spiced mashed potato coated in batter and deep fried. Beguni is similarly slices of batter-coated eggplant (begun in Bengali) deep-fried, while peyaji is the same with onion (peyaj in Bengali).
These fritters are the most iconic street food of old Kolkata and they continue to rule the roost, despite the dosas, momos, and chow mien doing brisk business alongside. These are quick bites, good for an evening or midday snack, and are especially popular with tea on a rainy evening. They are often eaten with muri (puffed rice), and you will miss a taste of authentic old-Kolkata snack and street food if you do not grab a bite of these.
If you have more space in your stomach, do try jhaalmuri too. It's basically muri (puffed rice) mixed with spices, sliced onion, and sliced cucumber, and other goodies. Also called mashla muri, it's iconic to Kolkata and even gone international now!