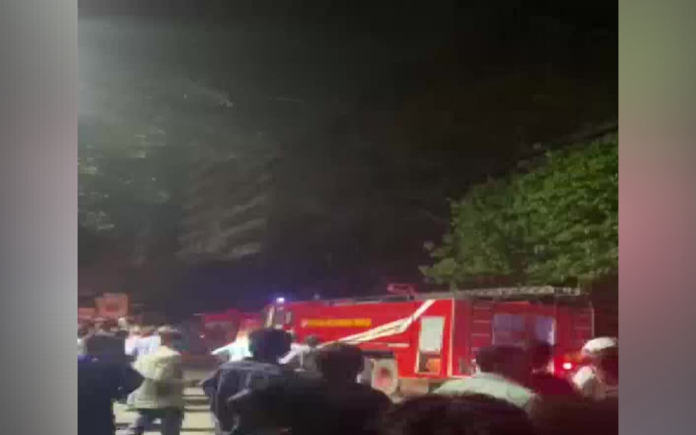 At least two persons, including a 12-year-old boy, were killed in a fire that broke out in an eight-storey residential building late on October 16 in Kolkata.
The fire broke out in a metre box installed in the ground floor of the building at Ganesh Chandra Avenue, and spread to other parts of the building. About 50 families live in the building. The fire was spotted around 10.30 pm, said fire brigade officers.
The 12-year-old, who died, had jumped off from the first floor amid panic. "The boy had jumped off the first floor of the building out of panic. The body of an old woman was also recovered from a flat in the building," an official said.
Advertisement
At least 10 fire tenders and a hydraulic ladder were deployed to rescue those trapped inside the building and to put out the blaze.
All the other residents of the building have been rescued and the fire is under control, said Bengal Fire Services Minister Sujit Bose. "All the residents have been rescued. The fire is also under control. The fire officials are arranging cooling-off," said Bose.
Related news: Kerala shrine fire: Chargesheet filed against 59 after 4 years
The building is located in a congested area, with adjoining buildings standing dangerously close to each other.
"Rescuing people and fire fighting are going on simultaneously. The building has only one entry and exit point which is narrow. This has made things difficult," he said.
Residents of the adjoining building of the same height placed wooden planks between the two buildings and rescued a few people while fire brigade personnel searched the rooms of the affected building for any one trapped.
Smoke was seen billowing from the building on Saturday (October 17).
This was the second major fire incident in the city in less than a month. On Sept 28, a fire broke out at a basement office in Fort William, the Army's Eastern Command headquarters, officials said.
The blaze, which was reported at 7.35 am, was brought under control at 11.15 am, a Fire Brigade official said. No one was reported to be injured or trapped, he said.
Four fire tenders doused the blaze at Fort William in the heart of Kolkata, he added.
The cause of the fire is yet to be ascertained.