The Centre has taken serious exception to what it called a "gradual dilution" of the COVID-19 lockdown in West Bengal, and named certain minority-dominated areas of Kolkata where social-distancing norms were being allegedly violated.
The home ministry, in a letter to the chief secretary and the DGP of West Bengal, stated that shops selling non-essential goods were allowed to function and that police had permitted religious gatherings in the state.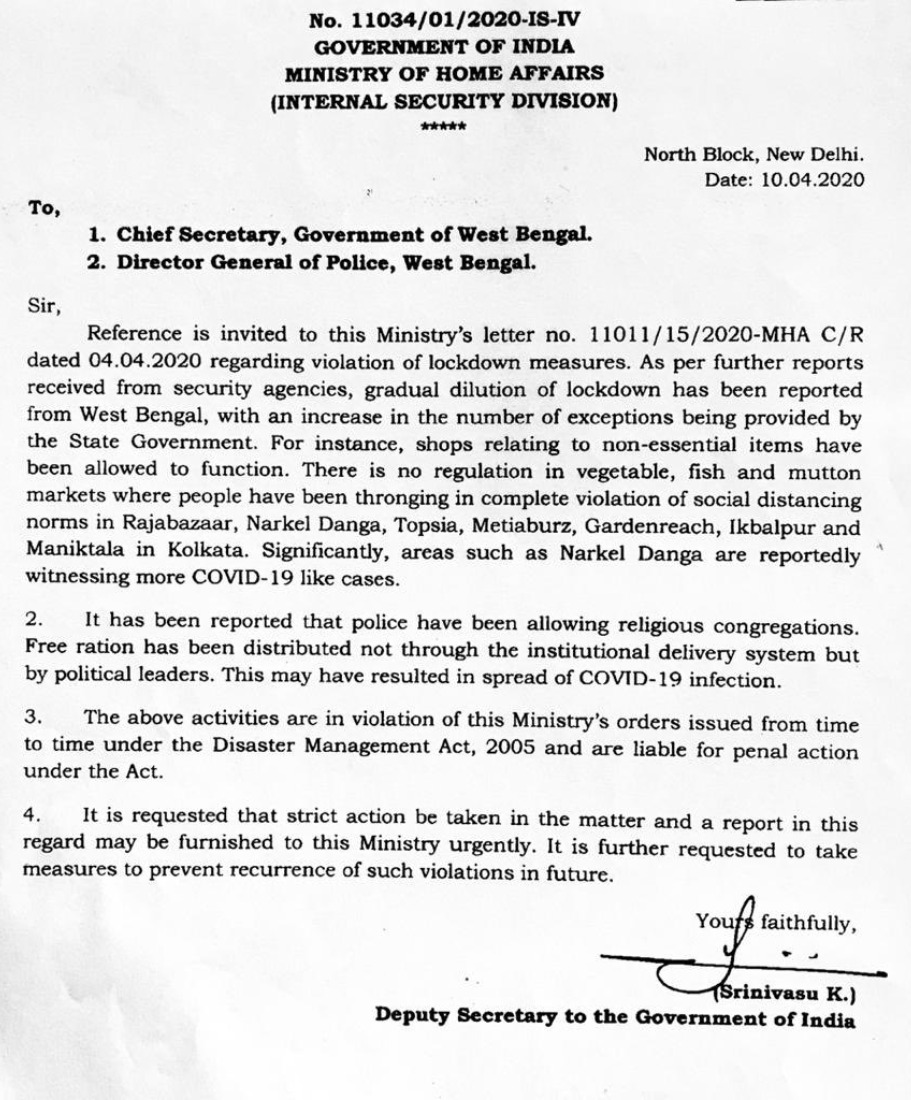 The Centre's communication came hours before the state government extended the lockdown till April 30 and decided to enforce complete lockdown in certain "sensitive areas" which have been found to show a number of COVID-19 cases in the last three weeks. The government reportedly has identified around 10 such areas across the state.
The state government also announced that educational institutions in the state would be closed till June 10.
"Prime minister (Narendra Modi) has decided to extend the lockdown till April 30. So please bear with us," Chief Minister Mamata Banerjee told a press conference. Earlier in the day, the prime minister had interacted with 13 chief ministers, including Banerjee, through video conferencing.
In its letter, the MHA said, "As per further reports received from security agencies, gradual dilution of lockdown has been reported from West Bengal, with an increase in the number of exceptions being provided by the state government."
When her attention was drawn towards the Centre's communiqué, Banerjee told the press conference she did not understand why some places were selectively named. "We are now focusing our fight against a disease and not a communal virus."
Related news: In West Bengal, Mamata govt does a flip-flop on COVID-19 numbers
The ministry claims to have reports that in Rajabazar, Narkel Danga, Topsia, Metiabruz, Garden Reach, Ikbalpur and Maniktala areas of Kolkata, people have been thronging in vegetable, fish and mutton markets in complete violation of the social-distancing norms. Most of these areas are minority-dominated.
"Significantly, areas such as Narkel Danga are reportedly witnessing more COVID-19-like cases," said the MHA letter signed by deputy secretary Srinivasu K.
"It has been reported that police have been allowing religious congregations. Free ration has been distributed not through the institutional delivery system but by political leaders. This may have resulted in spread of COVID-19 infection," the letter said.
The ministry said such activities are in violation of the central government's orders issued from time to time under the Disaster Management Act, 2005, and are liable for penal action under the Act.
"It is requested that strict action be taken in the matter and a report in this regard may be furnished to this ministry urgently. It is further requested to take measures to prevent recurrence of such violations in future," it said.
Related news: Beggars donate to COVID-19 fund, prisoners make PPE in Bengal