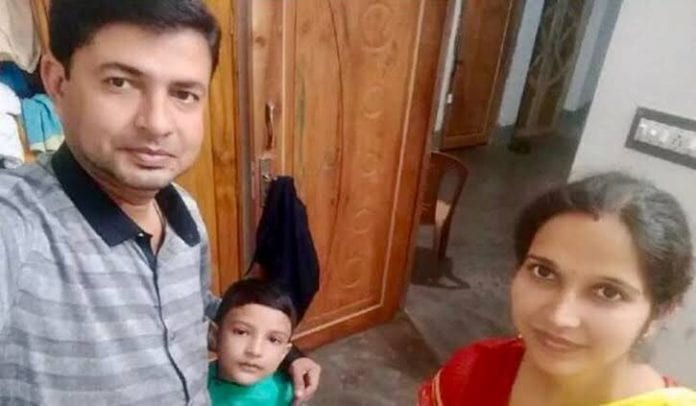 The recent murder of a 35-year-old school teacher, his pregnant wife and their minor son in West Bengal's Murshidabad has triggered a political blame game in the state as the Rashtriya Swayamsevak Sangh (RSS) claimed that the victim teacher was its supporter.
Bandhu Prakash Pal, his pregnant wife Beauty and eight-year-old son Angan were found dead on Tuesday (October 8) in their house in Murshidabad's Jiaganj, reported news agency PTI.
Also read | With Durga puja, harmony returns to Bengal's hotbed of communal tension

While the RSS claimed that Pal was its supporter, the police said it has no clue whether he was a supporter of any organisation or political outfit. The BJP and the RSS has further clarified, as per a report, that Pal was not an active member, but at times he took part in the weekly 'milan' organised by the Sangh.
Meanwhile, the police claimed that it has detained three people for questioning. It added that it has come across the page of a diary that suggested "likely strained relation" between the victim couple.
TMC, Governor engage in war of words
The situation became intense on Thursday (October 10) with Governor Jagdeep Dhankhar and several BJP leaders lashing out at the Mamata Banerjee dispensation over the law and order situation in the state. The Governor slammed the state machinery for its alleged lack of response and said that it has sought a report from the government on an urgent basis.
"The incident puts humanity to shame. A teacher, his pregnant wife, and son are killed in a barbaric manner…no response from the state machinery. This cannot be countenanced," Dhankhar was quoted as saying. "I am shocked, distress and pained at the brutal killing of a school teacher, his wife and their son in Murshidabad. This is a critical reflection of the state of affairs and the law and order of West Bengal."
The ruling Trinamool Congress (TMC) was quick to respond to the Governor. It accused Dhankhar of "speaking selectively" on incidents of violence in the state and acting in a manner that does not "behove a Governor", added PTI.
Also read | Muslim youth assaulted in Assam's Barpeta, forced to say 'Jai Shri Ram'

TMC's general secretary and state minister Partha Chatterjee said that the Governor was demeaning his post by crossing his constitutional limits. "We are keeping a watch. He is making politically motivated and untrue statements. He should show some restraint," he said.
Another senior leader of the ruling party in the state, Tapas Roy, slammed Dhankhar claiming that he had kept mum when a TMC worker was killed in East Midnapore district's Panskura.
"We too are pained by the killing of an entire family. But we can't support the statement made by the governor. He never makes any statement or his heart does not bleed when TMC workers are killed. He refrains from sparing a word against the BJP that is behind the violence in the state," said Roy.
Taking a shot at 'liberals'
Meanwhile, Law Minister Ravi Shankar Prasad and BJP national spokesperson Sambit Patra accused the "liberals" of keeping mum on the murders.
Deeply condemn this barbaric act of murder of RSS worker, his wife and child in West Bengal.
Hope liberals will find it ghastly enough to empathize with the bereaved family if not condemn and criticise it outrightly. https://t.co/18cGTJtC1w

— Ravi Shankar Prasad (@rsprasad) October 10, 2019
Also read | FIR against Mani Ratnam, Guha, others who wrote to Modi on mob lynching

Condemning the murders, Prasad said in a tweet, "Deeply condemn this barbaric act of murder of RSS worker, his wife and child in West Bengal. Hope liberals will find it ghastly enough to empathise with the bereaved family if not condemn and criticise it outrightly."
Patra too cried foul over "nauseating selectivism" of the "liberals". "Warning: Gruesome video," he tweeted along a video of a house, in which blood stains could be seen on the floor. "This has shaken my conscience…Not a word by the liberals. Not a letter by 59 liberals to Mamata (Banerjee). Nauseating Selectivism!"
The two leaders were apparently referring to 49 eminent people from various fields who had this July written to Prime Minister Narendra Modi asking him to take action against incidents of mob lynching.
Also read | Naseeruddin Shah, Romila Thapar, others condemn FIR against 49 celebs
इससे ज्यादा जघन्यता क्या होगी?

मुर्शिदाबाद (प.बंगाल) में #RSS के कार्यकर्ता श्री प्रकाश पॉल, उनकी गर्भवती पत्नी और 8 साल के बच्चे की नृशंस हत्या कर दी गई! जहाँ आम आदमी की जान सुरक्षित न हो, उस राज्य की कानून व्यवस्था को अच्छा कैसे माना जाए?

ये क्या हो रहा है दीदी आपके राज में? pic.twitter.com/WqGLtZwOt3

— Kailash Vijayvargiya (@KailashOnline) October 10, 2019
Meanwhile, BJP general secretary Kailash Vijayvargiya, who is in charge of the party's affairs in Bengal, also hit out at the Chief Minister over the triple murder. "What can be more heinous than this…How can law and order of a state be considered good when the life of a common man is not safe? What is happening didi in your rule," he tweeted, referring to Chief Minister Mamata Banerjee as didi.
AIMIM president Asaduddin Owaisi too condemned the incident and said the Chief Minister must ensure that the culprits are given the "highest possible punishment for this dastardly crime".
(With inputs from agencies)