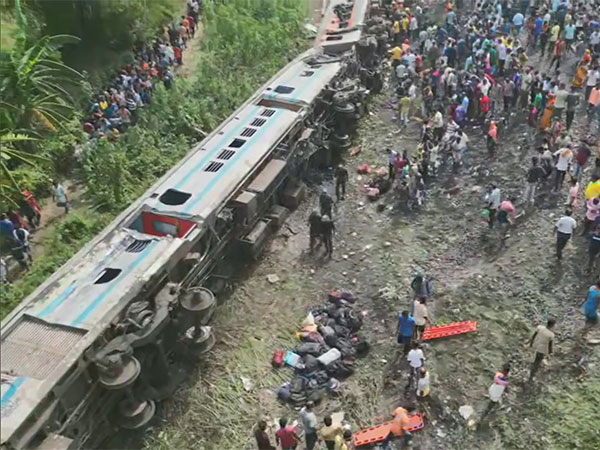 Odisha train tragedy: Chopped hands, body parts greet first rescuers
When the first set of villagers rushed to the Odisha railway disaster site, they were numbed by what they saw in the dimming light: chopped hands and body parts strewn around a one-kilometre area.
In no time, however, the villagers plunged into relief and rescue operations, helping the passengers who had been thrown out of the trains due to the crash or had managed to come out, many crying and screaming in pain and agony.
Soon, the number of people who had rushed to the area from nearby villages after hearing the deafening crash involving two passenger trains and a good train had swelled to more than 3,000.
"People swung into action to rescue as many injured passengers as possible," recalled Sudhansu Panda, 52, a resident of Bahanaga block in Odisha's Balasore district.
Panda had stepped out on the evening of June 2 as usual to buy milk for the family. At around 6.45 pm, while returning home on his motorcycle, he saw the Yashwantpur (Bengaluru)-Howrah Express merrily whistle past on the tracks barely 300 metres away.
Ghastly scenes
But minutes later he was horrified to hear some deafening sounds. Panda was sure something terrible had happened.
"I turned back my motorcycle and rushed to the place. On the way, I saw hundreds of locals running towards the station, just 500 metres from my home.
"My god, what we saw was a disaster much more horrible than the 1999 super cyclone which hit Odisha hard," Panda said.
Among those who rushed to the site were Panda's son Subhransu and son-in-law Abinash Pati. Soon, everyone got busy trying to save lives.
Some villagers also began supplying water to the wounded and stunned passenger.
The first railway officials took almost an hour to reach the spot, say locals.
The Shalimar-Chennai Central Coromandel Express, running at 127 kmph, had failed to change track near the Bahanagar Bazar railway crossing and ended up ramming into a stationary goods train.
Due to the impact of the accident, 10-12 of its coaches turned turtle and fell on another track.
Just then the Bengaluru-Howrah Superfast Express came on that track and hit the coaches, adding to the complexity of the disaster.
Death toll
Panda and some villagers insisted that the number dead must be much more than the 238 now admitted to officially.
Since its introduction in 1977, the Howrah-Chennai-Howrah Coromandel Express has been a favourite among passengers. Unless booked in advance, it is extremely difficult to get a reserved berth in this train known for its speed and punctuality.
The train unfortunately has met with accidents. In 2009, the train derailed killing 15 passengers near the Jajpur Keonjhar Road railway station, roughly 60 km from Bahanaga, the site of the June 2 disaster.