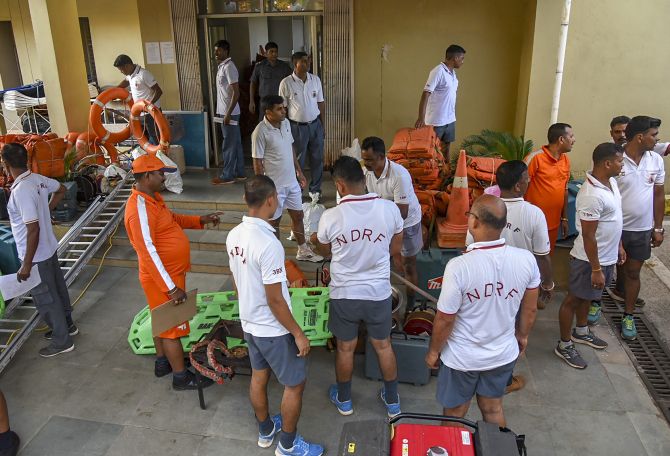 In 1999, when a super cyclone struck Odisha with a wind velocity of 260 kmph, it wiped out more than 10,000 of its population in a matter of hours, leaving a scary trail of death, loss, and destruction in its aftermath.
Coastal villages were marooned in seawater, stormy winds brought houses to the ground, and roads turned into watery graves filled with corpses, dead cattle, uprooted trees and snakes. Hunger pangs, sobs and frightful nights ruled days before help and relief reached these areas. The state government headed by then chief minister Giridhar Gamang was held responsible for its indecisiveness, poor planning, and ineffective relief. The added handicaps were poor coordination between government departments and poor or little use of technology.
Better preparedness
Today, the state is better prepared. A day before dreaded cyclonic storm Fani, described by the IMD as an 'extremely severe cyclonic storm,' is expected to make landfall between Gopalpur and Chandbali, Odisha is all braced to prevent any eventualities.
Advertisement
According HR Biswas, director of the Regional Meteorological Centre in Bhubaneswar, the latest location of the cyclone is 71 degrees North and 84.8 degrees East. It is located 320 km south of Puri, as per the latest recording at 2.30 pm on May 2. With the cyclone predicted to acquire speeds of 170-180 kmph after landfall, the department predicts heavy rain from the night of May 2 to May 3. The districts of Puri, Jagatsinghpur, Balasore, Bhadrak, Kendrapara, Ganjam, Khurda, Jajpur, Nayagarh, Cuttack, Gajapati, Mayurbhanj, Dhenkanal and Keonjhar are likely to be hit.
ESCS FANI centered near 17.4 N/84.8E over westcentral Bay of Bengal at 1730 hrs IST about 275 km SSW of Puri & 160 km ESE of Visakhapatnam. To cross Odisha coast between Gopalpur & Chandbali around Puri during forenoon of tomorrow, the 3rd May. pic.twitter.com/PbdlpsuRdw

— India Met. Dept. (@Indiametdept) May 2, 2019
A few hours ago, Odisha chief minister Naveen Patnaik asked residents not to be frightened and assured them that the government was fully prepared to handle the situation. With the government aiming at evacuation of almost 8 lakh people from low-lying coastal areas to safer places, the Special Relief Organisation (SRO) has already evacuated 3,31,794 people in 15 districts so far.
The health department has deputed 302 rapid response teams and opened 936 relief camps. The NDFR, Odisha Disaster Relief Force (ODRF) and Navy are on standby. Over 879 cyclone centres have been kept ready to shelter the evacuated and the SRO has kept one lakh dry-food packets ready for air dropping in the areas that are predicted to be affected. The railways has cancelled 103 trains and all flights will be cancelled from the midnight of May 2 for 24 hours. Almost 50 volunteers trained in disaster management will be deployed at each shelter. The SRC has been issuing instructions on social media to stay calm during the cyclone and heed to government advice.
Lessons from Phailin
In 2013, a similar preparedness for cyclone Phailin helped the government mitigate the range of deaths and destruction seen in 1999.
HR Biswas attributes the better preparedness to an improvement in weather forecast and better use of technology. According to a report on cyclones by the Middle East Institute, the Indian Meteorological Department was able to generate early warnings for the 1999 super cyclone only two days in advance, compared to four days in case of Phailin.
Disaster management too has witnessed a sea change following the 1999 super cyclone. In what was touted as the world's biggest evacuation, the Odisha government evacuated almost one million people ahead of the cyclone's landfall on October 12, 2013. The wind velocity was 205-220 kmph and brought torrential rain to the tune of 241.1 mm for three days. The cyclone that affected 19 districts destroyed houses, schools and crops – hitting Gopalpur in Ganjam the most – but only 23 casualties were reported compared to the 10,000 in 1999.
According to the annual report on natural calamities by the Special Relief Organisation of Odisha, the government set to work as soon as the Met department sounded the alarm for the cyclone on October 8. Collectors in 14 vulnerable districts and the police chiefs were alerted. News was disseminated to the public through various channels.
Mock drills were conducted at cyclone shelters and 10 units of ODRAF, 28 of NDRF, 12 of CRPF and 10 platoons of OSAP apart from 350 teams consisting of mostly fire service personnel, home guards and civil defence volunteers besides, search and rescue boats as well as equipment such as JCB and earth movers were kept on the standby for search and rescue operation. These response forces and teams were equipped with disaster response equipment like power saws, power boats, and inflatable tower lights, cutters, spreaders with power pack, etc.
Almost 4,203 free kitchens were set up to feed 22.54 lakh people who took shelter in cyclone relief centres. Some 5.7 tonnes of dry food was air dropped in inaccessible areas and 5.41 families were provided polythene sheets for temporary shelter. With powerlines severely damaged in the cyclone, power supply was restored to 27.55 lakh of the 38.09 lakh affected houses. To restore health services, 185 medical teams and 338 medical relief centres were opened.
Advance planning
The preparation for a cyclone like Phailin was done in advance. Between 1999 and 2013, called the 'inter-disaster period' the Odisha government developed a new disaster management model, says the article by Middle East Institute. More coordination was encouraged between the national and state governments, the Indian Meteorological Department, NGOs and at-risk communities, it says.
Soon after the 1999 cyclone, the Odisha government formed the Orissa State Disaster Mitigation Authority (OSDMA), now called Odisha State Disaster Management Authority in December, to work for relief, restoration and reconstruction activities during natural disasters.
A report on 'Preparing for Disaster: Lessons from Phailin Response' says the 1999 cyclone changed the government's approach to disaster management, which 'changed from emergency management framework to proactive disaster management activities with the help of local communities.'
"The state government has developed a holistic approach to disaster management by incorporating a growing concern for the environment focusing on risk assessment and risk reduction and by trying to ensure people's participation, so as to create a disaster resilient Odisha."
In 2001, the government launched the Community Based Disaster Preparedness programme from support of UNDP to reduce the risk of disaster in hazardous areas. It was later implemented in 16 districts between 2002 and 2009. It included training people in disaster management and incorporating cyclone and earthquake resistant features in houses among others.
"Efforts by the OSDMA, government, NGOs and communities in cyclone preparedness, helped in minimizing the loss of human lives. The World Bank, appreciating the effort of the state government and OSDMA said: "Successfully evacuating a million people is not a small task. This cannot be merely achieved by kicking the entire state machinery in top gear for three to four days, following a cyclone warning. This has taken years of planning, construction of disaster risk mitigation infrastructure, setting up of evacuation protocols, identification of potential safe buildings and most importantly, working with communities and local organizations in setting up volunteer teams who knew exactly what needed to be done," the paper says.
Ranjan Panda, water and climate expert, says an improvement in community behaviour also helped in the better preparedness for Phailin and other cyclones. "Coastal communities who were living with cyclones and had brushed away warning of the 1999 super cyclone, are taking government information more seriously," he says.
He, however, feels much more has to be done in terms of rehabilitation. "When Phailin (2013) and Hudhud (2014) struck Odisha, the government took measures for relief and evacuation, but had completely missed on flood preparedness. There is a village called Udayakani in Puri district, where seawater swallowed a major part of a farmland and people now have no other means to survive."
Rare cyclone
Panda says Fani is among the 'rarest of rare' cyclones seen in the period between April-May which occurs due to rise in sea temperature. "Cyclone Fani is only the second severe cyclone in the past 118 years to form in the Bay of Bengal in the month of April and cross over to the Indian mainland, according to data from IMD. The last severe cyclone, Nargis, devastated Myanmar in 2008, say scientists. Between 1891-2017, only 14 severe tropical cyclones formed in April over the Bay of Bengal and only one storm crossed the Indian mainland."
He says the need of the hour is ensuring long-term evacuation. "India should rethink the use of its fossil fuels with most of its power plants using coal. There should be more conservation of natural ecosystem and we need a more resilient agriculture." The SEOC helpline number is: 0674- 2534177.
On Thursday, PM Modi chaired a high-level meeting to assess cyclone preparedness.
Chaired a high level meeting to review the preparedness relating to Cyclone Fani. The Central Government is ready to provide all possible assistance that would be required.

Prayers for the safety and well-being of our citizens. pic.twitter.com/GLoCzmV1io

— Chowkidar Narendra Modi (@narendramodi) May 2, 2019