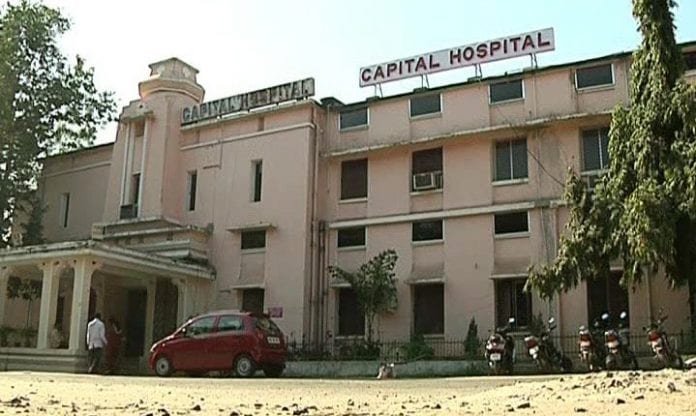 Odisha's pathetic healthcare system could not be stripped bare to the bones anymore as two women in separate incidents, gave birth in the hospital premises on being denied immediate admittance.
On October 11, Pana Murmu of Salia Sahi, the biggest slum in Odisha complained of labor pains and went to the Capital hospital in Bhubaneswar. After initial checkup she was shifted to the labour ward. However the doctor on duty in the labour ward said that it was false labor and sent her back. An hour after the woman walked out of the hospital premises, she had severe pains and delivered on the footpath, in front of the hospital's blood bank.
However the hospital staff have a different story to tell. Speaking to The Federal, Narayan Sethi, superintendent of Capital hospital said, "We did not send the woman back. We only made her sit till her attendees filled up the admission form as there was a shortage of hospital beds." He added that the woman went for a walk while she was made to wait and suddenly delivered in the hospital premises.
"We have a total of 100 beds and 7 beds for labor ward yet 250 patients visit every day," he said. Mr. Sethi also said that no probe was underway as they have not received any complaint regarding any negligence. He said that strict action will be taken after probe if any complaint is lodged.
In another incident reported from Bhadrak district, one Ranulata Khillar of Taldumuka village came to Bhadrak District Headquarters hospital (DHH) after developing symptoms of pre-term labor. The doctors examined her and found out that she had multiple pregnancy.  Owing to her critical condition, they referred her to SCB Medical College and Hospital in Cuttack.
On her way out, while the woman waited for an ambulance to take her to SCB she delivered one of her twin babies on the hospital verandah. On being informed about it doctors and hospital staff rushed to the place and helped her deliver the other baby. Following the incident the tension in the hospital atmosphere was high as the locals accused DHH of medical negligence. The mother and her babies were admitted to the post-natal ward later.
Chief District Medical Officer of Bhadrak refused to comment on the issue when contacted.
The two preposterous incidents ironically comes just days after the Modi government launched Surakshit Matritva Aashwasan or SUMAN on October 11 which ensures zero tolerance for maternal medical negligence and aims at providing quality healthcare at zero cost to pregnant women, new mother and newborns. This makes Odisha the first violator of SUMAN.
According to data available with the state, a total of 6,039 home deliveries were recorded this year between April and July but 40% of them were deemed safe since these deliveries were assisted by skilled birth assistants. Which means a high number of 3,554 deliveries are still unsafe and assisted by untrained midwives. This could probably draw links to the state's Maternal Mortality Rate which is higher than the national average. The state recorded a shocking 208 maternal deaths for 1.816 lakh live birth during April to July 2019.