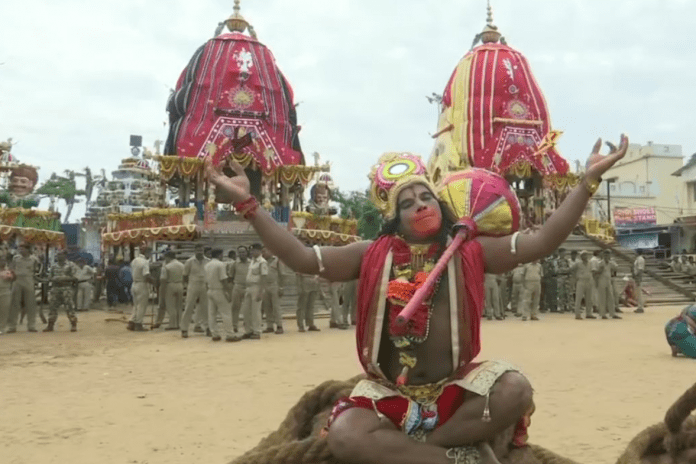 Rituals for the 'Bahuda Yatra', the homeward journey of the trinity – Lord Jagannath, Lord Balabhadra and Devi Subhadra – of the Jagannath temple of Puri on their chariots, began at the Gundicha temple on Friday morning, marking the 10th day of the annual sojourn of the deities.
A large congregation of devotees have assembled near the Gundicha Temple –home of the Devi Gundicha, the aunt of the three deities according to mythology – to witness the festival and participate in the chariot-pulling procession towards the Srimandir.
The ceremonial 'pahandi' ritual, where the deities decked with embellished 'tahiya' (tiara) are ferried to their respective chariots, have begun, after which the 'rathas' – will be pulled towards the Srimandir.
The atmosphere reverberated with the chants of devotees and the sounds of conches and cymbals while artistes and Odissi dancers were seen performing in front of the chariots of the three deities.
Odisha: Bahuda Rath Yatra or the 'Return Car Festival' begins from Gundicha Temple to #Jagannath Temple in Puri, on the 9th day of #JagannathRathYatra pic.twitter.com/8KdjGYxnfe

— ANI (@ANI) July 12, 2019
While the Rath Yatra marks the beginning of the annual sojourn of the three deities to their aunt's house, the deities return home on the day of Bahuda Yatra, after spending a week in Gundicha Temple, also called the Mausima Temple.
On the day of the homeward journey, the deities are offered 'Poda Pitha' (a flavoured cake made of rice, jaggery and coconut) before boarding their chariots. The deities stay in the chariots for two days before they are ferried to the temple on the 12th day.
The ritual of 'suna besha' is conducted in the evening of Bahuda Yatra day where the deities are bedecked with golden ornaments on their chariots. The ritual of 'adhar pana' is conducted the next day where the deities are offered flavoured milk. The deities return to the temple only on the 12th day called as 'Niladri Bije'.