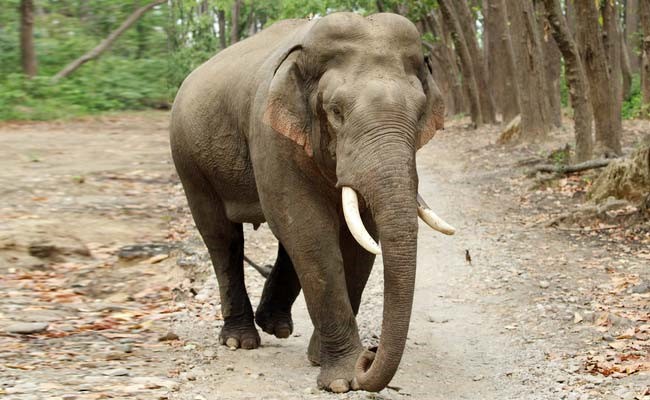 The Ranchi administration has prohibited the gathering of more than five people in the Itki block to restrict further casualties caused by elephants. Pic: Representational image
There has been a spike in man-elephant conflicts in Jharkhand prompting the authorities to impose prohibitory orders in certain areas under Section 144 to curb further casualties.
In the past 12 days, 16 people have been allegedly killed by a tusker in five Jharkhand districts, which has forced the administration to impose prohibitory orders under Section 144 in the Itki block in Ranchi district, said forest officials.
Four deaths due to the elephant occurred in a block in Ranchi district alone on Tuesday (February 21).
According to the Ranchi divisional forest officer Srikant Verma, the Ranchi administration  has prohibited the gathering of more than five people in the Itki block to restrict further casualties. Besides cautioning the villagers of the Itki block to remain inside their houses, specially during sunrise and sunset, they have also been asked not to venture too close to any elephant.
"Villagers are gathering near the elephant, which caused one death today. In a bid to stop them, Section 144 Cr PC has been imposed by the Ranchi administration in Itki block today," Verma told PTI.
Also read: Urban forests to be developed in six Jharkhand cities
Expert team from West Bengal to tackle the elephant
The forest department is taking all possible steps, including engaging an expert team from West Bengal to tackle the elephant, which is suspected to have killed 16 people in Hazaribag, Ramgarh, Chatra, Lohardaga and Ranchi districts in the past 12 days, the principal chief conservator of forest (wildlife) Sasikar Samanta said.
"We have constituted a committee comprising forest officers of four divisions and headed by the Ranchi conservator of forest. The committee will determine if the same elephant has killed all the 16 people. If the committee certifies it, we will take a decision in a day or two," he told PTI.
The committee will examine if the elephant is deliberately killing people or the people are themselves responsible for their death, Samanta said. The elephant had reportedly trampled to death four persons, including two women, in Lohardaga district on Monday (February 20) and one on Sunday.
Tracking the elephant
It appeared to have entered Ranchi's Itki block, about 25 km from the capital city, on Monday night and reportedly killed four persons, including two women and injured one on Tuesday morning, Verma said.
The Ranchi DFO said that it is suspected that the same elephant killed five people in Hazaribag about 12 days ago and then moved to Ramgarh, where it trampled to death one person in Gola area. The animal then allegedly moved on to Chatra and killed another person.
"We are examining the photographs and other aspects to determine if it is the same elephant," said the Ranchi DFO. Lohardaga divisional forest officer (DFO) Arvind Kumar had told PTI that an expert team from Bankura district of West Bengal was engaged to drive away the tusker deep into the forest. According to Kumar, there are various methods to identify an elephant.
"We have a tracking system in which every district gives an input on elephant movement in their respective areas. Besides, we also have photos and videos of the jumbos. This elephant has tusks and the one which caused casualties in Hazaribagh, Lohardagga and Ranchi is also a tusker," he said, adding that they will match the height and other parameters to determine whether it is the same one.
A forest department official said that an immediate relief of ₹25,000 is being given to the kin of each of the deceased. ₹3.75 lakh compensation will be provided to each victim's family after completing the mandatory government procedures.
Spike in man-elephant conflicts
Man-elephant conflicts have spiked in Jharkhand with reports stating that 133 people have died in jumbo attacks in 2021-22, a steep climb from 84 in 2020-21.The Union ministry of environment, forest and climate in reply to a RTI application recently stated that 462 people have died in man-elephant conflicts in five years since 2017 in Jharkhand, including 133 in 2021-22.