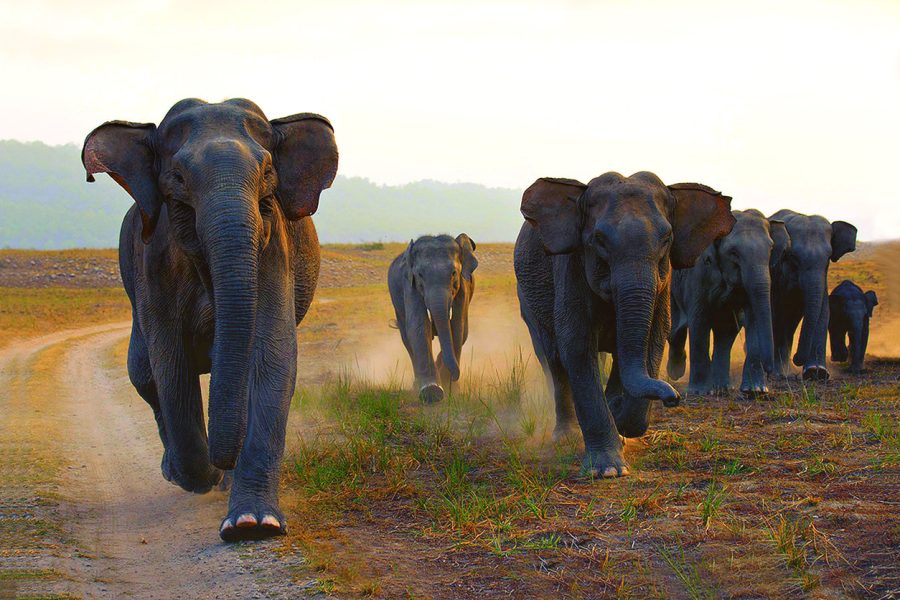 Jharkhand: Bamboo plantations, salt licks to minimise man-elephant conflict
With the rise in man-animal conflict in Jharkhand as elephants are losing their habitats, plans are afoot to rejuvenate their fragmented corridors with bamboo plantations, placing salt-lick blocks, and constructing check dams so that the pachyderms remain within forest confines, a top forest official said.
Increasing mining activities, rampant urbanisation, agriculture, and highway construction have resulted in fragmentation of traditional elephant corridors in the state leading to increased human-animal conflict, the official said.
'Habitat fragmentation causes human-animal conflicts'
"Human-animal conflicts have been a huge concern for Jharkhand in the last 5 to 10 years mainly on account of habitat fragmentation. It is not only the corridor but the whole habitat which has been impacted as such and the areas where elephant herds used to reside for many months have gradually been fragmented due to development and mining operations," he said.
Also read: Elephants are like our children, says Belli of Oscar-winner 'The Elephant Whisperers'
"There is an expansion of agriculture, socio-economic pressures are there on the habitat, and that is why these elephants have to move from one area to another area and in that process, there is a conflict," Sanjay Srivastava, Principal Chief Conservator of Forests (PCCF), told PTI in an interview.
Jharkhand is home to about 650 elephants and on an average about 80 lives are lost per annum due to man-elephant conflict.
Forest dept's plans to conserve elephant habitat
He said at many times these herds move towards villages, eat standing crops, and wreak havoc, and to mitigate these the department has plans for conserving their habitat and providing shelter, food, and water to them in their preferred forest areas.
"The elephants prefer bamboo and we are planting these in areas with a strong likelihood of elephant herds. About 1,000 check dams are being constructed in those areas in this financial year in addition to plantations of over three lakh bamboo plants. We are trying to provide salt lick in deep forest areas which attract elephants," continued the forest officer.
Also read: Elephants enjoy fruit buffet as Thailand marks National Elephant day
"We would be spending about ₹10 crore typically for these small initiatives this fiscal to make improvements in the elephant habitat areas and this amount can go up depending on the requirements and available funds," Srivastava told PTI.
Asked about the restoration of their traditional corridors, the PCCF said as per the 2011 Gazetteer, elephants used to traditionally migrate from the Dalma Wildlife Sanctuary in Jharkhand to neighbouring areas of West Bengal – Purulia, Bankura, West Medinipur, etc., but over a period of time there were encroachments leading to man-animal conflict.
Inter-state coordination meeting
Asked about reports of West Bengal digging trenches to prevent Jharkhand elephants from entering their areas, Srivastava said the West Bengal government had dug trenches which are quite long and block the traditional migratory path, and at times unable to proceed on their path, the irritated elephants come back to areas like Chakulia and Ghatshila resulting in conflicts.
Asked whether the issue was taken up with the West Bengal government, he said, "About four months back there was an inter-state coordination meeting which was held in Kolkata where officers from Odisha, Jharkhand, and West Bengal were invited. The officials from Jharkhand expressed their concerns about the artificial barriers created. I would say that the government of West Bengal is quite sensitised about these issues, and something good will come up in the near future."
Also read: After guzzling 'mahua', 24 elephants crash in forest in Odisha
He said the nature of the elephant is such that they go from 20 km to 100 km in 24 hours and require 250 kg to 300 kg of food per day in addition to large quantities of water in view of their massive body structure.
"Digging trenches to save lives in West Bengal is a huge challenge for us and I am hopeful of a solution soon," he said.
Forest cover in Jharkhand has increased since 2000
Srivastava also emphasised that though it is heartening to note that forest cover has been continuously increasing in Jharkhand since 2000, there is a need to improve the quality of the forest as there is pressure on it by the local community.
According to the India State of Forest Report (ISFR), Jharkhand's forest cover has increased by 243 square kilometres from 23,478 sqkm in 2015 to 23,716 sqkm in 2021.
Man-elephant conflict has claimed over 1,500 lives since the creation of Jharkhand in 2000, officials said. These conflicts have been on the rise in Jharkhand with reports revealing that 133 people have died in jumbo attacks in 2021-22, a steep climb from 84 in 2020-21.
(With agency inputs)