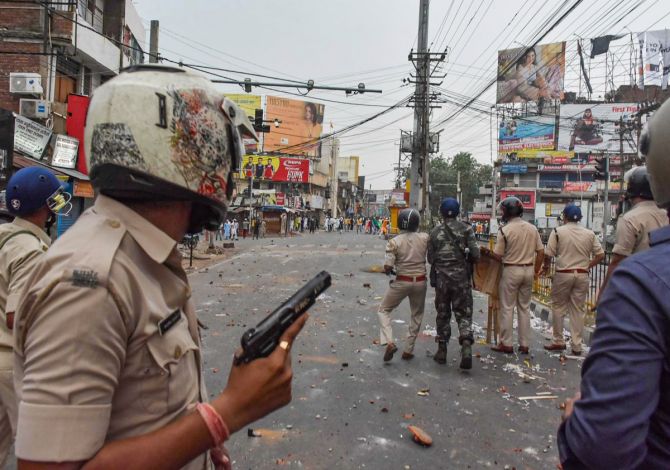 Family members of two killed in Ranchi violence deny they were part of protests
The family members of two persons who died of gunshot wounds during Friday's protests here against controversial remarks on Prophet Mohammed, have claimed they were not part of the protests.
Mohammad Mudassir Kaifi and Mohammad Sahil died and over two dozen people were injured in protests and subsequent clashes that rocked the state capital on Friday over the remarks made by two suspended BJP functionaries against Prophet Mohammad, officials said.
Shakib Ansari, the brother of Sahil, however, said he did not participate in Friday's protest march and had gone to Ranchi Main Road for some work. Mohammad Parvez, the father of Kaifi, also said he had no idea how his "minor" son received bullet injuries as he was not a part of the procession.
Also read: Prophet row: Protests intensify; two killed in Ranchi
State-run Rajendra Institute of Medical Sciences (RIMS) PRO D K Sinha said, as per hospital records, Kaifi was 22 and Sahil 24. They died during the course of treatment at the medical facility.
Injured being treated at RIMS
Thirteen of the critically injured people are also undergoing treatment at RIMS. Absar is one of the civilians being treated at RIMS. He said that he had been shot six times. He also added that doctors had removed four bullets while two are still lodged inside.
He claimed that he was returning from the market and was not participating in the protest when he saw a group of people pelting stones, and the police firing in response, India Today reported.
Section 144 in the city
After the violence, Section 144 was imposed in Ranchi city and the internet was disabled to ensure that rumours were not spread. However, the internet was restored at midnight on Sunday after the situation slowly showed signs of returning to normal.
The situation in Ranchi is tense, but no other incident has taken place. A large number of security forces have been deployed to maintain law and order.