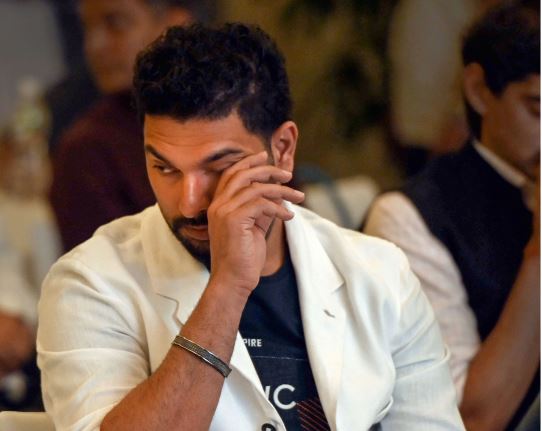 Yuvraj — The man who oscillated back and forth, both in life and cricket
The story of Yuvraj Singh's life must have been written by someone with a balancing scale. Its one side got loaded with spectacular triumphs, unbelievable glory and unimaginable joys. But, the moment it started tipping in one direction, his life was always balanced with failures, rejections and tragedies.
Destiny always pulled Yuvraj back from the brink and then, once he was forced to recede, thrust him forward to greater heights. His life, fittingly, resembled a one-day game that swung from one extreme to another.
The mind goes back to one of his earliest triumphs—the ICC Champion's Trophy in Nairobi. Yuvraj, still in his teens, is hitting Glen McGrath, Brett Lee, Jason Gillespie and Steve Waugh all around the park. In his debut innings, he seems destined to score a 100. And then he runs out of partners, gets frustrated and throws his wicket away. The balancing act has begun.
In the final of the 2002 Natwest Trophy in London, India are five down while chasing 325. Fans have switched off TV sets. Unbeknownst to them, Yuvraj has stabilised the innings with Mohammad Kaif and is bringing out those flowing cover drives and pulls through midwicket. But, just before Sourav Ganguly can take off his shirt, Yuvraj has perished.
These two innings, by the way, were turning points in India's history. In Nairobi, when Yuvraj spanked the Aussies in Nairobi, signalled to the world that India had a batsman in the middle order who could devour fast bowlers. To balls pitched short, aimed at the skull, he could pirouette on the back leg and swing his bat like a baton. To balls on the good length outside the off stump, he could stand on the toes and drive through covers or cut through point. After Sachin Tendulkar at the top, India had discovered a fearless hitter of the fast ball in the middle order.
Also read: 'It's time to move on,' says Yuvraj Singh as he retires
That innings was the culmination of a childhood spent in the pursuit of just one principle: the faster the ball comes, the quicker it has to disappear from his bat. A principle put into practise over endless nights when his father, former cricketer Yograj, would throw plastic balls at him, making him work so hard, with so much discipline and intensity that in retrospect it would seem Mahaveer Phogat—the quintessential 'haanikarak bapu' – was just spoiling his kids.
In London, it heralded the arrival of an Indian team that could chase down any total, even after a middle order collapse. Before that victory, India had lost nine consecutive ODI finals, five of them chasing. But Yuvraj led a turnaround that was to later culminate in some memorable victories, some of them again led by him.
But, back to Yuvraj and his destiny.
It is 2011, Yuvraj has just won us the world cup. His loud roar as he hits the winning runs through covers against Australia and then thumps his chest and the turf are still ringing in our ears. The sight of him breaking into an instant bhangra as the ball sails into the Mumbai sky from Dhoni's bat is still fresh in our mind. And then, Yuvraj is diagnosed with cancer. His greatest triumph is balanced with a cruel tragedy. His blooming career is cruelly cut short.
It is 2014, in the final of the T-20 world cup against Sri Lanka, Yuvraj is batting. While the world awaits an encore of his 2007 heroics, Yuvraj gets stuck on the crease; he just can't hit the ball. As he struggles, the run rate falls, India lose momentum and end up setting a small target for the winners. The cup he had won for us in 2007, Yuvraj surrenders to the rivals.
That's Yuvraj for you. The man of many comebacks, injuries and failures. Someone blessed with the talent of a Prince but sometimes the luck of a pauper. A man denied his rightful destiny many times in life.
It's a miracle then that this man gave us so many moments that are part of India's cricketing glory. The six sixes off Stuart Broad, each one of them soaring higher and higher into the South African sky as Ravi Shastri goes berserk with delight on the mic. The breath-taking dives as the ball is hit towards him at point, a territory he patrolled all his fielding life with the ferocity of a tiger.
The two world cups that would have not come home if Yuvraj's personal acme had not coincided with the pinnacle of India's performance. And, finally, his return to team India in 2017, where he turned back the clock on his way to a century—his last hurrah on the field.
Yuvraj's is not just a cricket story. It is a rousing tale of a triumphs and tragedies, a man's ascent to the highest peaks of sport, and then a descent forced by circumstances. It is a tale of a beaten, broken warrior rising from the ruins and, against all expectations and failing hopes, claiming what was rightfully his. And then starting again.
For years to come, it will continue to inspire with its central theme of nothing being permanent in life—neither glory nor failure, neither triumph, nor tragedy.