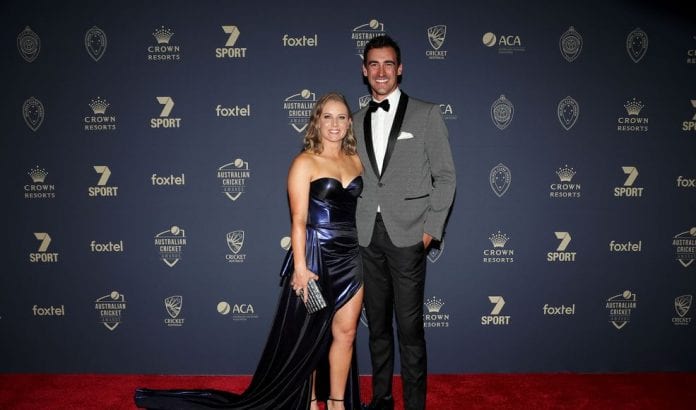 At the age of nine, both Mitchell Starc and Alyssa Healy competed for a spot in representative cricket and now, approximately after 20 years, Starc is taking leave from national duty to cheer his wife and Australian women team's wicket-keeper Alyssa, when Australia play India in the Women's T20 World Cup final on Sunday.
Sans Starc, the Australian men's team will take on South Africa in their final ODI. "It's a once-in-a-lifetime chance for Mitch to watch Alyssa in a home World Cup final and so we were happy to allow him to return home to support his wife and be part of a fantastic occasion," said Australian men's team coach Justin Langar after permitting the paceman to leave to Australia.
JUST IN: Australian paceman Mitchell Starc will miss Saturday's final ODI against South Africa as he travels to Melbourne for the #T20WorldCup for a "once in a lifetime opportunity to watch Alyssa in a home World Cup final." pic.twitter.com/QYKft2u00X

— T20 World Cup (@T20WorldCup) March 6, 2020
"They were extremely supportive… so I'm very appreciative for that and very grateful that I can go back and support Alyssa, much like she was around for our 2015 World Cup win," said Starc as quoted by cricket.com.au. "I get more nervous watching Alyssa play… than I do playing," he added.
On social media, many people have hailed Cricket Australia's stance regarding this, which broke the rule of "business first, everything else comes later."
Renowned Australian journalist Neroli Meadows took to twitter: "I love everything about Mitch Starc coming home early to be there to watch his wife Alyssa. Well played by CA, Langer, Mitch – everyone involved. Brilliant."
India has reached the summit clash for the first time in the prestigious biennial tournament on the strength of its all-round performance. Aiming to grab the coveted cup for the first time, India is prepped well to defeat the Southern Stars.