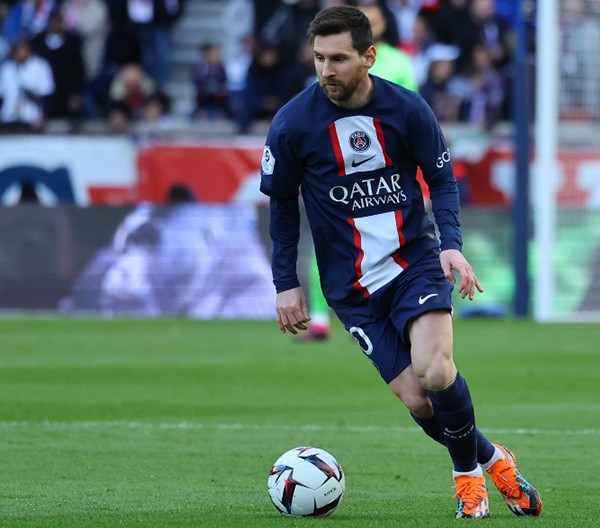 Why Messi is moving to US and what it means to Inter Miami and Major League Soccer
Following the long-anticipated dream of lifting the World Cup on December 18, 2022, there was a striking shift in Lionel Messi's sporting demeanour. His on-field body language underwent a complete transformation compared to the period leading up to the prestigious tournament. It is worth noting that Neymar Junior also experienced a similar alteration, albeit driven by different motives. This was evident in the post-World Cup games of PSG, where Messi was a pale shadow of his real self that we saw in Qatar.
The intense World Cup final against France was one of the triggers for Messi's falling out with Paris, one could easily say. It was pipped as a showdown between Mbappe and Messi, and the Argentinian celebrations after the final did not do any favours to their captain either. The fact that Messi took almost two weeks off to celebrate the World Cup win did not go down well with not only the PSG ultras but also a section of the French media. To add to his woes, after losing the World Cup final, Mbappe immediately joined PSG training. Leo was not enjoying the atmosphere for sure, and it was reflecting on his performance as well.
Messi's interview with Mundo Deportivo
"At this moment I want to get out of focus a bit, think more about my family. The last two years have not been so good for my family. After having achieved everything including the World Cup, something I wanted so much, I also wanted to look for something else and a bit of peace of mind. These were two years at PSG in which I was not happy, I did not enjoy myself, and that affected my family life. I had that month which was spectacular for me because I won the World Cup, but apart from that it was a difficult period for me. I want to get back to enjoying myself, enjoying my family, my children, the day-to-day." This is how Messi summed up his disappointing period in PSG in his interview with Mundo Deportivo announcing his switch to the United States of America to join Inter Miami in Major League Soccer.
Also read: Lionel Messi bids farewell to Paris amid boos
Hours after Messi's decision was announced, the Barcelona manager and his long-time teammate Xavi Hernandez expressed his opinion suggestive of what Messi really wanted. Setting aside the tone of his words which was in line with Joan Laporta's, probably due to intra-club politics in the Catalan giant, what Xavi said resonated with the spirit of Messi's interview.
Speaking to Gerard Romero, Xavi explained what he knew about the decision. "I noticed a change in the last few days. He doesn't want to be in the spotlight as much, and I think we lack empathy, a little bit in society in general, and you have to put yourself in his place. He told me he has not enjoyed these last two years."
To make a long story short, Messi wants to avoid the spotlight and the pressure of playing in uncomfortable territories. It was crystal clear from his words that he does not prefer to play for any team in Europe other than FC Barcelona.
This is where the Major League Soccer (MLS), Inter Miami, and David Beckham fit in.
Messi's prophetic video message to Beckham
The message Messi sent to Beckham when the franchise was awarded an MLS expansion spot in 2018 has proven prophetic. "Who knows, maybe in a few years you can give me a ring," he had said in the video message.
David Beckham was the biggest star of the MLS till Messi made the announcement of June 8, 2023. Beckham revolutionised American football. In addition to bringing Major League Soccer into the US mainstream, his transfer to the Galaxy in 2007 also made the league an attractive option for some of the most recognisable figures in the sport.
Also read: Lionel Messi: I didn't want to leave my future in someone else's hands
Apart from Beckham, big names like Thierry Henry, Zlatan Ibrahimovic, Gonzalo Higuain, Landan Donovan, and Robbie Kean have been associated with the MLS. Fascinatingly, a majority of them had their European comebacks on loan as well.
Even if Messi puts it in black and white with Inter Miami, there are theories that his time in football's top five leagues is still far from done. Messi enthusiasts like the former English captain Gary Lineker still believe that Barcelona could loan him from Beckham. But Messi's interview from Paris, in which he expressed his wish to be stress-free, has significantly rebutted this hypothesis.
Inter Miami's dream about to come true
Inter Miami had this dream right from the inception of having Messi in their ranks, with Beckham inviting him time and again to the south beach. Xavi Asensi from Barcelona was recruited as the club's chief business officer, while Victor Oliver, another former Barça administrator, is now their senior vice-president. According to various reports, Gerardo "Tata" Martino, the former coach of Argentina and Barcelona, has been contacted regarding the club's managerial opening. All of these efforts were being made to make the Messi dream happen, according to a lot of the European media.
With five consecutive losses, the team is having a terrible season in the MLS. They are currently last in the standings.
Messi, who has been used to playing with elite forwards in European football like Kylian Mbappe, Neymar Junior, Luis Suarez, or Antoine Griezmann, will now be teamed up with some lesser-known names in the game, which could be a first in his career.
Also read: PSG coach confirms Lionel Messi's departure from French league club
Venezuela international forward Josef Martínez, U.S. international right back DeAndre Yedlin, Mexico international midfielder Rodolfo Pizarro, Canadian international Kamal Miller, and Ecuador international forward Leo Campana are among the names waiting for Messi in Miami.
There is a group of youngsters like Phil Neville's son, Harvey Neville, David Beckham's son, Romeo Beckham, and dual-national teenage midfielder Benjamin Cremaschi, wanted by both Argentina and the United States, who would be excited to share the locker room with the GOAT.
Miami may become a dream team of Messi's pals
According to reports, Miami has kept space available on its roster for some future arrivals as well. If they can do some manoeuvring in the wage cap, it could well become a dream team of Messi's friends, including Sergio Busquets, Jordi Alba, and Luiz Suarez. Lately, it is being speculated that Angel Di Maria and Leandro Paredes could also be on Inter Miami's radar.
The benefits of Messi coming to the US will extend beyond Miami, as other teams and players will also gain from his presence. The Argentine players who are already in the league, like Thiago Almada, would be elated to have him around.
Also read: Lionel Messi helps PSG secure record 11th French league title, breaks European scoring record
As of now, Messi is set to sign with Inter Miami on July 5, when the league's secondary transfer window opens. In three days, they will travel to the nation's capital to take on D.C. United at Audi Field. According to the US media, the prices for tickets have skyrocketed due to high demand despite there being no word on whether Messi would even play that game. There are reports in the American media that Messi's debut might happen by July 21, if everything goes according to plan.