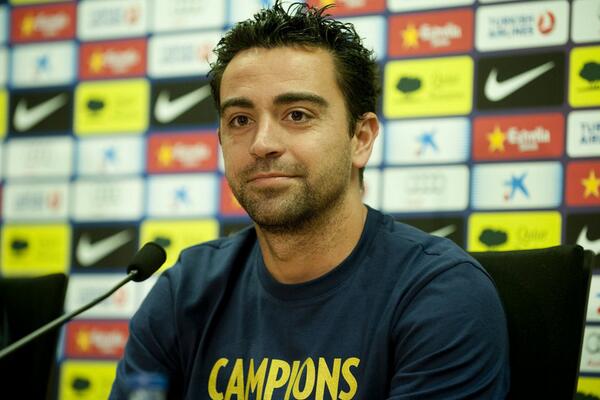 Xavier Hernández Creus or Xavi's first game as the manager of FC Barcelona was against Espanyol on 20 November, 2021, which they managed to win 1-0, thanks to a penalty, won and converted by the Dutch man Memphis Depay. However, Xavi was unable to keep Barcelona afloat as they failed to stay in the Champions League knockout round, in addition to the loss of the league. Even in the Europa playoff, Xavi's men could not get past Erik Ten Hag's Manchester United.
But, over the course of eighteen months at the helm, Xavi has shown that regardless of the initial setbacks, he was capable of starting the team from the scratch with the La Liga victory with four matches to spare.
Barcelona secured the team's first La Liga championship in four years with a 4-2 away victory at city rival Espanyol, capping a difficult season for the team both on and off the pitch. Even the most optimistic 'Cules' could not have anticipated a better outcome from this brief period of time.
Barcelona's approach towards football
This Catalan team is poised to break the record for the fewest goals conceded by a team in a 38-game league season, which is an intriguing and uncharacteristic statistic for them. Xavi and company have played 34 games this season and have only 13 goals scored against them. The record is jointly held by Deportivo La Coruna (1993-94) and Atletico Madrid (2015-16).
Also read: If Barca chief has his way, Messi and Ronaldo will play side by side
Many pundits point out that the stability in the backline has served as the foundation for Xavi's success rather than the attacking trio of Lewandowski, Dembele and Raphinha. The consistent performance by Ronald Araujo, Andreas Christiansen and Joules Kounte, often aided by the veteran Jordi Alba and the rookie Alejandro Balde the defenders, did make the job a little easier for the goalkeeper Marc-André ter Stegen. They have even earned an acronymically coined moniker ABC defence among a section of sports writers, with Araujo-Balde and Christiansen.
Cules might not even want to imagine the word 'defensive' while thinking of their club as its history has been characterised by possession football and offensive play built up on well-knit passes if necessarily not always tikitaka.
Barcelona's philosophical approach towards football has a 'modern history' that dates back to Johan Cruyff's time both as a player and a coach. It was in the early 1970s that Johan Cruyff, one of the team's greatest players, came in from Ajax. As a Barca player, Cruyff would go on to win two Ballon d'Or awards, and the team would also take home two Copa del Reys. In the early eighties, they signed Ceaser Luis Menotti, the World Cup-winning Argentine legend, known as the leftist philosopher of South American football.
With the addition of Diego Maradona for a record-breaking £5 million in the 1980s, the team maintained its winning ways. Even though Maradona did not fare well in Barcelona, and he eventually left the club for Napoli, the tone of the football was set on the lines of La Nuestra, Argentina's romantic view of the game and the concept of total football invented by the Dutch.
The Cruyffian philosophy
Barcelona's golden age then started in the 1990s when Cruyff made his comeback in the role of team manager, and benefited greatly from an investment the team made in him years earlier. FC Barcelona had made an investment in 'La Masia,' an academy on a farm house to develop young talent, a few years prior.
Josep Guardiola Sala, popularly known as Pep, who would go on to become one of Barcelona's most illustrious players as well as one of the best team managers FC Barcelona has ever had, was among this group of young footballers. This is how Barca revolutionised football during that time. Their Dutch-born philosophy 'Total Football,' a form of play in which players are given complete freedom to change positions while others who take his place on the pitch maintain the basic organisation took the football world by storm. "There's a ball and either they've got it or you've got it," Cruyff wrote in My Turn (2016), his autobiography. "If you've got it, they can't score. If you use the ball well, the chances of a good outcome are greater than the chances of a bad outcome." This  was the Cruyffian philosophy of football in a nutshell.
Then came another Dutch man Frank Rijkaard, who was one of the most resilient leaders the club ever had. He carried forward the baton, steering the club to two Liga titles and one Champions league triumph. It was during his tenure that Ronaldinho Gaúcho signed for the club and Leo Messi made his debut. Even though his exit was far from satisfactory, the team he built or tried to build, was a strong platform for the next man coming.
Positioning and match strategy
Pep Guardiola found himself with the opportunity here to succeed when he took the helm at Barcelona in 2008. His four years as Barca's manager have seen him take the team he once played for to unheard-of heights. It is safe to say that Guardiola elevated this team to heights that no other team in club football history has ever attained with 13 trophies won since his promotion from Barcelona B.
Pep was bold and brave enough to let go of the old folks in the likes of Ronaldinho, Samuel Etoo and trust La Masia to take over the mantle. And that's how the phenomenon of Leonel Andres Messi, assisted by Xavi Hernandez and Andres Iniesta, happened in the history of football.
Also read: Messi is a free man now. Will Barca be able to retain him?
According to Jonathan Wilson, what Cruyff 'loved' most about coaching was 'to puzzle about the positioning and match strategy.' This was the method he passed on; the influence of his strategic thinking seen in Guardiola's preferred term for his philosophy: 'juego de posición'. Positional play is a philosophy that aims to outperform the competition by emphasising player positioning and movement, which has its legacy in Menotti and La nuestra too, even though the Argentine legend was a severe critic of Cruyff's total football.
The exit of Leo Messi
By the time Guardiola left Barcelona in 2012 after four years as manager, he had not merely won three league titles and two Champions Leagues, he had redefined the boundaries of how football could be played. He had taken the Cruyffian ideas, revised and refined them, and the result had been one of the greatest teams ever to have played the game, wrote Jonathan Wilson in his book The Barcelona Legacy: Guardiola, Mourinho and the Fight for Football's Soul (2018).
Starting from the Pep era, it was Messi and Messi only who defined the CF Barcelona, and even after his exit, the little man from Rosario continued to dominate the proceedings till his tearful departure in 2021. There was a string of capable managers, in the likes of Tata Martino, Luis Enrique, Ernesto Valverde, and Ronald Koeman to name some. All of them except for Koeman had been on almost the same page as Pep, in terms of footballing philosophy. The most exciting period of attacking football Barca played with Messi, Neymar and Suarez came during the period of Martino, Enrique and Valverde. Xavi was there till 2015 and Iniesta till 2018.
It was after Valverde's term and Xavi's exit the team started showing a dip in their form. The departures of Neymar and Iniesta and the appointment of stand-in managers added to it.
With Ronald Koeman taking over and Messi falling out with him over the exit of Luis Suarez, it had a severe impact on the team's philosophical and theoretical approach towards the game. This, coupled with other organisational issues, resulted in the exit of Leo Messi.
Xavi's remarkable transformation
When Pep Guardiola's another protégé took over the ageing team without a clear identity, which had finished far behind Real Madrid and Atlético Madrid the season prior and had later dropped into the Europa League for the first time since 2003-04, success of any kind seemed a long shot. But Xavi made it possible with some very intelligent interventions.
The decision to give the control of the mid-field to Gavi, De Jong and Pedri was one among them. It was evident that the absence of Pedri or Gavi in some matches did cost them dearly. The lost match against Manchester United in the Europa was a classic example, where the team lost direction even after scoring the initial goal.
Many football observers feel that the team has not yet found a fresh solution or action plan after the Messi exit. Pedri, combined with Frenkie De Jong, is the best bet they have right now. Gavi is somewhat an aggressive player, who likes to advance physically but the rhythm that was always there with the Barca teams is clearly absent now. The wingers — Raphinha and Dembele — are often bereft of ball supply from the middle and Robert Lewandowsky, too, has not found his feet.
With an inconsistent front line, what Xavi pulled off should be considered remarkable, given that he has done it with a solid defensive line. This could be one reason why Xavi wants Messi back for at least a couple of seasons before he could mould a couple of teenagers into what exactly the team wants. Those who support this point of view see that even selling off Raphinha, Ansu Fati and even Frenkie De Jong for that matter, would not be a bad idea.
When Guardiola took over from Rijkaard, he had a bunch of players he knew in and out, from La Masia. But for Xavi, it's been starting from the scratch, which is exactly what he's doing. With Busquets and Jordi Alba bidding adieu, there is enough space for Xavi to explore and experiment with youngsters, starting from Nico Gonzalez and Eric Garcia to the youngest of the lot Lamine Yamal.
This is a long-term project and what he has to stick to is the very philosophy of the club and its football, in which the presence of Leo Messi could be of immense help. The emotional quotient around the team has also been high since Messi's return, and this could help the team to perform at its best. It will be interesting to see how Xavi's project develops in the coming years. If he is successful, he could help Barcelona to return to the top of European football.