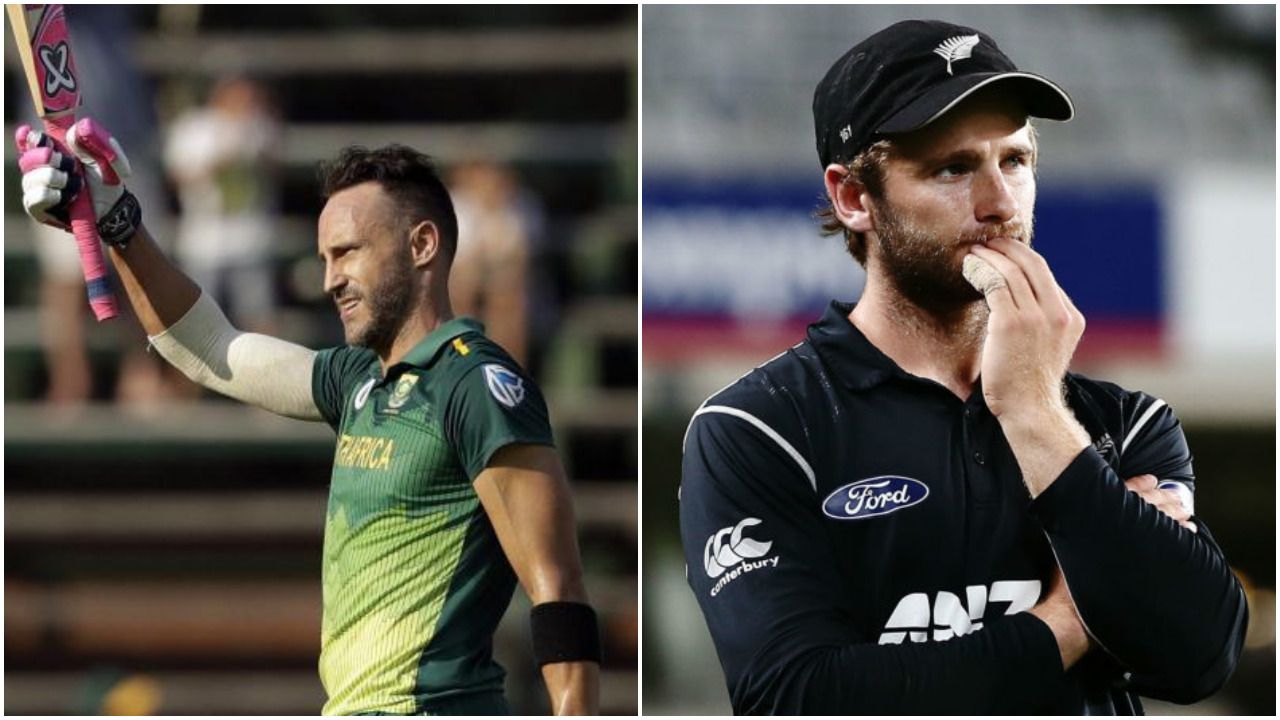 South Africa and their New Zealand hoodoo
There is something about South Africa and World Cups. The 'C' word always comes to fore. It doesn't matter what they do before or after the World Cup.
In fact, it hardly matters what they do during the group (or initial stages) of the World Cup. Everything comes crashing down when they are under pressure in a proper knockout or a knockout scenario. There have been multiple instances of South Africa dominating through the initial stages before their campaign comes to an end, wilting under pressure. In fact, they have a win percentage of 62.71% in World Cup games but they've not even made one final. Hence, the 'C' (Chokers) word or the tag!
However, this time around, that (the 'C' word) hasn't even been required. Such has been the performances of the Proteas in this World Cup. They barely lose group stage games and that too consecutively. This time, they lost three! It could've well been four had it not been for the rain. England, India and Bangladesh handed them defeats before rain saved them against West Indies as they were reeling at 29/2.
However, they did register their first win against the seemingly weakest side of the tournament, Afghanistan. Hence, with four more games remaining, it's virtually a do or die every game. However, they face their World Cup nemesis next, New Zealand. Be it 2011 or 2015, New Zealand have stood in South Africa's way in almost every World Cup played in this 21st century.
The Proteas have a much superior record against them overall. However, in World Cup history they are behind by 2-5. In fact, those two wins came in 1996 and 1999 and since the turn of the century, South Africa have never beaten New Zealand in a World Cup game.
2003 and 2007 were Group Stage and Super Eight encounters respectively and hence, they did not hurt much. However, the ones in 2011 and 2015 would certainly be pricking South Africa till date. And it's not that they were outplayed or they were beaten by a decent margin.
South Africa were always in the game. In fact, they had the game in the bag as well and the game just needed a little bit of a push to be driven home. However, that push never came as they crumbled under pressure. The big pressure of knockouts and ICC tournaments and the World Cup, in particular.
Chasing 222 in the 2011 quarter-final, South Africa were well on course. They had AB de Villiers and Jacques Kallis at the crease and had crossed the 100-run mark with more than half the overs remaining and just two wickets down. However, both batsmen fell in the span of four overs and the slide started. They never recovered and lost their last eight wickets for 64 runs to crash out of the World Cup. It was yet another World Cup knockout where South Africa wilted under pressure.
Come the 2015 World Cup, South Africa did lose a couple of games in the group stages (to India and Pakistan) but were in a much better space. They won their first ever knockout game when they beat Sri Lanka in the quarter-final. However, they faced New Zealand in the semi-final again and fell agonisingly short once again.
The Proteas had 299 to defend in 43 overs in a rain-curtailed game. The controlled the game for the most part but also made quite a few errors in the field. Catches were dropped, runouts were missed and the nerves were out there to be seen by the world. Yet, there were ahead. With 18 needed off the last 8 deliveries and Dale Steyn to bowl the final over, you would back them. It came down to five off 2 balls and despite being anybody's game, you might take a punt on South Africa's chances. But the cursed knockout and the 'C' word came back to haunt them. They lost again! For the umpteenth time, they had fallen short in a knockout game on the world stage. And it was New Zealand again!
That semi-final game in Auckland from 2015 was undoubtedly one of the best World Cup games of all time. However, that left major scars on most of the South African players. They were distraught after the loss, they couldn't believe what had transpired, they were down on their hunches with teary eyes.
Are those scars still there? You never know. But South Africa face New Zealand once again in what is a virtual knockout game in this World Cup. They need to win every game to stay alive in this competition. But first, they need to break the New Zealand hoodoo.