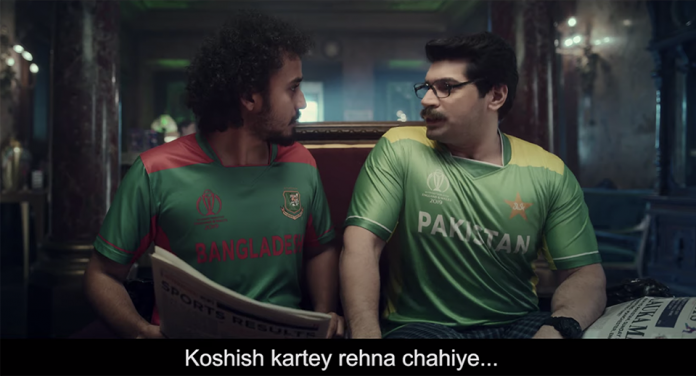 While Pakistan is still searching for a 'mauka' (opportunity) to celebrate its maiden victory against the mighty Indian team in the World Cup, the 'desi' boys seem confident of keeping the winning streak intact, at least in the much-popular 'Mauka Mauka' ads.
The 'Mauka Mauka' promotional campaign by Star Sports is nothing new to cricket fans, and the best part is that it has made a comeback.
If Cricket is a religion in India,  a match against Pakistan is a much-awaited festival. Supporters of both the countries plan celebrations for their hopeful victories way in advance.
And the 'Mauka Mauka' ad campaign has captured this spirit of rivalry and enthusiasm in the best possible way — literally projecting the World Cup tournaments as India versus the World.
India has played Pakistan six times in the World Cup and defeated the neighbours all six times. It remains a jinx that Pakistan cannot defeat India in the World Cup matches, and all the 'Mauka Mauka' ads have focused on this aspect.
In a recently released video, a Pakistani and a Bangladeshi supporter are seen discussing Pakistan's prospects of defeating India in their face-off at Old Trafford on June 16, which incidentally is also Father's Day.
The hopeful Pakistani supporter says his father often quoted poet Sohanlal Dwivedi's famous lines "Koshish karne walon ki kabhi har nahi hoti". To this, an Indian supporter cheekily responds by saying that he never said that.
The 'mauka mauka' campaign was first broadcast during the 2015 World Cup. In its first episode, a Pakistani supporter was shown waiting for his team to defeat India since 1992. However every World Cup match played between 1992 and 2011 (except 2007, when the two countries were in different groups and were knocked off in the group itself), India has managed to steal a victory from its neighbours.
Time flows, he gets married and has children, and now, the entire family waits for the 'mauka' to celebrate and burst the crackers that he has been saving for the moment since 1992.
In the subsequent videos, the Pakistani guy is seen supporting various other countries, South Africa, UAE and West Indies, but every one of them concede defeat to the Men in Blue.
What was thought to be a simple ad campaign for the World Cup matches turned out to be a massive hit among the supporters, with requests of more such videos during the World Cup season.
Is this finally Pakistan's 'mauka' to break the jinx, and let the protagonist in the video finally burst his crackers? Or, will India keep both its winning streak and the jinx intact and hand its neighbours another World Cup defeat?
At least, if India wins again, we can hope more such 'Mauka Mauka' videos from Star Sports, since Pakistan will have to keep waiting for their day for another four years.