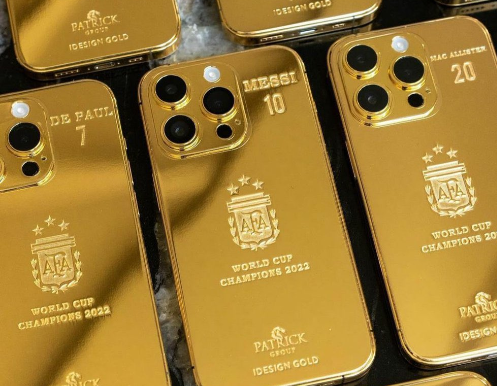 Lionel Messi, the captain of the Argentina team that won the FIFA World Cup 2022 in Qatar, has commissioned 35 custom-made gold iPhones for every member of the team and support staff.
According to a report in The Sun, the 24-carat devices, worth £175,000, have the players' names, numbers and the Argentinian logo engraved on them. The iPhones were delivered to Messi's residence in Paris on Saturday (February 25).
Lionel Messi will gift 35 gold iPhone 14's to all the Argentina players and staff which won the World Cup. Via IDesignGold on Instagram. 🏆🇦🇷 pic.twitter.com/yDE9PkalcG

— Roy Nemer (@RoyNemer) March 2, 2023
The Sun quoted their source as saying: "Lionel wanted to do something special and blingy to celebrate his proudest moment. He got in touch with entrepreneur Ben Lyons and they came up with the design together."
Also read: Messi inspires Argentina to World Cup title in thrilling final in Qatar
The report also quoted Ben, CEO of iDesign Gold: "Lionel is not only the Goat but he's one of IDESIGN GOLD's most loyal customers and got in touch with us a couple of months after the World Cup final. He said he wanted a special gift for all the players and staff to celebrate the amazing win but didn't want the usual gift of watches."
"So, I suggested gold iPhones inscribed with their names and he loved the idea," added Ben.
Ben Lyons (CEO of iDesign Gold): Leo Messi contacted us two months after the World Cup Final, he asked us to give him a unique idea for gifts, he told us I don't want the usual watches, I want something special, we put forward the idea of ​​devices, and we prepared them. pic.twitter.com/k5Ar9fQ9KF

— Albiceleste News 🏆 (@AlbicelesteNews) March 2, 2023
Argentina defeated France in a historic final 4-2 in penalties, winning their third World Cup title. This was Messi's first World Cup trophy, something that he and his legion of fans all over the world were longing for.