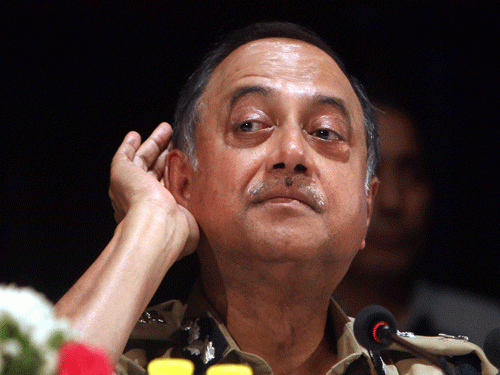 Former BCCI Anti-Corruption Unit (ACU) chief Neeraj Kumar's recent book, 'A Cop in Cricket: Inside the World of the BCCI's Anti-Corruption Unit' is easily the most hard-hitting account written against the world's wealthiest national cricket body by someone who has worked with it.
Kumar, a former Commissioner of Police, is particularly angry at the BCCI's indifference to the ACU during his three-year tenure as the BCCI ACU head (2015-2018). He alleges he never received the support of the people who managed it, be it the Committee of Administrators (CoA) head Vinod Rai, or the BCCI's elected office-bearers or its CEO. The 69-year-old former police officer says no one in the BCCI was interested in investing in the anti-corruption programmes that he suggested, leaving him frustrated.
Kumar, however, draws satisfaction from disrupting several unauthorised cricket leagues, with the help of his understaffed ACU team and with his personal relations with several serving police officers in various states.
Also read: Match-fixing: Guilt of banned cricketers proved beyond doubt, says former CBI officer
In a freewheeling interview with The Federal at his New Delhi residence, Kumar spoke on a variety of issues related to corruption in cricket.
Excerpts:
You have termed your BCCI tenure as most forgettable in your book. Why did you join the BCCI in the first place? Didn't you have any inkling of the way the BCCI functions?
I had no inkling, and nor did I try to find out. I thought it was a very prestigious assignment. My junior (CBI) colleague, Mr. Ravi Sawani was there; he had served in the CBI. He was a very competent officer; highly well-regarded officer. So, I thought it should be a good assignment, and also a glamorous assignment – an assignment where you can be very close to the game of cricket, and also to cricketers. I was very excited about the job.
Once you experienced the working of the BCCI from the inside, why did you stay on?
Frankly, I'm not a quitter. When the situations are very adverse, I don't like to run away from those situations. I thought that these people were trying to make my life difficult so I ran away. They would have been very happy to see my back. But I continued so that I could set all those things right which were within my powers. And I could also keep the interest of my subordinates. Although there are only two of them, I could fight for their rights and their rightful place in the BCCI. They were not getting their due. So, I took it upon myself to fight for them. And I thought that if I ran away, I'd virtually betray them.
Also read: Cricket Corruption: How reforms led to the match-fixing scandals
You have written that you wanted to join the ICC's Anti-Corruption and Security Unit as its head. Did you ever apply for the ICC job? Why didn't you join it?
No, I never applied. There was no occasion to do that. They never advertised because Mr. YP Singh (an Indian police officer) continued to be there. There was no occasion that any applications were sought from anywhere. I thought that having retired as Commissioner of Police (Delhi), if I become the ACSU chief of the ICC, that would be more befitting to my standing as a police officer than joining the BCCI as its anti-corruption chief. That is why I took that line with Mr. (Anurag) Thakur (then BCCI secretary who offered him the job). And I also hoped that maybe he'll kind of get put off that…'here I am offering him a job, and instead of jumping at the offer, this man's trying to wriggle out of it'. That was the background.
You've not kept it a secret that you didn't receive support from then BCCI Committee of Administrators (CoA) head Vinod Rai. You had lots of hope from him because he carried a clean image. Was that a big disappointment for you?
Not only because of his image as a Comptroller and Auditor General (CAG) head but also because he had served for over three decades in the government. He was from the Indian Administrative Service (IAS) and here I was from the Indian Police Service (IPS), having superannuated as Commissioner of Police (Delhi). He could have very easily teamed up with me in the fight against corruption. He could have had deliberations with me: What could be done? What should be done? He never did anything suo moto. I forced myself, I organised, I kind of manipulated a situation in which I made a presentation to him, telling him what the magnitude of the problem of corruption is, what resources we have, and how grossly inadequate they are.
And also told him what achievements we had made despite the inadequacies, and what was possible to do. But, to my horror, it made no impact on him. For somebody who had almost worked hand in hand with the police at various stages of his career to be so indifferent to the ACU, to corruption, and to the existence of an officer who had been with the Indian Police Service for 37 years and had tonnes of experience in the fight against corruption in cricket, I found it extremely odd that he was so indifferent to it and to me.
Also read: CBI books 3 for alleged match-fixing in IPL; probes Pakistan angle
Where did things go wrong between you two? Did things worsen when he came to know that BCCI CEO Rahul Johri and you were not getting along well, or was it before that? You say you had met him (Rai) a couple of times socially, at Delhi Gymkhana.
I want to make one thing very clear: we never had a showdown, or we never had an argument. It was all under the surface. It was somewhat subterranean. But surely he (Rai) didn't want me to continue; he told me to my face that he had found my successor. And he said so very gleefully. So, I found it very odd that he was telling me that he had found my successor and that he was trying to enjoy telling me this and trying to praise my successor. He could have done that in a very graceful manner, and said that for such and such reason… "I'm sorry, you cannot continue in the Board". It could have been because I was completing 65 years or because I had completed three years of my tenure or whatever reason he wanted to give me. He could have told me that for this reason, you could not continue to be in the Board and we were going to terminate your services. But the manner in which he did it was very, very…what should I say…uncouth.
Was it a clash of egos, by any chance, because both of you were such senior public servants?
Never. It was no clash of egos. The egos had no occasion to clash with each other. The one and only reason why the estrangement between us took place was perhaps Rahul Johri did not like me. And because he was like a father to Johri, as suggested by that lady (a BCCI employee who alleged sexual harassment allegation against Johri), and also perhaps because he had some word from some power-that-be — that 'you have to take care of Mr. Johri's interests' — that he decided to go along with him.
Did you get the impression that Mr. Rai was under some kind of pressure from some quarter?
Yes. If that pressure was not there he would have been a little different.
Regarding the inquiry into the Hansie Cronje scandal, you've written in your book that the CBI was "struggling" because they hadn't found (bookie) Mukesh Gupta until then. In what way was it "struggling"?
The breakthrough in that inquiry came only when Mukesh Gupta was interrogated. If you notice very carefully, the CBI inquiry report is nothing but the disclosure of Mukesh Gupta, substantiated by supporting evidence, whether it were telephone calls or the confessions made by players, or the other documentary evidence that was collected. Essentially, the CBI inquiry report is based on the disclosures made by Mukesh Gupta.
After you met Mukesh Gupta through one of your informers and informed your bosses, you didn't take the inquiry (offered by the CBI chief) because one of your colleagues was already doing it and you didn't want to interfere?
It creates bad blood. The person from whom you take over the case, that person will always feel kind of being let down. And he (Sawani) had already done so much work. For him, it was easier, and I myself was snowing under work with my own branch and my own units.
Regarding the 2013 IPL betting-fixing scandal, when the Delhi Police (headed by you) chargesheet was rejected by the Patiala House Courts, New Delhi, in which 42 persons were slapped with MCOCA (Maharashtra Control of Organised Crime Act)…
If I may interrupt, it is incorrect to say it was rejected; people were after quite a number of months discharged. And in the judgment, the judge praised the work done by the special cell of the Delhi Police but said that in the absence of a law, there was a vacuum in law to deal with the case.
With the benefit of hindsight, would you say that the slapping of MCOCA on all 42 persons was probably not the right thing to do?
Not at all. It was the right thing to do. And we are in appeal in the (Delhi) High Court; the matter is still being heard. Even MCOCA will be discussed. Whence you come to know that Dawood Ibrahim is involved in the matter, and it is he who gives directions, and it is the underworld that is involved, what options do you have as a police officer but to bring in MCOCA?
(The author is a New Delhi-based cricket journalist who has covered the sport for over three decades. He tweets at @AlwaysCricket)