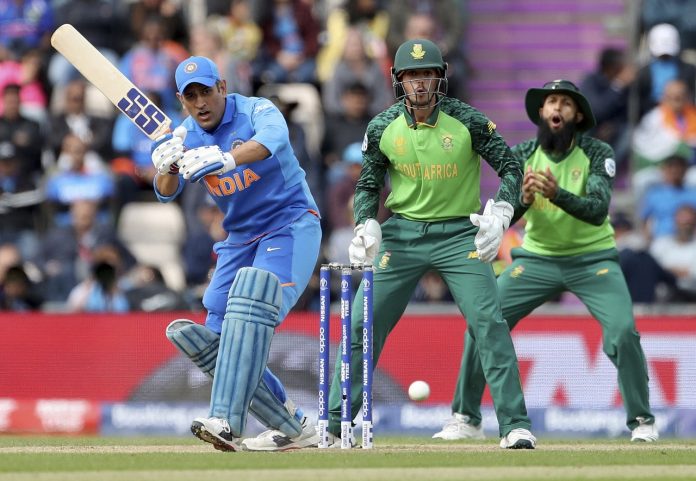 India vs South Africa turned out to be a slow burner of a match.
India prevailed in the end managing to glide by the South African team with ease in their first match of the World Cup 2019. South Africa, on the other hand, lost their third match of the tournament and would need a miraculous recovery to get back in the game.
Injuries have hit the team dynamics hard with Dale Steyn being ruled out of the tournament due to a second shoulder injury that hasn't responded to treatment. South Africa pacer Lungi Ngidi was also sidelined after suffering a hamstring strain in the match against Bangladesh. The team was lacking essential components and it was evident in their performance.
India, in direct contrast, played a brilliant game of cricket and surpassed their opponents in all quarters. Jasprit Bumrah (2-35) and Yuzvendra Chahal (4-51) put on a bowling clinic taking a collective of six wickets between them.
Bumrah nipped Amla early in the game with just 6 runs off 9 balls. He went on to ensure a steady fall of wickets and ensnared Quinton de Kock at 10 runs off 17 balls. It was a hard act to follow but Chachal kept up with the pace taking four wickets of his own. It was this superb performance by the bowlers that limited South Africa to 34-2 at the end of 10 overs. This was the lowest first Powerplay score in World Cup 2019.
South Africa got another injury scare when Faf du Plessis was hit on the gloves by Hardik Pandya's bouncer. Luckily for the Proteas, du Plessis was fit to play and went on to add 38 runs to the scorecard before falling victim to Chahal's lethal bowling attack. The South African batting rounded up at a decent 227/9 at the end of 50 overs.
Rabada tried his best to stem the flow of runs and gave his team an edge. But, the Proteas let him down with the fielding. Rohit Sharma, who went on to single handedly turn the match, was dropped twice. Once as early as the score of 1. It must be jarring for Rabada to be failed by his own team.
The South African pace spearhead broke Dhawan's bat at one point, bowling a low full toss at 146 kph. He also took Dhawan's wicket later in the game sending the Indian opener packing for 8 runs off 12 balls.
Rohit Sharma never let his team falter and played a spectacular innings. The fall of wickets from the other side did provide a brief scare as Shikhar Dhawan (8) and Virat Kohli (18) fell off the wagon rather quickly.
Rohit Sharma-dropped a second time in a disastrous slip by David Miller later in the game. Later, he built a steady partnerships of 85 runs with KL Rahul and 74 runs with MS Dhoni, bringing up three figures off 128 balls before finishing with 13 fours and a pair of sixes in his 144-ball knock. It was an innings reminiscent of The Wall of Indian cricket Rahul Dravid.
The Player of the match was won and, well deserved, by Rohit Sharma.
"Different experience from India. There was something in it for the bowlers throughout the game, so you had to play out the overs initially and see what the ball was doing. Couldn't play my natural game. You have to take your time. Certain shots that I like playing, I had to cut out and play close to the body," he said about his spell.
"I had to follow the basics properly, try and leave as many balls as possible on a pitch that is doing a bit. Building partnerships were key in this chase. It was a small total, but since there was something in it for the bowlers, it was tough and we needed partnerships. It's the batsmen's job to get the job done, whoever is out in the middle. We can't rely on one or two individuals all the time. That's been the hallmark of this team over the last two years – someone always puts their hand up and takes the responsibility to take the team across the line," he said.
"I hope at some stage someone will put their hand up and take that challenge. That's the beauty of playing in England – we are playing a little early. We play in July/August, but this is June. The weather has been good, and overcast, so you don't sweat too much like in India. It wasn't a typical Rohit Sharma innings, but I had to play out the overs initially to make sure that the job is done," he further said.
Although India faltered a bit at the batting front, the match never looked out of their hands. There was never any real danger of the 2011 champions failing to start with a bang. The Proteas, however, look to be in desperate need of a win if they are to maintain any chance of remaining in the contest.