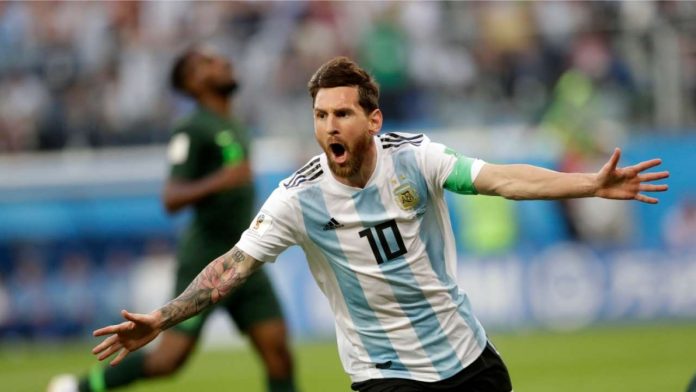 There is something about Lionel Messi that defies conventional thinking. He is an amazing player, no doubt. Arguably, the greatest ever.
In fact, there is very little the diminutive Argentine can't do on a football field. He can dribble past defenders at will, see a pass way faster than anyone else on the ground, and score goals from seemingly impossible angles. But these are qualities common to all great footballers. Zinedine Zidane had it. Ronaldinho executed it to perfection, that too with a smile. Cristiano Ronaldo continues to do it.
Yet, when it comes to Messi, the adjectives used to describe are different. 'Genius', they call him. A prodigy. 'Unreal' some others describe. With Messi this has become the norm — to always be accompanied by adjectives that suggests the extraordinary — because never have we witnessed this effective a combination of elegance and lethality in front of goal. Yes there have been goal machines. But none that made it look so simple.
Which is perhaps why people can't decode a Messi in an Argentina shirt. He is simply not the same footballer who scores goals in El Clasicos for fun. Not to say he is bad — still produces magic more consistently than most of his teammates — but the weight of expectations to deliver his country a silverware is clearly affecting his genius.
The Super Clasico
Against Brazil in the Copa America semifinals, the pressure will be on the shoulders of Messi again, despite the hosts being the favourites to progress. Messi can probably smell an international trophy — something that has evaded his Argentina team for a long time now.
And despite Brazil's strong line-up and home support, there are chinks in the armour that Argentina can expose. With Neymar ruled out due to an injury, Brazil have been starved of imagination up front. If Argentina can score an early goal, they will force Brazil to change their shape, which could expose the hosts even further.
The match is the Super Clasico of international football. Brazil and Argentina have been facing each other for more than 100 years now. They reached 12 World Cup finals between them, winning seven. Most importantly, both have contributed to football's list of GOATs — Pele and Diego Maradona. Messi as a player has already reached the heights of what can be achieved at the club level but is yet to win a trophy for his country, unlike Pele and Maradona.
The question is, can Messi join the gang by winning a trophy in what could be one of his last attempts? While it is unfair to question a player for his country's fortunes, his detractors have never missed the opportunity to do so. People forget Messi in the Albiceleste shirt could easily have won three trophies by now had luck not deserted his team. His side were twice beaten on penalties and once in extra time.
In fact the criticism is probably best directed at the rest of the Argentina team. The fact that  have failed to grab any silverware in nine attempts with Messi in their team is further proof to the decline of one of the game's traditional powers.
Copa has shown some positives for Argentina though — Franco Armani seems an upgrade from the pack of waning keepers at the World Cup last year while the likes of Lautaro Martinez and Nicolas Tagliafico have impressed in their starting roles.
Protecting Messi
For years, coaches have tried to find the best position for Messi to play. The Argentine started his career in the right-wing, and later took up the role of a more traditional centre forward. But it's only in the last few years have seen Messi the drifter. Luis Enrique gave him a free role to don in the opponent's half — like an attacking equivalent of a libero — and there has been no looking back.
Current Argentina coach Lionel Scaloni has only been happy to hand the same role for Messi in the national team, occupying a more number 10 role with Lautaro Martinez partnering Aguero up front.
But the real protection for Messi, who has looked emotionally drained throughout the tournament so far, has to be off the pitch. Having played an extremely long season, where Messi's side suffered a semifinal heartbreak in the Champions League, it is important that Argentina's staff handle him with care.
In ancient Greek and Roman culture, there was a belief that creativity didn't come from within yourself. It was believed that an external, divine, spirit possessed your body, to produce art and wisdom. Socrates called it a 'demon'. The Romans called it a 'genius'. An intangible entity who lived within you and shaped your work. While such thoughts seem ridiculous in 2019, what it did provide was psychological construct to protect the artists from the pressures of a performance. When the 'demon' possessed you, you had a good day. Otherwise you didn't.
Leo Messi, in Copa America, is a footballer whose demon has deserted him. Which should be fine. He is still world class. Just that he isn't the Barcelona Messi. The entire Argentina team needs to acknowledge that they were privileged to experience the awe-inspiring brilliance of Messi for all the years that took them to touching distance from success. But the genius is tired. Off colour. Still there and almost very likely to be woken up very soon. But till then it will be up to his teammates, all exceptionally good players themselves, to push Messi's dream forward — to win an international tournament. And the biggest push starts tomorrow, when they take on arch rivals Brazil.