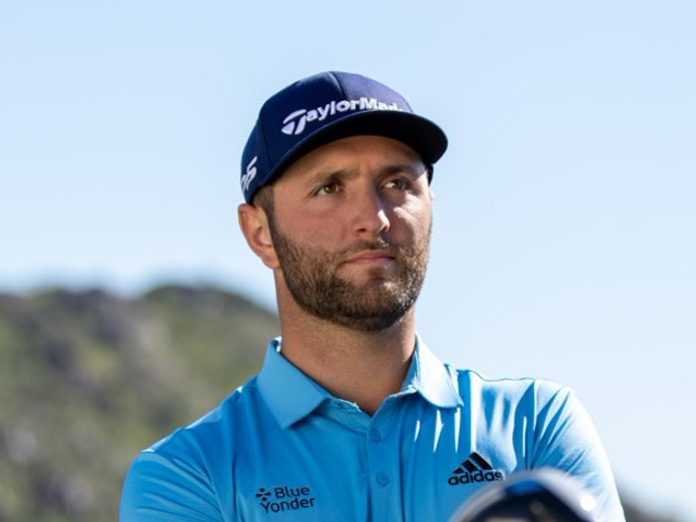 Has Spanish golfer Jon Rahm pulled off the greatest shot in the sport? Netizens and fans were left wondering after his stunning hole-in-one at the Augusta National ahead of The Masters.
Rahm turned 26 on November 10, and he presented himself a perfect gift by acing the Par-3 Hole 16 (170 yards) "Redbud" in the practice round. The clip of his stunning shot has gone viral on social media, and most of them think it is the "greatest shot".
"Pin position is key as the treacherous green slopes towards a pond on the left, while the back bunker is also a hazard. It is important to avoid a downhill putt but the final-day placement is accessible. Bryson DeChambeau and Justin Thomas posted Sunday aces there last year," Racingpost described the Hole 16.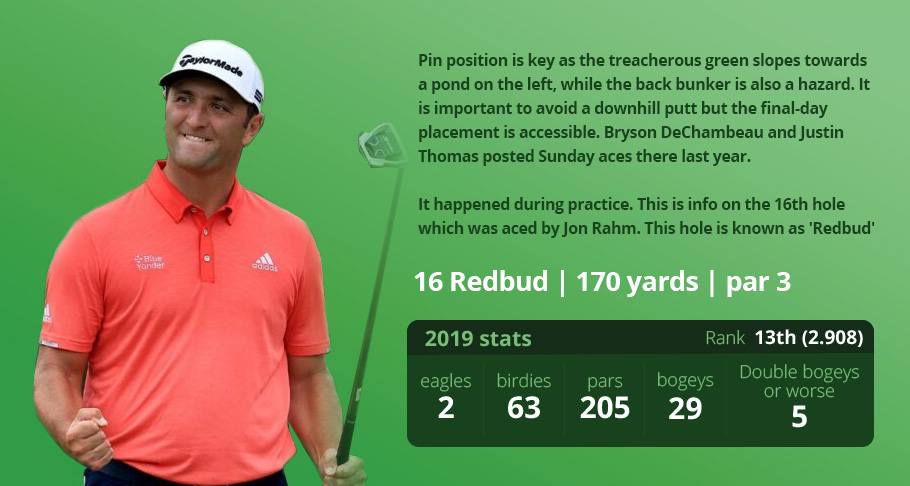 The Spaniard hit the ball, which skimmed over the pond and curled into the hole. It was indeed one of the best. However, there were no fans to appreciate the shot as this time the event is played with no attendance of spectators due to the coronavirus pandemic.
It is part of The Masters tradition to play the trick shot, and Rahm made it a special one. His earlier hole-in-hole was not video-recorded.
According to Fox Sports, "Vijay Singh accomplished the feat in 2009, as did Martin Kaymer in 2012, with crowds in attendance."
Two hole-in-one's in two days – Happy Birthday to me! https://t.co/66dxOr47T7

— Jon Rahm Rodriguez (@JonRahmpga) November 10, 2020
The World No. 2 himself posted the video on his Instagram account and it was shared by the official Twitter account of The Masters as well.
"Hole-in-one's are always special, even more so at Augusta National. Here's to hoping it happens again later this week! Thanks to Rickie Fowler for the video! (sic)," Rahm captioned the video.
The Masters Twitter handle said, "His second in two days, Jon Rahm skips his way to a hole-in-one at No. 16 – on his birthday, no less. #themasters (sic)."
Reactions poured in on Twitter, and one of the users wrote, "DAAAAYYYYUMMM, that is clearly a shot he has practiced. This is freaking amazing. THIS IS THE GREATEST SHOT IN GOLF HISTORY…OF ALL TIME, EVER! (sic)."
Another user said, "This is the greatest golf shot I've ever seen. Under any circumstances. Period."
The Masters starts on Thursday (November 12). Tiger Woods is the defending champion.
This is the greatest golf shot I've ever seen. Under any circumstances.
Period.pic.twitter.com/PSIDXlL1kH

— Jason McIntyre (@jasonrmcintyre) November 10, 2020
Jon Rahm deserves a Green Jacket just for this….

INCREDIBLE https://t.co/UALHjF0iaX

— Travis Eldridge (@tgeldrid) November 10, 2020