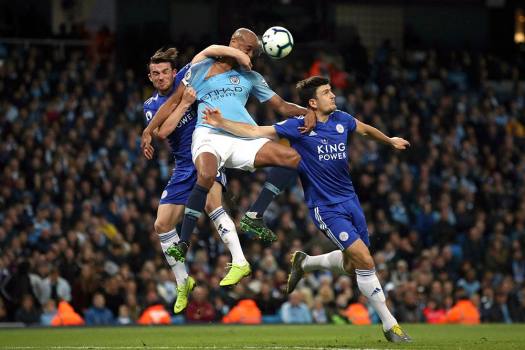 In the run-up to the big Champions League fixture against Real Madrid, Pep Guardiola's Manchester City travel to King Power Stadium to take on the third-placed Leicester City in a fascinating contest as a win for the latter at this juncture will close in the gap with the second-placed Cityzens. After a two-year European ban was imposed on Guardiola's men, there has been relentless energy in the Cityzen's dressing room which helped them drub West Ham 2-0 in a boisterous manner.
A victory here would be a morale booster for Leicester as Branden Rodgers' men failed to live up to expectations in the last one month. Leicester earlier played out a 2-2 stalemate against Chelsea and lost to Aston Villa in the second leg of the League Cup. On the flip side, City had bittersweet moments in the last one month as they lost two encounters while being triumphant in two games. In a head-to-head contest, City has the upper hand with 9 wins of the 17 matches played of which two were drawn.
Related News: Man City, Liverpool ready for heavyweight Premier League battle
In the last five matches against The Foxes, Cityzens have maintained a decent record with three wins while conceding two defeats. Leicester could make the top four spots this season only after 2015-16. Cut to 2016, Leicester made history by clinching its maiden EPL title under Claudio Ranieri. But in 2017 and 2018, they finished at number 9 with bleak performances as their main man Jamie Vardy was little off-track, but again the team gathered all the strength and have been on a winning spree.
At the inception of this season, there was a time when Leicester was in the title race but Jürgen Klopp's Liverpool is flying high with 22 points clear on top leaving behind Man City and Leicester in the second and third spots respectively on the points table. Guardiola's men have lost two of their last three away Premier League matches against Leicester, having lost none of their last five league fixtures, with three wins and two draws.
Foxes under the tutelage of Branden Rodgers have been displaying top-notch performances. Having played 14 matches, the Foxes have conceded only seven goals and not more than one in each match.
Manchester City has lost only four of their 13 away matches this season. The Cityzens haven't failed to score in consecutive away matches since January 2017. Jamie Vardy has been the highest scorer for Foxes with 17 goals while Aguero, who netted 16 times, is the leading scorer for City.