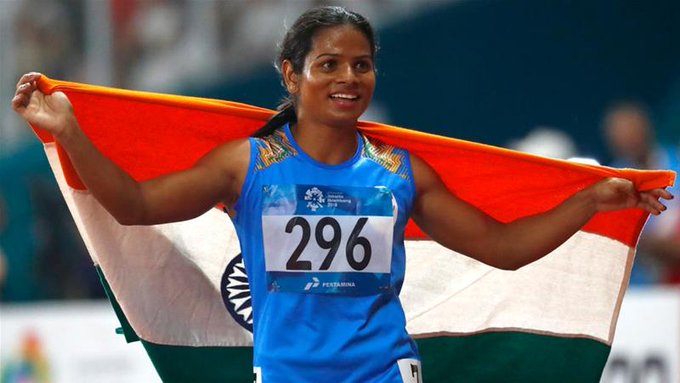 Dutee Chand tests positive for prohibited substances, suspended
India's top sprinter Dutee Chand has tested positive for prohibited anabolic steroids during an out-of-competition testing and has been provisionally suspended.
Dutee is India's fastest female sprinter and the current national champion in 100 metres.
The urine sample of the 26-year-old, who finished second in both the 100m and 200m events at the 2018 Asian Games, has returned adverse analytical findings (AAF) for andarine, ostarine and ligandrol, said a doping control notification on adverse analytical findings issued by the National Anti-doping Agency (NADA).
Also read: Faced ragging by seniors in sports hostel, claims Olympian Dutee Chand
In a letter addressed to Dutee, the AAF notification said, "I do hereby inform you that your sample A was tested at the NDTL (National Dope Testing Laboratory) in accordance with the procedure set out in WADAs (World Anti-Doping Agency) International Standard of Laboratories and was returned adverse analytical findings as details given below."
The sample was collected out-of-competition on December 5 last year at Bhubaneswar. The letter also warned Dutee about the potential consequences.
"I do hereby invite you to carefully read the contents of this letter which provides important information as to the potential consequences of the AAF and resulting disciplinary process," the letter added.
Dutee, when contacted, said she was unaware of the A sample testing positive.
"I do not know," she said.
(With agency inputs)