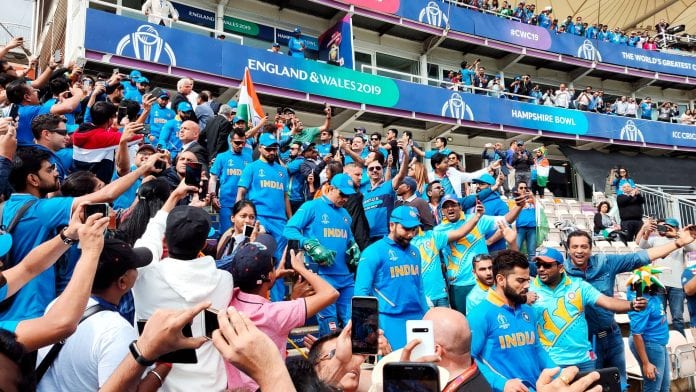 It's been raining all over England in the last few days. In fact, such has been the downpour that two full games got washed out in the last couple of days.
The game between South Africa and West Indies lasted a mere 45 balls. And the match between Bangladesh and Sri Lanka was abandoned even without the toss. It was the second such incident in this World Cup with Sri Lanka getting affected both times (earlier against Pakistan).
The United Kingdom (UK) is usually pretty wet in June, which is early summer, but this time it is predicted to be wetter than usual. With India scheduled to play New Zealand next in Nottingham on June 13 (Thursday), there is every possibility of the rain playing truant.
In fact, there is a 'Yellow Warning' in Nottingham. A 'Yellow Warning' means 'be aware'. It means that the weather around is expected to be very bad over the next few days and it will disrupt day-to-day life around. It underlines that one needs to be prepared for travel delays and other disruptions and plan accordingly.
Also read: Rishabh Pant flies to Nottingham as stand by for Shikhar Dhawan
So, with the weather around so bad, will the match take place? Chances appear to be slim. Rain is predicted throughout the morning and early afternoon. However, the skies are expected to clear up as the day progresses. India's preparation in the run-up to this game has also been hampered. They were forced to cancel their training session on Tuesday and with so much rain around, it is unlikely that they will get a chance to train on the eve of the game as well.
Also, they have a spirited and a confident New Zealand side up against them. The Kane Williamson-led side are the only side to win three games in a row this World Cup and India will be looking to replicate their effort.
However, it won't be easy though. Under similar conditions, India came up short against a rampaging Kiwi pace attack in the warm-up fixture. They succumbed to the swing and seam of Trent Boult and co. The left-arm fast bowler enjoys bowling against India and time and again, he has put the Indian batting under a severe test. 
Also read: BCCI not looking to replace Shikhar Dhawan yet, says he is under observation
World Cup history between India and New Zealand
Also, this is the first time since 2003 that India and New Zealand will square off in a World Cup game. However, the two teams have played each other seven times in World Cup history. India have won three games while New Zealand have won four. However, the last World Cup encounter in 2003 saw Sourav Ganguly-led Indian side stroll past the Kiwis.
Ground history
The Trent Bridge ground in Nottingham generally produces a high-scoring game. However, overcast conditions and rain will definitely impact the playing conditions. The ball will most likely hop around and assist the fast bowlers. However, only once in the history of ODI cricket in Trent Bridge, Nottingham has there been a washout. That came two years ago in a game between England and West Indies.
At this venue, India have won three and lost three. However, they won their last two encounters against England here (in 2014 and 2018). It was Kuldeep Yadav who wreaked havoc the last time India played an ODI at this venue. However, New Zealand have just two wins out of seven matches at this venue. In fact, their last win at Trent Bridge came against India itself in the 1999 World Cup.