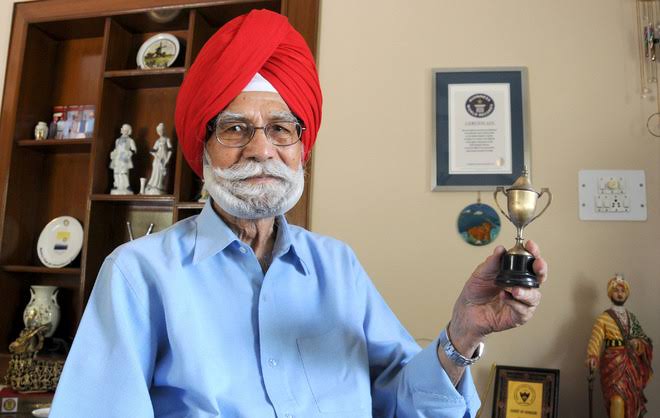 His illustrious career had many medals and milestones but for the hockey wizard the one moment that meant more than others was when he played a starring role in claiming independent India's maiden Olympic gold in the sport.
It happened at the 1948 Olympics in London, a year after India attained independence and Singh scored two of the four goals that India pumped struck in the final.
It was against the hosts, the country, which had colonised India and Singh, at a commemorative function here in 2018, recalled the emotions it stirred up.
Advertisement
"As our national anthem was being played and the tri-colour was going up, I felt that I too was flying with the flag. The sense of patriotism that I felt was beyond any other feeling in the world," he had recalled at the Chandigarh Press Club.
"The day our flag was hoisted in front of thousands at Wembley Stadium (1948) and the national anthem played, I felt like I was flying." – 3-time Olympic Gold Medalist, Balbir Singh Sr.

(1/2) pic.twitter.com/zovlFspoyQ

— Hockey India (@TheHockeyIndia) May 25, 2020
"It was a proud moment for all of us when we defeated England, which had until a year ago ruled India for a long period, on their own turf (in 1948)," Singh had said.
One of the greatest hockey players of all time, Singh won three Olympic gold medals in a stellar career but never missed a chance to tell how special the 1948 one was.
"The event happened 70 years ago, but it feels like only yesterday. I still remember the feeling when the Indian flag was hoisted at the 1948 Olympics when we beat Britain 4-0," Singh had said.
Singh started his hockey career as a goalkeeper before moving up as a full-back and eventually a centre-forward. The victorious team had received a grand welcome from the Indian fans upon their return home.
Singh had also recalled that how, despite being in tremendous form, he was not selected among the 39 probables for the finals in 1948, forcing some of his well-wishers to approach the then Indian High Commissioner in London, V K Krishna Menon for his help.
Hockey legend and triple Olympic gold medallist Balbir Singh Sr passes away at 95. Sir You will be remembered forever!!
R.I.P Sir 🇮🇳🏑🏅🏅🏅🇮🇳 #BalbirSinghSr pic.twitter.com/QEuMIoMHvb

— geeta phogat (@geeta_phogat) May 25, 2020
Singh said that it was only after Menon's intervention that he was included in the playing eleven.
"I still remember that before the match started, the Wembley stadium was reverberating with the noise of English fans. As we took an early lead and later on pumped in another goal, after the half time, some English fans started rooting for India, saying make it half a dozen goals," he remembered.
Singh had said that August 12, 1948 was the "greatest day in independent India's sporting history".
In 2018, Singh had also attended a special screening of movie Gold, a sports drama inspired by real events of the 1948 Olympics.
The former hockey skipper breathed his last at the age of 96 on Monday (May 25) morning at a city hospital, after battling multiple health issues, and cremated with full state honours.
Balbir – The man manager
He didn't always need a hockey stick to pull it off for India, that was the kind of magic Balbir Singh Sr could weave and which steered a "demoralised" national team to its first and only World Cup gold back in 1975.
All Singh had to do was offer a pep talk over breakfast while managing the Ajit Pal Singh-led side, which also featured Ashok Kumar, son of Major Dhyan Chand, the original hockey wizard with whom Singh was compared throughout his career.
And why not, they were both three-time Olympic gold-medallists but belonged to different eras. Back to the World Cup of 1975 and it wasn't quite going India's way.
A 1-2 loss to Argentina in the league stages had almost crushed the teams chances, but that is when "man manager" Singh, who died at 96 in Mohali after prolonged illness on Monday, stepped in.
My heartfelt condolences to the family and friends of Balbir Singh ji Sr.

He was one of the greatest to have graced the game of hockey 🏑.

May his soul Rest in Peace! pic.twitter.com/Z4tnb6D3OB

— Sachin Tendulkar (@sachin_rt) May 25, 2020
"We were heartbroken but that is when Balbir Singh Sr took us out for breakfast along with coach Gurcharan Singh Bodhi and individually motivated every player," Ajit Pal recalled in conversation with PTI.
"He told us simply to forget yesterdays match and concentrate on West Germany. He told us we have the skills to beat Germany by 2 goals and simply focus on our objective," he added.
Ajit Pal said the death of Singh was like the loss of a father figure for him.
"His dedication towards hockey and his man management skills were incomparable," Ajit Pal said.
"If Dada Dhyan Chand was a pillar of Indian hockey before independence, Balbir Singh Sr was the other pillar in the post-independence era," he asserted.
Going back to what seemed like a tough match, Ajit Pal said the side duly responded to Singhs pep talk.
India defeated West Germany 3-1 to qualify for the semifinals, where they beat hosts Malaysia 3-2 in extra time to set up a final date with arch-rivals Pakistan.
In the summit clash, India defeated Pakistan 2-1 to claim their maiden World Cup title. The winning goal for India came from the stick of Ashok Kumar.
Kumar recalled how devastated Singh was when India lost to Pakistan in the semifinals of the inaugural World Cup in 1971.
Indian Hockey stalwart Balbir Singh Sr. passed away earlier this morning. He was a 3-time Oly. gold medalist in 1948, 1952 and 1956 as a player and won the Padma Shri in 1957.
His passing away leaves an indelible void in Indian sport. #RIPBalbirSinghSr @KirenRijiju @DGSAI pic.twitter.com/Fc8BE2q9I8

— SAIMedia (@Media_SAI) May 25, 2020
The win against the arch-rivals four years later was redemption for the legend. Singh was the coach of the Indian team that settled for a bronze in the 1971 World Cup.
"He was the brightest star of Indian hockey, a player whom we all looked up to. I still remember how badly he cried in his hotel room after we lost to Pakistan in the semifinals of the 1971 World Cup," Kumar told PTI.
Kumar refused to draw comparisons between Singh and his father, stating both were stalwarts of their eras. "It is not right to compare the two. Both are jewels of Indian hockey and their legacy will continue," he said.
Balbir-Milkha friendship
If anyone qualifies to be called a legend in Indian hockey after Dhyan Chand, its Balbir Singh Senior, said iconic Milkha Singh condoling the death of his great friend.
Balbir and Milkha competed together at the highest level for the country in their respective games and even worked together for Punjab Sports department in the 1960s.
"I had a very close association with him. The then Punjab Chief Minister Pratap Singh Kairon had brought us to the Sports Department, which we had joined the as Deputy Directora," the Flying Sikh told PTI.
"We served in the Department for three decades both on the sports side as well as on physical education side," 90-year-old Milkha said.
तीन बार के ओलंपिक स्वर्ण पदक विजेता महान हाकी खिलाड़ी श्री बलबीर सिंह जी के निधन का अत्यंत दुःखद समाचार प्राप्त हुआ।

श्री बलबीर सिंह जी का निधन हॉकी के साथ ही साथ समूचे खेल जगत के लिए अपूरणीय क्षति है।

मैं दिवंगत आत्मा की शांति हेतु ईश्वर से प्रार्थना करता हूं।#BalbirSinghSr pic.twitter.com/9FuUVYtvZ4

— Col Rajyavardhan Rathore (@Ra_THORe) May 25, 2020
"We were great friends. He was very close to me and I feel sad that he is not among us now. After Dhyan Chand, if there was any (hockey) legend, it was Balbir Singh senior," he added.
Milkha, who missed an Olympic medal by a whisker at the 1960 Games, said the present generation should draw inspiration from the lives of Balbir Singh and Dhyan Chand.
"We did not have facilities but we worked hard and made our country proud. Now, there is every facility, but standard of hockey, athletics, gymnastics has gone down, though we are doing good in some games like badminton, shooting. I feel coming generations should draw inspiration from our lives," he said.
Former Indian hockey team captain Pargat Singh, who is also sitting Congress MLA from Punjab, also expressed sadness at hockey legends demise.
Pargat said he started playing hockey because of Balbir Singh play and his passing away is a big blow to the sporting world.
"During his playing days people used to talk about his impeccable ball control. He motivated me to play hockey," said Pargat.
Legendary Hockey player Shri Balbir Singh Sr passed away today. He had won 3 Olympic gold medals for India in 1948 London,1952 Helsinki & 1956 Melbourne Olympics.

His contribution to Indian Sports will always be remembered. Our heartfelt condolences to the family. Om Shaanti!🙏 pic.twitter.com/DixyUiU2k7

— Dept of Sports MYAS (@IndiaSports) May 25, 2020
In a stellar career, Balbir Singh senior won three Olympic gold medals.
The legendary centre-forward survived by his daughter Sushbir and three sons Kanwalbir, Karanbir, and Gurbir. His sons are settled in Canada and he lived in Chandigarh with his daughter and grandson Kabir.
Punjab Sports Minister Rana Gurmeet Singh Sodhi declared that the Mohali stadium will be named after the legendary player.
The mortal remains of the three-time Olympic gold medallist was consigned to flames at an electric crematorium, with his maternal grandson Kabir performing the last rites in the presence of Sikh priests.
(With inputs from agencies)