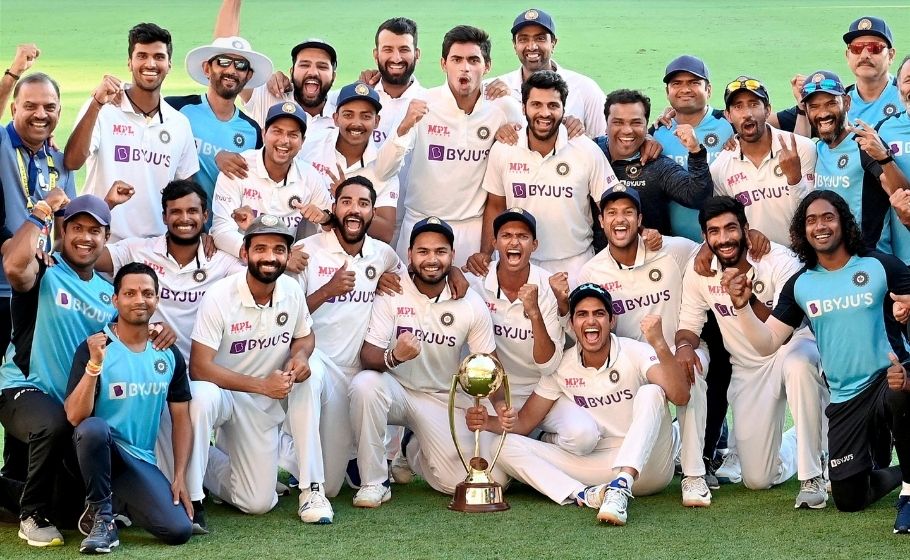 As India trump Aus, best tribute lies in not missing Kohli
Almost the whole of India – including recent cricket-converts captivated by the fightback Down Under – spent a fretful Monday night hoping for divine intervention from the weather.
Almost the whole of India – including recent cricket-converts captivated by the fightback Down Under – spent a fretful Monday night hoping for divine intervention from the weather. Battered and bruised, its strength weaned away by half, India's bravest Test side in 88 years was 98 overs away from safety, a little help from the elements wouldn't be out of place.
The bravehearts that constituted the Gabba playing eleven, and the 20 others that provided moral, psychological and physical support, also cast an anxious eye on the skies, but for entirely different reasons. They were desperate for the rain to stay away, for them to recreate history in a land where India had taken 71 years to register their first Test series win, in 2018-19.
The collective will of the millions bowed to the ambition of the 11 on an emotional Tuesday, one of the greatest days in India's colourful, celebrated cricket history. Two young men in the nascent stages of their career were the obvious heroes at a venue Australia have guarded like a fortress for 32 years.
Related news | India's 3-wkt win in 4th Test propels 2-1 series victory against Aus
But there were crucial hands from the experienced duo of Cheteshwar Pujara, who rode blows to body, limb and head like a gladiator who didn't know how to stay down, and from Ajinkya Rahane, the captain who took charge in the most extenuating circumstances and fashioned an extraordinary 2-1 triumph, and debutant Washington Sundar.
The final day of a series that had oscillated wildly – how that happened in the first place, full-strength Australia in their home patch against personnel that bore little resemblance to the ones who started in Adelaide, is another story – was pregnant with possibilities. The odds clearly favoured the hosts. No side had scored more than 236 in the fourth innings to win at the Gabbatoir; India's target was a hefty 328. The cracks on the surface were widening, Pat Cummins and Josh Hazlewood and Nathan Lyon, the off-spinner in his 100th Test, loomed as potential destroyers. If, somehow, India saw through the 98 overs, it would be a victory in itself.
That's conventional thinking. Shubman Gill and Rishabh Pant, thank goodness for that, don't subscribe to that line of thought.
Gill laid the foundation for the nerve-wracking three-wicket win with a polished 91, an innings that showed how far he has come at the Test level in the space of three Tests. But India wouldn't have got home without the incandescence of Pant, a maverick if there is one but who approached this run-chase as if he had a computer for a brain.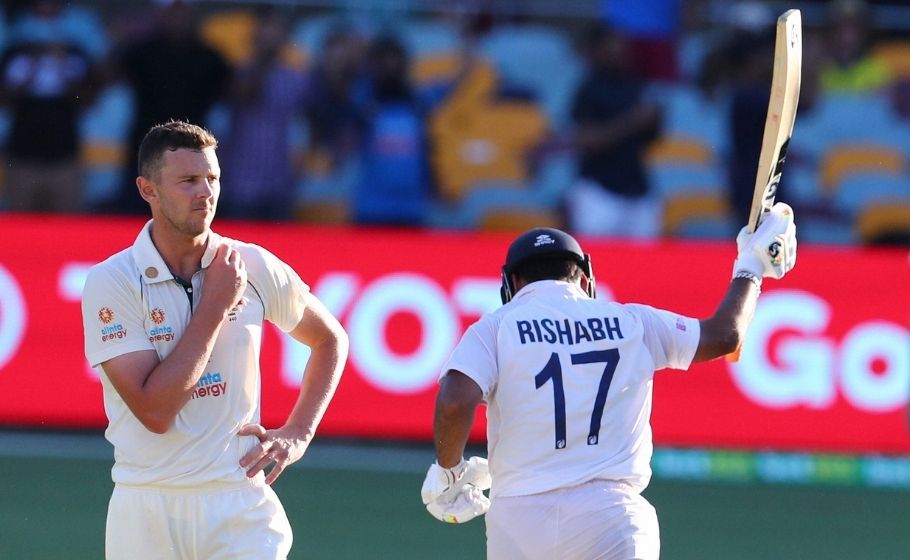 Related news | Astonishing draw filled with character shows India are bloody good
Pant has the not unfounded reputation of being a dasher; in Sydney 10 days back, he unleashed a breathtaking 97, taking Lyon apart to briefly threaten a humongous target of 407. On this day, he showcased a side to his batting not seen hitherto. This was not fire and brimstone. This was not the three-strokes-per-ball dynamo who batted as if defending had been banned from the sport. Instead, this was a calculated assault on an admittedly tiring attack that had been kept on the park for more than 100 overs in each of India's last three completed innings.
Pant chose his moments carefully, refusing to rise to Lyon's baits. He batted at a pace far removed from his normal one, but without sacrificing impact or effect. Perhaps, going forward, this is the Pant the world will see more often, perhaps this is the clearest indication yet that Pant must be considered as a specialist batsman in his own right, not a batsman who can also keep wicket.
His ally during a crucial fourth-wicket association was the gnarled, seasoned, unflappable Pujara, the immovable object who had baulked Australia for more than 31 hours while negotiating upwards of 1,200 deliveries on the last tour while amassing 531 runs. Pujara wasn't as prolific this time around, but he stood up when it mattered the most, none as courageously as on the final day of a physically sapping, mentally draining showdown.
Pujara copped a dozen crunching blows, including three to his helmet and a fourth to his right hand that forced him to recoil in pain and shock and throw his bat away as if it were a poisonous snake poised to strike. He copped more punishment than any man should in an allegedly non-contact sport, yet he sprang back each time more determined, less rattled. Pant and Gill, like Washington Sundar and Mohammed Siraj, showcase the fearlessness of new-age India; Pujara epitomises the same trait but in a different capacity, often the unsung hero who lays down the invisible base around which the glamour boys construct the dazzling edifices.
Related news | Mr Langer, you are mistaken. Indian injuries have nothing to do with IPL
If there is a cricketing equivalent of valour awards, Pujara will win it hands down. He, like kindred soul Rahane, is the finest example of inner steel that expresses itself through combativeness rather than snarls and growls. In that sense, these two old-fashioned right-handers are a throwback to the era of the Dravids, Laxmans, Tendulkars and Sehwags, who didn't feel the need to tell the world that they mean business. Show is better than tell, always.
Pant's brilliance in the latter half of the day overshadowed Gill's subliminal stroke-play at the start. Also a product of the grassroots and Under-19 structure that has driven Indian cricket for a while now, the right-hander in his third Test looked as much at home as someone playing his 50th. Unlike Pant who is flashy, and likes being flashy, Gill is a quiet young man who avoids the bling and lets his bat do the talking. All series, it has spoken loud and clear, precisely and with common sense. He had threatened a big one from the time he took guard in Melbourne, just as well that he had saved his best for last. Tuesday was as much about Gill as it was about Pant.
The biggest tribute to this team is that no one has even spoken about missing Virat Kohli for three games in a row. Enough said.