What do you call a person who bounces back faster than he/she falls down? A fighter. Right? Chennai-based C.A. Bhavani Devi aptly falls into this category. The 26-year-old fencer has been an absolute fighter since she took up fencing in 2003. She decided to pursue the sport when most of the people didn't know about the sport.

In 2015, Bhavani had decided to bid adieu to the sport as her parents were facing a financial crunch. She had not qualified for the Rio Olympics too. Five years ago, she didn't have sponsors. She couldn't travel to all the ranking tournaments as there was no government backing and all her expenses had to be from her parents' pockets, which were pinching them.
"We asked her to keep working on her skills and assured her that she will make it to the 2020 Tokyo Olympics," said national fencing coach Sagar Lagu.
Cut to 2020, she is on the brink of making history with her appearance in the forthcoming Olympics. If the 26-year-old makes it to Round of 32 in two qualifying events in Greece and Belgium, she will be the first fencer from India to qualify for the Olympics. Both the Olympic qualifying events are in March. "She has the potential to take part in the Olympics. She is confident about it and is currently practicing in Italy, under the tutelage of her Italian coach, Nicola Zanotti," added the national fencing coach.
In the course of etching her name in the history books, Bhavani took another blow – her father got pancreatic cancer. "Her father suffered pancreatic cancer for a year-and-half and we concealed it from Bhavani thinking this might mount pressure on her mentally. He recovered from cancer last year but died in November," added Bhavani's coach.
"That was the toughest time for her. It took her one month to come out of the grief. She missed a World Cup event in December. Participation in that international tournament could have earned her an Olympic slot by now. But nevertheless, she has got another opportunity to punch Tokyo ticket," he added.
For the past 13 years, Bhavani has been coaching with Sagar Lagu. The Chennai-based fencer started fencing in 2003 at the school level. She hogged the limelight in the school nationals and Sagar Lagu found her to be a potential talent in fencing in 2007. She had brought firsts to the country.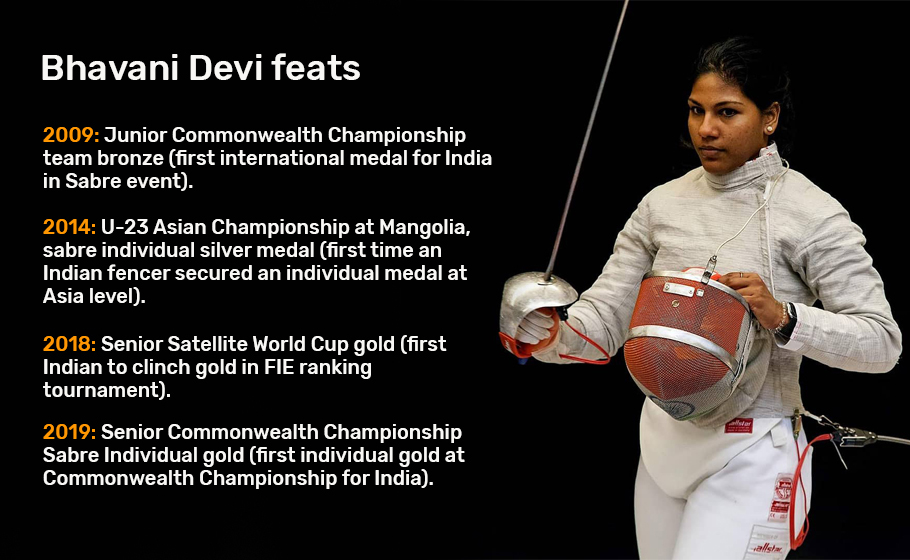 Bhavani is now sponsored by the GoSports Foundation, Sports Development Authority of Tamil Nadu (SDAT) and Sports Authority of India (SAI).
"I hope Bhavani becomes a torchbearer for aspiring fencers in the country," Sagar Lagu signed off.