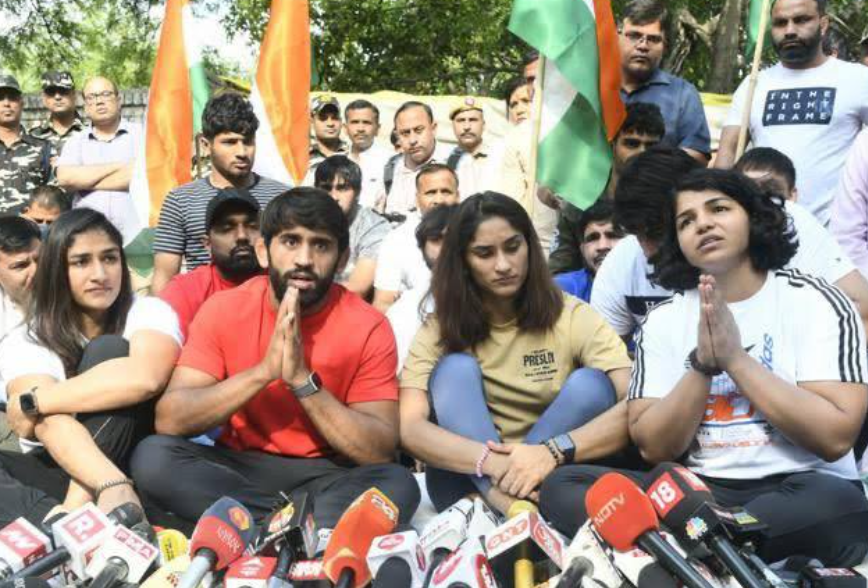 Protesting wrestlers Vinesh Phogat and Bajrang Punia on Monday (May 22) accepted WFI chief Brij Bhushan Sharan Singh's challenge of taking a narco-analysis test and said not only they but all the seven complainants of sexual harassment against him were ready to do so.
Singh, Wrestling Federation of India (WFI) president and BJP MP, had claimed in a Facebook post on Sunday (May 21) that he would take a narco test, polygraph test, or lie detector test only if Phogat and Punia were ready to undergo these along with him.
"…If both the wrestlers agree to undergo (the tests), call a press conference and make an announcement. I promise that I am ready for the test," he had posted in Hindi.
Also read: Wrestlers' protest | Vinesh's warning: Decisions that khaps take for us could 'hurt' nation
"Country should know…"
Responding to it, Punia said, "We are ready to face a narco test, but we would also want him (Singh) to also face the test under the Supreme Court's supervision and with live streaming on national television."
"We would like to see what questions are being asked. He (Singh) has asked for a narco test of Vinesh and me. I say why only two of us, all those girls who have filed complaints (against Singh) should undergo a narco test," Punia said at the protest site in Jantar Mantar, Phogat and Sakshee Malikkh by his side.
#WATCH | "I would like to tell Brij Bhushan that not only Vinesh, all the girls who have given the complaint, are ready to undergo the Narco test. It should be done live so that the entire country knows about his cruelty to the daughters of the country," says wrestler Vinesh… https://t.co/24RmbAU9JB pic.twitter.com/4V15l8UBTJ

— ANI (@ANI) May 22, 2023
Asserting the same, Phogat told the press, "It should be done live, so that the entire country knows about his cruelty to the daughters of the country."
Punia seemed peeved that a section of media was "glorifying" Singh and urged them not to do so. "He is not a star but a sexual harassment accused; so please treat him accordingly," Phogat reminded the press.
Also read: Wrestlers protest | Ready to 'sacrifice' medals to ensure justice for victims: Bajrang Punia
Candle march
The protesting wrestlers have decided to hold another round of candlelight march from Jantar Mantar to India Gate.
"As you are aware, our protest turns one month old on May 23. We will hold a candle march at India Gate. We must remind people that ours is a peaceful protest and anyone trying to disrupt peace with provocative speeches or any kind of trouble would be himself responsible for consequences and we don't take any responsibility," said Malikkh.
The protesting wrestlers have found support from Haryana farmers. A khap panchayat meeting in Haryana's Meham passed a resolution earlier, demanding that Singh be put through a narco test and legal action taken against him.
Also read: Modi trying to save his party MP, must break silence: Cong on wrestlers' protest
Delhi Police registered two separate cases on April 29, only after the Supreme Court issued it a notice. The police have since told the court that a Special Investigation Team has been formed to probe the matter. Singh has denied the charges and accused the wrestlers of framing him.
(With agency inputs)