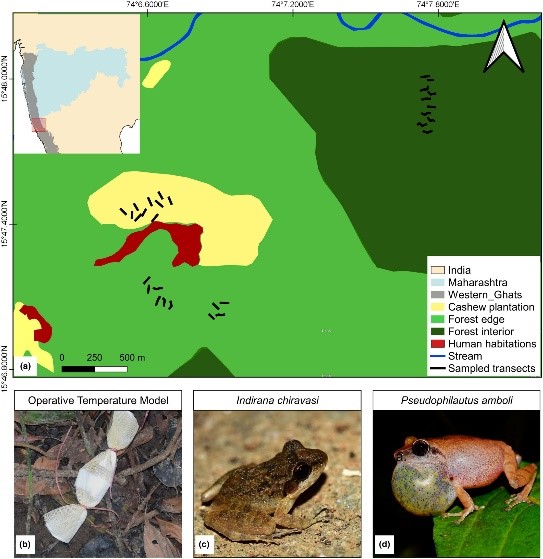 The Sindhudurg region of the Western Ghats is the exclusive habitat of more than 250 endangered amphibian species that are not found anywhere else in the world.
Researchers from the CSIR-Centre for Cellular and Molecular Biology (CSIR-CCMB), Laboratory for the Conservation of Endangered Species, Hyderabad, and Ashoka University, Sonipat, have studied the value of cashew plantations in Sindhudurgh, Maharashtra, for amphibians.
Alteration of tropical forests to other land uses pose a considerable challenge for amphibians to survive. However, some alterations do not impact them adversely and the altered habitat might serve as new habitat for them.
Also Read: IIT Madras researchers develop easy-to-use device to assess blood vessel health
"Land use by humans has varied impacts on local biodiversity. This study provides an opportunity to document and improve upon the positive outcomes for biodiversity in a certain land use practice. Since cashew cultivation employs many, especially women, this agroforestry could be looked at more closely to harmonise biodiversity conservation in the region," informs Dr Karthikeyan Vasudevan, the lead researcher.
The study team has found that the cashew plantations hold a near-equal abundance of anurans (frogs) at the forest edges and interiors. Using a model frog, the researchers discovered that increased ambient temperature reduced their abundance. Such structural changes to the habitat are causing changes to the microclimate, thereby decreasing environmental refuges for frogs and exposing them to significant variations in temperature and moisture.
Also Read: Complete treatment critical for survival of prostate cancer patients: Study
"We allocated equal survey effort to the forest interior, edge, and cashew plantation. In them, we surveyed frogs on the floor of the forest. Small pitfall traps were created for capturing insects that are food for the frogs. We made a model frog with agar and embedded a data logger that records temperature and humidity. The logger mimics a frog's conditions in the three habitats. Several habitat variables in the three habitats were measured. All the work was performed when the abundance of the frogs was highest, during the monsoon," explains Dr Vasudevan.
Globally, agroforestry is being re-evaluated for its potential to capture carbon. Cashew plantations have a high potential and provide a livelihood for many people. In addition to the economic value of the produce, the biodiversity value merits consideration of cashew agroforestry in the Western Ghats.
"Cashew production and markets need to be understood before a clear regime of promoting frog-friendly cashew cultivation in the region could be suggested. Organic farming techniques and certification might provide added benefits for locals and promote the value of this production system to target exports," says the team.
The study has been published in Biotropica, the Association for Tropical Biology and Conservation journal. The study team comprised Krishna Pavan Kumar Komanduri, Gayathri Sreedharan, and Karthikeyan Vasudevan.