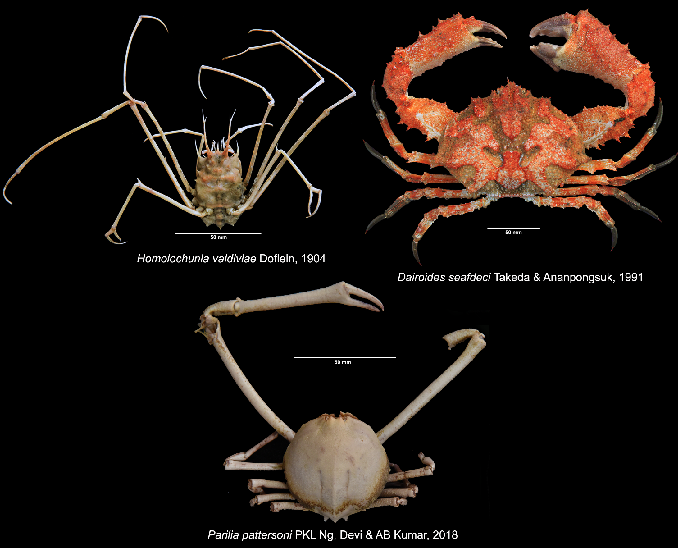 Brachyuran crabs bear immense ecological and economic significance. They are not only an important source of protein but also a rich source of carbohydrates, lipids, vitamins, and minerals, helping the fisheries industry to flourish. Andaman and Nicobar Islands have been found to be home to different species of deep-water Brachyuran crabs.
A recent survey carried out by Center for Marine Living Resources Ecology (CMLRE) has revealed the presence of 17 species of Brachyuran crabs, including three species being recorded for the first time in the area. The deep-water survey by CMLRE was carried out with the help of Fisheries Ocean Research Vehicle Sagar Sampada. The Andaman and Nicobar Islands are a Union territory of India comprising 572 islands of which only 37 are inhabited. This group of islands is located at the juncture of the Bay of Bengal and the Andaman Sea.
The survey recorded 17 crab species in newer areas of the ocean. Although these crab species are not directly consumed as human food, they are ecologically important for being both a predator and prey in the marine food web.
Brachyuran crabs also play a key role in the deep-water ecosystem. They help "clean up" the sea bottom by harvesting decomposing plant and animal, thus helping in detritus formation, nutrient recycling, and dynamics of the ecosystem. Crabs are also used to cure different ailments like stomach ache, liver and lung diseases, healing wounds, osteoporosis, epilepsy, and reproductive malfunction in women, etc.
The research team for the first time found a rare porter crab Homolochunia valdiviae Doflein, 1904, inhabiting a wide depth of 395-1000 meters in the Northern Indian Ocean, previously known only to the Western Indian and Western Pacific Ocean regions. One more species of deep-water elbow crab Dairoides seafdeci Takeda & Ananpongsuk, 1991, which is endemic to the Andaman Sea, was found first time in Indian Exclusive Economic Zone (EEZ) with a relatively narrow depth range of 299–633 meters.
A third species of deep-water pebble crab Parilia pattersoni PKL Ng, Devi & AB Kumar, 2018, earlier described from western Bay of Bengal, got recorded by the CMLRE research team for the first time in both the Andaman Sea and Arabian Sea.
The research team comprised Sherine Sonia Cubelio, VP Padate, Narayanane Saravanane, and Maruthadu Sudhakar of CMLRE, Ministry of Earth Sciences, Cochin, besides KM Amritha of Kerala University of Fisheries and Ocean Studies (KUFOS) and eminent carcinologist Prof. PKL Ng of the National University of Singapore. The research paper is published in the Journal of Regional Studies in Marine Science.