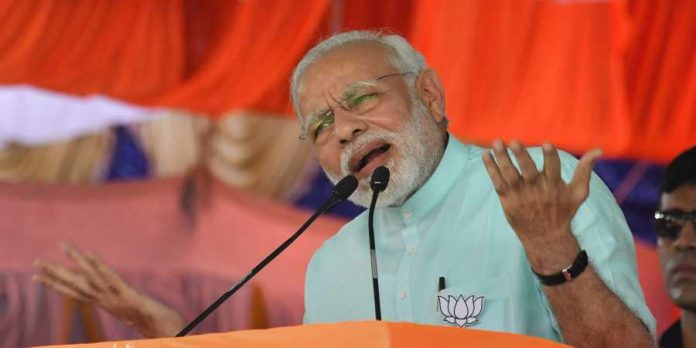 Prime Minister Narendra Modi must have taken the popular description of India's voter as mango people (aam aadmi) quite literally.
Bang in the middle of a general election, he is regaling them with stories about his fondness for aam. Finally, after talking about Balakot, Pulwama, Hindutva and Pakistan, the PM has brought aam — never mind if it is the common fruit and not the common man — back into the narrative.
In his five years in power, Modi didn't tell us what exactly did India gain from demonetization, he never answered questions about rising unemployment, rural distress and the many promises he made in the heat of the 2014 campaign. Never mind, at least we know that like the aam aadmi his demonetization drive hit, Modi too once didn't have enough cash to buy mangoes.
In his five years, Modi didn't address a single press conference, he didn't agree to a single interview where the questions would not have been scripted — blame Karan Thapar for it —  or vetted by the PMO, he didn't respond even once to Rahul Gandhi's challenge for a debate on Rafale. But, at least he let an actor ask a few questions, instead of continuing to interact with sycophants acting as journalists. Arnab Goswami must be really miffed with Akshay Kumar for encroaching upon his territory, but at least the progress from fawning anchors to bona fide fanboy actors is some forward movement.
The only person — other than Aam Aadmi Party chief Arvind Kejriwal for obvious reasons — who should be really upset with Modi's mango interview is actor Vivek Oberoi. First the biopic on the PM got stuck because of the model code of conduct and now Modi has revealed all his childhood secrets — like how he saved time on washing by wearing kurtas with short sleeves — what exactly is left for Oberoi to say in his film?
When Modi is talking about himself, like Karthik Calling Karthik, free on Facebook, and is throwing in Akshay Kumar as a bonus, why would anybody pay to watch an impersonator with zero box office appeal narrate the same stories? The only consolation for Oberoi, perhaps, would be that the PM's PR team did not select Salman Khan for the interview.
The biggest takeaway from the PM's tête-à-tête, apart from the return of aam in popular narrative, is this: You can keep Narendra Modi out of theatres, but you can never keep theatre out of Modi. Stall the release of his biopic, ban the broadcast of a web series on him, do whatever you can, but Modi will always find a way to tell us dramatic stories about himself, his mann ki baat, served with a self-effacing smile, tea and pakoras.
And, he will do so at the time of his choosing, at the place of his choice and by co-opting the actor he wants. With the success of his interview, the BJP must be really kicking itself for burning up loads of money on biopics and web series on the PM. For, all they had to do was put the camera in front of the PM and the drama would have been really compelling.
For the success of any story, three things are essential. One, dramatic subplots that sound believable even if not true — like how Bal Narendra used to play with crocodiles, two some quote-worthy punch lines that become part of popular culture — like references to a 56 inch chest, and, three, a narrator who knows which parts to emphasize for more effects. Modi, the master raconteur whose own story and dialogues are the stuff of myths and legends, knows this formula too well.
Modi on Modi is a hoot. He will bring back references — inadvertently of course — to his humble background — like offering tea in the middle of an interview and then saying, "I am used to this", talk about his austere lifestyle — like I am an ascetic who wears kurtas with short-sleeves never mind the monogrammed suit, and throw in tales of his easy camaraderie with the high and mighty of this world — like saying he and Barack Obama call each other "tu", even if they presumably converse in English.
You can argue that an electorate gets the election issues it deserves. So, in a way, Modi's non-political interview with Kumar at exactly the half-way mark of the ongoing general election is the deserved fruit of a ripe democracy. After all, what else does a nation needs to suck on during an election other than juicy stories about the PM, revealed by the great man himself for us mango people!