Around the time US President Donald Trump was packing his bags for India, the Democrats in his country were outlining the contours of the next election.
In all likelihood, the next US presidential race would be between Trump and Bernie Sanders, provided Mike Bloomberg is not able to buy his way to the White House.
After a clear victory in Nevada, Sanders is ready to crack open a huge lead that could bring the Democratic race to an end in just a fortnight. Sanders just needs to win North Carolina (February 29) and then deliver the knock-out punch on Super Tuesday (March 3), when 14 states and American Samoa vote.
There is a popular north Indian saying that argues a known devil is always better than an unknown deity. But Sanders is a really worrying prospect for India. He is seen as a bit of a maverick with revolutionary ideas on banks, markets, socialism, well, almost everything, including Kashmir, which he considers a symbol of Indian repression.
Related news: In images: US President Donald Trump's maiden visit to India
"India's action is unacceptable," he told the annual conference of the Islamic Society of North India, a few weeks after New Delhi stripped Jammu and Kashmir of its special status and imposed restrictions on use of phones and internet.
"The communications blockade must be lifted immediately, and the United States government must speak out boldly in support of international humanitarian law and in support of an UN-backed peaceful resolution that respects the will of the Kashmiri people," Sanders argued.
So, it is not a big surprise that the Narendra Modi government is going out of its way to sell Trump's visit to India as the next big thing after the return of Lord Rama to Ayodhya after a long exile.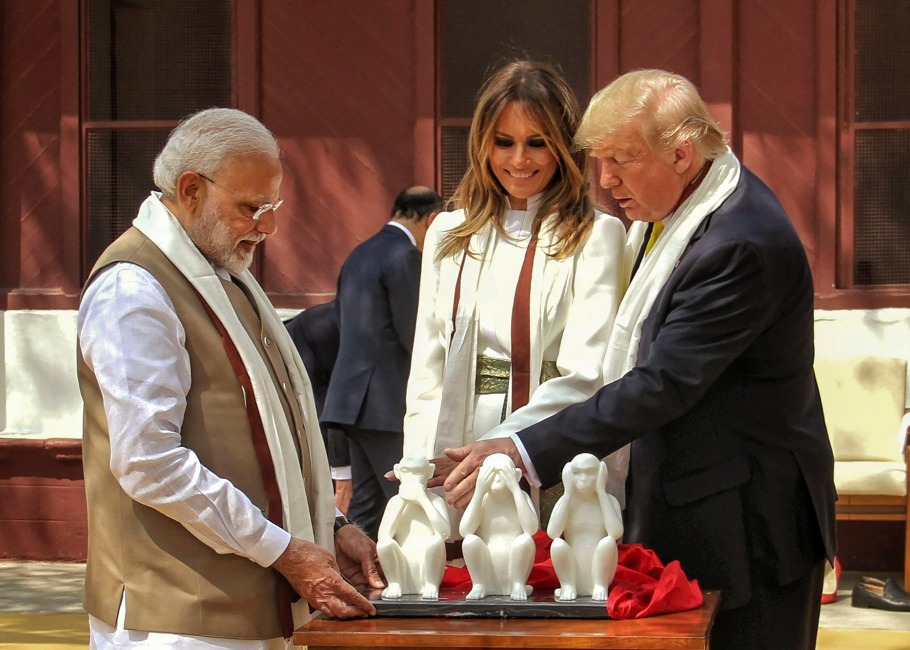 Unlike governments in the past, the Modi sarkar is clearly betting on a second term for Trump. It is still not clear if the Modi government is backing the right candidate — the race, according to polls, is tight but Trump's graph is showing an uptick — but it is certainly doing its best for the current incumbent.
Trump is not the first US president to visit India, but he is the first to be promised what he himself called "a grand welcome by seven million Indians." By comparison, the events planned for Bill Clinton, Barack Obama and Bill Clinton were muted and sombre.
It isn't a coincidence that the venue of Trump's road show and public appearance is Ahmedabad. Gujaratis are almost a fourth of the Indian diaspora in the US. They dominate the hospitality sector — there is a saying that hotel, motel and Patel are inseparable in the US — and the trade in diamond and jewellery. Both these sectors are connected to a large number of people and, thus, their owners are considered politically influential.
All polls predict that the race is still open and even Sanders is capable of dislodging Trump. So, the long-term effect on India's ties with the Democrats because of this overt support to an incumbent President in an election year may be deleterious. But, Trump certainly won't mind a helping hand.
Related news: Sridhar Krishnaswami dissects Namastey Trump 2020
For Trump, the diaspora is the toughest segment of the US electorate. In 2016, according to a post-poll research, his rival had the support of nearly 85 per cent voters of the nearly 4.5 million Indian diaspora. By aligning himself with Modi who is hugely popular among Indians overseas, and by endorsing him as a friend, Trump is hoping he'd be able to change this statistic in 2020.
To his credit, Trump is not giving away the game. He is wooing the Indian diaspora with a sophistication that's generally not part of his repertoire. In his speeches and tweets so far, he has been measured in his praise for India, talked about its syncretic culture, supported India's right to defend its borders and yet not referred to Pakistan (primarily because he is expecting Imran Khan's support for his deal with Taliban).
Trump's plan appears to be simple: Sell himself as an ally of India, a personal friend of the Indian prime minister, avoid any controversial statement and go back with big trade deals and concessions in his pocket. If this happens, it will be a win-win for Trump.
The Indian government is, of course, hoping that the PR from Trump's visit would distract attention from the bad press it has got over the past few months because of its clampdown in Kashmir, the protracted protests against the revised citizenship law and the perception that India is curtailing liberties and freedoms guaranteed in a democracy and turning into a majoritarian state.