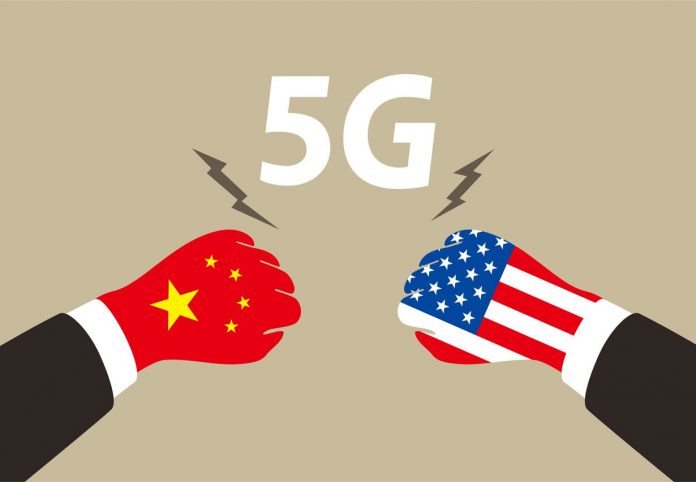 The United States and Europe are watching with trepidation, instead of eager anticipation, the emergence of 5G technology in the mobile Internet space. The reason for the concern is because China is leading the way in implementing the 5G network which is expected to make a quantum jump in mobile communications and related technology.
For China, an emerging superpower, breaking new ground through 5G is the latest among its achievements which include growing political dominance in Asia, its challenge to the Japanese-American axis in the Pacific, its rising military prowess, and an expanding trade footprint across Asia, Africa and Latin America.
We are not talking of a futuristic scenario, but something that is currently possible. The Chinese technology company Huawei is hot in contention for implementing the 5G network in the United Kingdom  and that is sending shivers down the spines of mandarins in the West, used to dominating the world.
The British government is under pressure not to choose Huawei to build the UK's 5G network on the ground that it could compromise national security. The conservative United States government under Donald Trump has already warned the UK that in case it does choose Huawei to develop any part of its 5G network,  it could seriously compromise intelligence sharing between the two countries.
In May, Trump placed Huawei in the "entity" list which means any American company wanting to deal with the Chinese tech giant will have first have to get an authorisation from Washington.  In effect, this means that US manufacturers cannot supply chips and other crucial components to Huawei across the counter, like now.
The US is attempting to pressure China on other areas too, like for instance, increasing tariffs on goods imported from there. Concomitantly, network technology giant Google in May announced it will no longer support Android software on Huawei-made mobile handsets. Google, however, softened the blow stating this would apply to handsets currently being manufactured and not applicable to the ones already in the market.
Other Western governments too have pitched in. The Canadian government in December, in a shocking move, arrested a top Huawei official on Washington's request for allegedly flouting US-imposed sanctions on Iran.
Everywhere, pro-US governments have started a chime alleging that Huawei, founded in 1987, is the front company of the Chinese government. They claim that awarding Huawei contracts in cyberspace will compromise national security as the company will build into its systems technology that will help in spying seamlessly and quietly.  In other words, all data passing through Huawei-made systems will go into  Chinese government servers that can glean them for information to be used against the West.
Mind you, all these are suspicions only. There is no evidence that Huawei or the Chinese have done anything of the sort so far.
If Internet technology is indeed prone to such data leaks it must be happening already.  For instance, Indian government networks are built by Western technology companies like Microsoft, with Intel processors and Cisco routers etc etc. If the Huawei logic is applied in these cases, does it mean data is already leaking to the West? The argument is that the Western companies are private. While it may be so, there have been documented instances when private companies have had to share data with western government agencies under duress on grounds of national security.
Huawei insists it is a private company but the west refuses to acknowledge this.  And,  the drumbeat has increased in tempo. According to the West, China is not a democracy and it is difficult to pry into the deep state to check whether Huawei's claim of not being linked to the government is true or not.
Big power brawl
Over the last three decades, China has dramatically grown in stature – as a veritable super power. The 2008 economic recession showed the world how important China was when it helped Washington with funds to tide over the crisis.  Many leading US companies were bailed out with the help of funds from China.
For China, it was no problem. It was already groaning under the weight of foreign exchange with the consequences of a trade surplus with most, if not all, countries. Having emerged as the world's factory shop floor due to low labour cost and high quality infrastructure,  it was no surprise that China ended up with a favourable trade balance.
Analysts however warn that attempting to stymie Huawei and curb the spread of Chinese technology could end up harming the growth of the Internet and related communication networks. It's not only Huawei that depends on Western technology companies but also the other way round. The trade runs into billions of dollars. Until now, Internet-related technology has managed to beat all odds and develop at a mind-boggling pace partly due to the non-interference of governments everywhere.  Analysts say artificially attempting to place impediments in the way of a natural growth graph will not work.
The main issue however is not just Huawei or China's advanced technology which is only part of an extended political brawl being fought in non-traditional ways. Since that is not perceptibly disruptive as yet the intelligentsia across the world, who would otherwise have been concerned, are yet to wake up to the damning consequences.