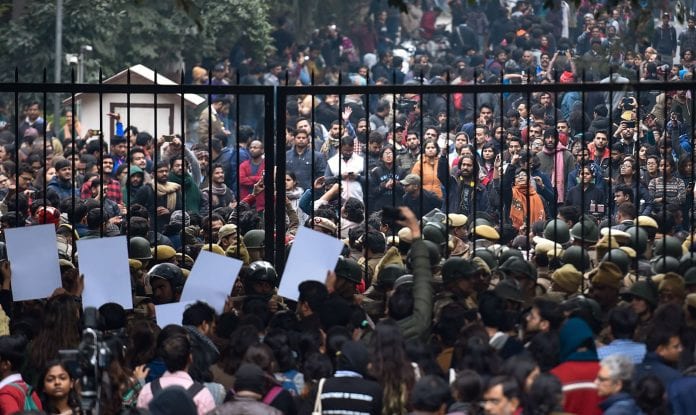 The attitude of the Narendra Modi-led BJP government towards students' protests is eerily similar to the way the British government in pre-Independence India treated them. The prime minister who promised students that they will be stakeholders in the political process has now left them with broken bones. It appears, for the British and the BJP protesting students are anti-nationals.
Under the saffron government, students involved in politics against them are seen as seditious and anti-national elements, rebels, and anarchists. The moniker for students as anti-nationals was never used until the BJP came to power in 2014. It was in February 2016, when JNU students voiced their protest over Afzal Guru's hanging that they were called anti-nationals and a "tukde tukde gang."
The colonial inheritance of prejudices against students stems from the fact that if the youth unite, they can make governments queasy. The BJP, which long believed in agitational politics now seems to be allergic to any legitimate protest by students as it fears that it may turn into a popular uprising against its government.
Advertisement
Also read: Varsities from UK to Chennai throw weight behind JNU students
The Jawaharlal Nehru University (JNU), known for its academic acumen and strong socio-political awareness, has made successive governments make U-turns on decisions taken regarding the campus.
If the students were brutally lathi-charged by the Delhi police last December, the planned violence unleashed this Sunday offers a glimpse of the BJP government's eagerness to strike the fundamentals on which this campus like many others were built. The three principles which form JNU's cornerstone – discussion, debate and belief in India's constitution – are under threat now.
JNU has been a thorn in the flesh for the Akhil Bharatiya Vidyarthi Parishad (ABVP), the students' wing of the Rashtriya Swayamsevak Sangh (RSS). Though it has given presidents and councillors to the Jawaharlal Nehru University Students Union (JNUSU), the ABVP has never managed to win a full panel in the students' union. But rather than engaging students in accordance with JNU's tradition, it has always resorted to emotive national issues to win union elections. But this too seems to have fallen flat among students who are politically aware.
Also read: Meet Aishe, the JNUSU president who led from the front
However, like their masters, the ABVP too wants JNU's culture to resemble that of Delhi University (DU), a varsity firmly in ABVP's grip.
Much like the British in pre-Independence India, the BJP looks at students as subjects rather than citizens. They are meant to be benign, loyal and obedient. They are meant to stay away from politics and meant to be de-politicised or at best practise student politics in a traditional manner such as in DU.
If JNU is an irritant for the RSS and its students' wing, institutions like the Aligarh Muslim University (AMU) set up in 1875 and Jamia Millia Islamia set up in 1920 are institutions where saffron has no entry. These centres of learning have seen some of the worst orchestrated violence ever since it was established.
Also read: Bollywood celebs call JNU violence horrifying, heartbreaking
An answer to BJP's reasoning behind attacking democratic students protest and institutions is not difficult to find. RSS is allergic to Left-wing politics as it sees it as a hurdle to its Hindutva project. Institutions such as JNU where the Left appeal is strong is a red rag to the Saffron politics.
The danger now is more pronounced than before. The communal narrative to Indian politics has polarised the country through the middle. Videos of Sangh activists screaming 'Jai Shri Ram' outside JNU gates, baying for blood is both disturbing and dangerous.
Thirteenth-century Italian writer Dante's quote looked apt in today's polity. He had said, "The hottest places in hell are reserved for those who, in times of great moral crisis, maintain their neutrality." Now is the time to decide, what the politics of the BJP and its Sangh brothers mean for India. Is it time to rescue India from 'Bharat Desh' as constructed by the RSS? Or continue the course to see how the nation painstakingly built on democracy, pluralism and a constitution to turn into a Saffron state of bigotry. Seems like students in universities across India have made their choice.